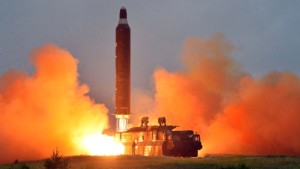 North Korea fired a missile Thursday morning that appears to have failed, according to the US and South Korea.
The US Strategic command said it detected the missile, which may have been a Musudan intermediate-range projectile, at 6:00 p.m. ET Wednesday, or around 6:30 a.m. Pyongyang time Thursday.
The South Korea Joint Chiefs of Staff said in a statement the launch took place near Banghyon Airport in Kusong City.
"Our military strongly condemns North Korea for continuously conducting illegal provocative acts and are thoroughly prepared for any possibility of additional provocation," the statement said.
It came just four days after US Strategic Command detected another North Korean missile test in the northwestern city of Kusong.
"We strongly condemn this and North Korea's other recent missile tests, which violate UN Security Council Resolutions explicitly prohibiting North Korea's launches using ballistic missile technology," said U.S. Navy Commander Gary Ross in a statement.
"We call on North Korea to refrain from actions that further raise tensions in the region and focus instead on taking concrete steps toward fulfilling its commitments and international obligations," he added.
Kerry: We'll deploy THAAD 'as soon as possible'
North Korea's failed missile launch came less than a day after United States Secretary of State John Kerry pledged to deploy the THAAD missile defense system to South Korea "as soon as possible."
The THAAD system can shoot down short, medium and intermediate ballistic missiles and is planned to be deployed by the United States, in the face of objections from China and North Korea.
Kerry made the comments during a press conference with South Korean Foreign Minister Yun Byung-se in Washington on Wednesday.
Speaking at the event, Yun said it was time for South Korea and the United States to work harder to "press North Korea in all dimensions."
He said the establishment of a high-level group to "deal with extended deterrence" should "reduce the concerns on the part of the people concerning this nuclear threat."
As reported by CNN