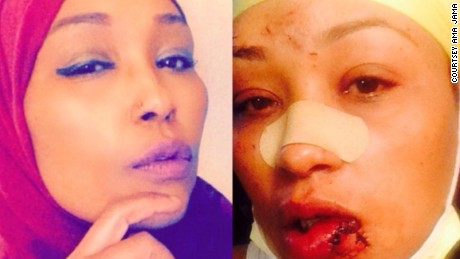 A Somali immigrant speaking Swahili while visiting a Minnesota Applebee's last year was left stunned and bleeding when another female customer hit her with a beer mug. This week that customer pleaded guilty to the attack, which police said was racially motivated.
Jodie Marie Burchard-Risch was accused of attacking Asma Jama, a Somali immigrant, at the Coon Rapids Applebee's in October 2015.
Asma Jama said as her family was seated at the restaurant, the adults were speaking in Swahili, a language the adults often use when children are around so the kids do not know what the adults are saying. As the group walked past Burchard-Risch's table, she said, "In America, we speak English."
Jama said she initially ignored the comments but the situation escalated quickly, she said, when Burchard-Risch yelled at her to go back to her country.
"She was yelling at me in my face, and I will admit I stood toe to toe with her. I wasn't screaming, I was talking to her calmly," Jama told CNN, recounting the incident.
That is when Burchard-Risch took a beer mug and threw it at Jama's face and then fled the restaurant, according to authorities.
Jama needed stitches for her face and lip. She said that now, a year later, she has scars she covers with makeup.
Jama said the incident has changed her life.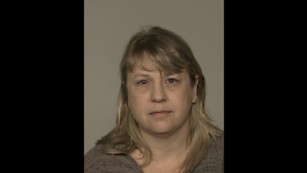 "I used to a be a carefree person. I was never scared someone was going to attack me. I would go on walks alone. Drive alone. Not anymore. I have to have someone with me at all times. It doesn't matter where I am going, I still have anxiety," she said.
Jama left her house on Monday to go to the court to hear Buchard-Risch's plea of guilty to third-degree assault. As part of the plea agreement, Burchard-Risch had to admit in open court to the bias-motivated attack.
In a statement, Burchard-Risch's lawyer, Rodd Tschida, said his client wants to put the situation behind her.
"There are certainly different narratives that can and have been written on this case. Whether that be bias crimes, or the considerable dangers of our criminal justice system relying solely on eyewitness accounts of brief traumatic incidents, which is often exacerbated where there is high media coverage. Ms. Burchard-Risch prays that everyone can move forward and put this regrettable and avoidable incident behind them," he said.
Jama said she is thankful the case is ending, but wasn't convinced Burchard-Risch was remorseful.
"In my eyes, she didn't conduct herself in the manner of someone who was truly sorry for what she did," Jama said.
Jama said she has forgiven Burchard-Risch for what happened that day. "I forgive her. You have to forgive to move on with life. If you hold onto hatred it is going to destroy me more than it destroys her," she said.
As part of the plea deal, Burchard-Risch admitted to throwing the mug at Jama because she wasn't speaking English.
As a result of the plea deal, Burchard-Risch will serve 180 days in jail and five years of probation. She will have to pay restitution.
Jama said she hopes that something positive can come out of everything that happened. "I pray she learns from this and she can open her heart and realize that at the end of the day, we are all the same. It doesn't matter where you are from."
As reported by CNN