Abuja, Nigeria – The 21 Chibok schoolgirls kidnapped and released by terrorist group Boko Haram were reunited with their families amid tearful scenes on Sunday.
At a ceremony in Nigeria's capital Abuja, parents were overcome with emotion as they laid eyes on their missing daughters for the first time in two-and-a-half years.
They clutched their daughters, some in disbelief, as tears streamed down their faces. One mother even strapped her daughter onto her back and carried her like a baby.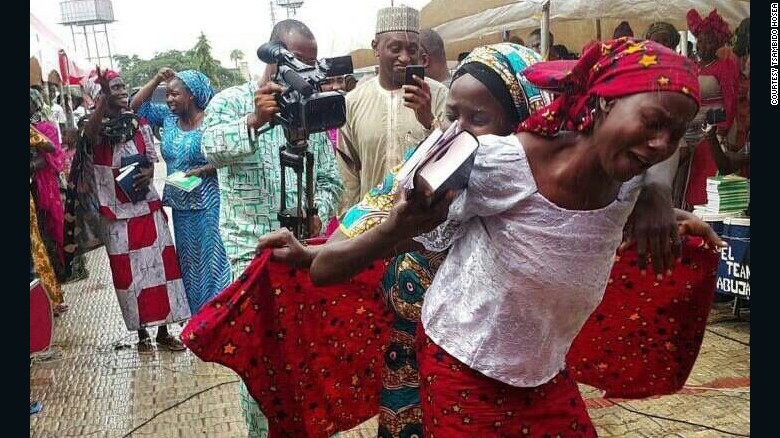 Negotiations will continue Monday to free the remaining girls, but sources tell CNN that only 83 out of the 197 left are being negotiated for.
Reunion too late for some
Goni Mutah, whose daughter Asabe was kidnapped along with 276 others from her school in April 2014, told CNN he was "very happy" to see his daughter, now 22.
However his happiness was bittersweet, he said, as his niece Margaret was also kidnapped on that fateful day — one of the 197 girls still missing.
Mutah added that Margaret's mother, his elder sister, died last year after developing a high blood pressure and becoming stressed following her daughter's kidnapping.
At least 14 of the parents of the missing girls have died since their kidnapping. One of them was shot dead by Boko Haram militants in a raid on his village in September.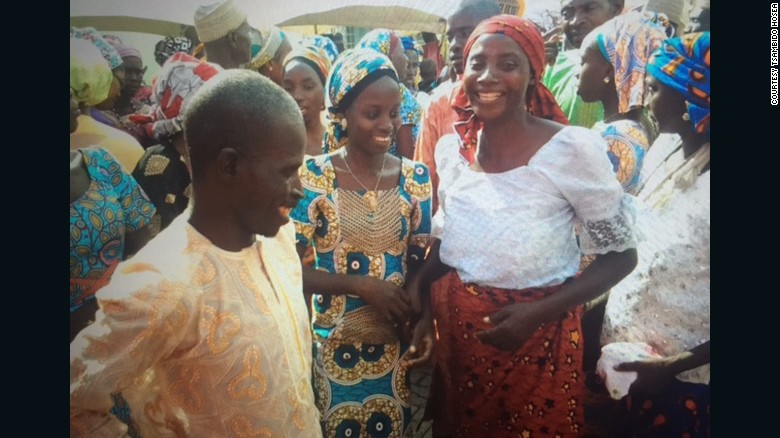 Mutah said: "I was very happy to see my daughter but I'm also praying for the other daughter to be released. I asked Asabe about her sister and if she was alive.
"I asked her five times to be sure. I wanted to know the truth if she's alive or if she's been married off to Boko Haram. But she told me she's alive. I'm praying she will come back soon."
Hope for those remaining
Earlier, a church service was organized by the Nigerian government for the schoolgirls.
The girls, who had been forcibly converted to Islam by the terrorist group, made a point of holding up their bibles to signify their freedom of worship.
But the reunion was tinged with sadness for a handful of parents whose daughters remain in captivity.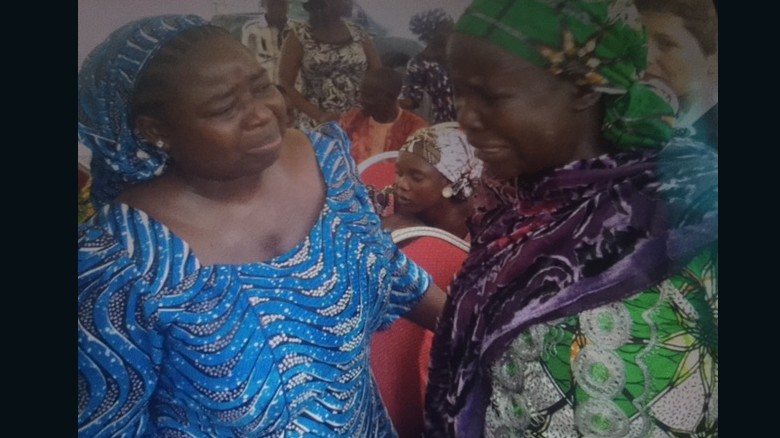 Yana Galang could not hide her disappointment as she wept for her abducted daughter Rifkatu.
In April, Galang accompanied two of the mothers whose daughters were featured in the proof of life video exclusively obtained by CNN. Galang's distress was also evident then as that video did not feature her missing daughter.
Tsambido Hosea, a community leader acting on behalf of the missing girls' parents told CNN: "Some of the parents whose daughters did not come back were very upset, but they are hopeful because they know talks are continuing for more girls to be released.
"We told them to take heart and we are praying with them."
#BringBackOurGirls two years on
The kidnapping at a boarding school in Chibok, Nigeria, two years ago prompted global figures such as Pakistani education activist Malala Yousafzai and US first lady Michelle Obama to support a #BringBackOurGirls campaign on social media.
As many as 57 girls escaped almost immediately.
Another girl, Amina Ali Nkeki, was found on the outskirts of Sambisa forest in May. She was with a man she had married in captivity — allegedly a Boko Haram fighter — and their baby daughter.
The man, who told a witness that he, too, had been kidnapped by Boko Haram, was detained by Nigeria's military.
As reported by CNN