Iraqi PM al-Abadi announced the operation on Monday; government forces are backed by US-led coalition that is providing air and ground support. Mosul is the largest city controlled by ISIS in Iraq.
Iraq's Prime Minister Haider al-Abadi on Monday launched a battle to liberate the northern city of Mosul from Islamic State in its most ambitious campaign since US forces left five years ago, and the United States predicted the militant group would suffer "a lasting defeat."
"I announce today the start of the heroic operations to free you from the terror and the oppression of Daesh," Abadi said in a speech on state TV, using an Arabic acronym for Islamic State.
"We will meet soon on the ground of Mosul to celebrate liberation and your salvation," he said, surrounded by the armed forces' top commanders.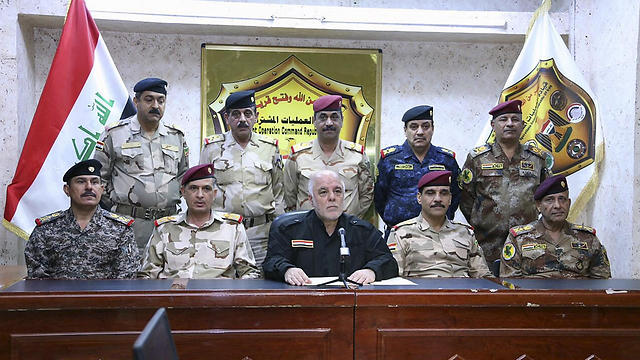 Qatar-based al-Jazeera television aired video of what it said was a bombardment of Mosul that started after Abadi's speech, showing rockets and bursts of tracer bullets across the night sky and loud sounds of gunfire.
The assault on Mosul, with a population of 1.5 million, is backed by the US-led coalition, which is providing air and ground support.
The offensive could be one of the biggest military operations in Iraq since the 2003 US-led invasion that toppled Saddam Hussein and the biggest mounted by the Iraqi government since US military forces withdrew in 2011.
About 30,000 troops were expected to take part from the Iraqi army, Kurdish Peshmerga militia and Sunni tribal fighters, while estimates of Islamic State forces in the city range from 4,000 to 8,000.
"This is a decisive moment in the campaign to deliver ISIL a lasting defeat," US Defense Secretary Ash Carter said in a statement, using an acronym for Islamic State.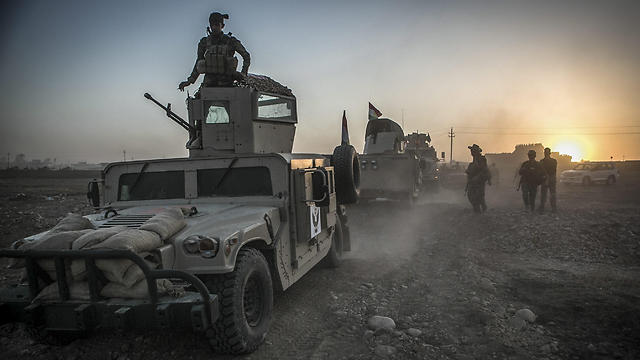 "We are confident our Iraqi partners will prevail against our common enemy and free Mosul and the rest of Iraq from ISIL's hatred and brutality."
Mosul is the largest city that Islamic State has controlled and its last major stronghold in Iraq. In 2014, Islamic State leader Abu Bakr al-Baghdadi proclaimed from Mosul's Grand Mosque a "caliphate" in Iraq and neighboring Syria, meaning an Islamic state with himself its absolute ruler.
The group has been retreating since the end of last year in Iraq, where it is confronting US-backed government and Kurdish forces as well as Iranian-backed Iraqi Shi'ite militias.
As reported by Ynetnews