The Philippines Senate Committee — led by President Rodrigo Duterte's ally — decided Thursday to stop investigating the extrajudicial killings of drug dealers and users during Duterte's first few months in office.
The decision puts an end to the investigation into the deaths of more than a thousand people reportedly killed by suspected vigilantes since Duterte took power in June 2016.
Duterte won the presidential campaign by promising to wipe out the drug problem in the Philippines. He has openly called for the death of drug suspects and his critics claim the extrajudicial killings are committed as part of Duterte's war on drugs.
Senator Leila De Lima ousted
Senator Leila De Lima — who was the chair of the Senate Committee investigating extrajudicial killings related to Duterte's anti-drug war — is one of the President's fiercest critics.
In September, De Lima called witness Edgar Matobato — who said he was a member of a 300-member "death squad" in Davao City — where Duterte was mayor for more than two decades, to testify in court.
Matobato claimed the squad took direct orders from Duterte and his son to take out alleged drug suspects as well as critics. Duterte's office denied the claims and Matobato was refused protective custody.
In a blow to critics of the government's war on drugs, Duterte's supporters on the Senate Committee ousted De Lima as chair on September 20, replacing her with Senator Richard Gordon.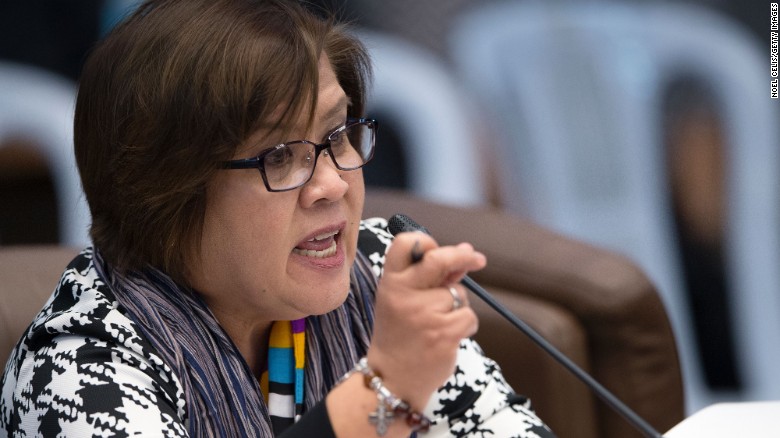 Gordon threw out the witness testimony, saying it was not credible. He announced Thursday that the committee will no longer discuss extrajudicial killings, but would release a written report on the matter on October 17.
When the committee reconvenes, it will focus on anti-drug measures, such as imposing the death penalty on convicted drug traffickers. De Lima objected to Gordon's decision, but was overruled.
'Fabricated evidence'
The House of Representatives, which is dominated by allies of Duterte, has also launched an investigation into allegations of corruption during De Lima's time in the justice department.
Earlier this week, a group called Volunteers Against Crime and Corruption (VACC) filed a criminal complaint against De Lima, alleging she took payoffs from convicted drug lords for them to be able to continue to operate their illegal operations from prison.
De Lima has denied the allegations, calling it "fabricated evidence," against her by supporters of Duterte.
As reported by CNN