Minister Lieberman ordered that IDF soldiers will no longer volunteer with migrant children; vacuum left by them will likely be filled by national service volunteers. "There are about 3,000 migrant children in Tel Aviv" said Orna Kotler of the Shlomit non-profit organization.
About a month ago, Minister of Defense Avigdor Lieberman announced his decision to halt all IDF-sponsored volunteer work by IDF soldiers with migrant children in south Tel Aviv neighborhoods.
Many IDF units used to send their soldiers to do such work on occasion before. Now, it seems, the vacuum left by the IDF may be filled by national service  volunteers.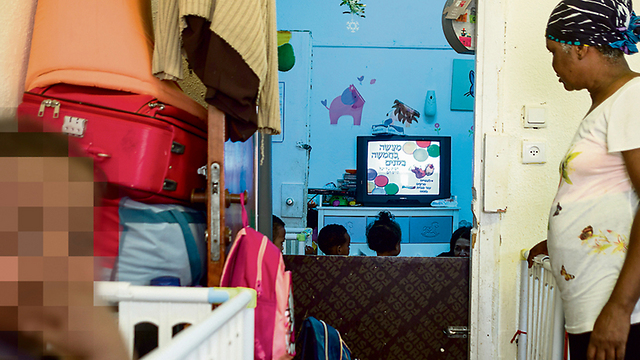 The national servicepeople will work with foundations such as Elifelet, a non-profit organization dedicated to children of migrants and refugees in Israel. Currently, the organization regularly works with about 600 children.
National service volunteers have been working with Elifelet since December 2015, helping take care of migrant and refugee children. Their small clubhouses help assist the 'child warehouses' in south Tel Aviv – improvised, highly crowded daycare facilities where migrant workers leave their children when they go to work, in which several children have died in recent years due to poor conditions.
"There are about 3,000 children of migrants in Tel Aviv, and they're growing in number, so unfortunately we only manage to touch a small part (of the problem) and focus on those who need our help more than all," said Orna Kotler, head of the Shlomit foundation for voluntary work.
As reported by Ynetnews