Following a Saudi-led coalition attack on a funeral hall in Sana'a, Yemen which killed over 140 people, the UN is calling for an independent investigation of the attacks; 200 Hezbollah supporters – who also support the Shia Houthi Yemeni insurgents – protested outside of UN offices in Beirut.
UNITED NATIONS- Secretary-General Ban Ki-moon on Monday urged the UN Human Rights Council to immediately establish an independent body to investigate rights abuses and other violations in Yemen, especially following last weekend's "horrendous attack" on a funeral hall reportedly by the Saudi-led coalition.
The UN chief told reporters that Saturday's airstrikes in Yemen's capital Saana, which killed over 140 people and injured more than 525 others, were the latest disasters in the Yemen conflict, which has left over 20 million people — "an astounding 80 percent of the population" — in need of humanitarian aid.
"Aerial attacks by the Saudi-led coalition have already caused immense carnage and destroyed much of the country's medical facilities and other vital civilian infrastructure," Ban said. "Bombing people already mourning the loss of loved ones is reprehensible."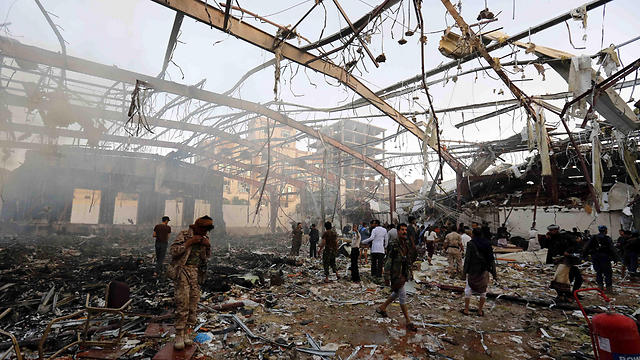 "This latest horrific incident demands a full inquiry," he said. "More broadly, there must be accountability for the appalling conduct of this entire war."
Earlier Monday, UN human rights chief Zeid Ra'ad al-Hussein denounced the airstrikes and faulted the Human Rights Council for not doing more in the face of a "climate of impunity" in the impoverished, war-torn country.
He reiterated his calls for an independent investigation of abuses in Yemen, which the 47-member Geneva-based council, which includes Saudi Arabia, all but ignored at its last session in September.
Ban noted Zeid's call and said his strong message to the Human Rights Council, especially after Saturday's attacks, is "to fulfill its duty and act."
"Despite mounting crimes by all parties to the conflict, we have yet to see the results of any credible investigations," the secretary-general said. "Excuses ring hollow given the pattern of violence throughout the conflict. Parties cannot hide behind the fog of this war."
Since the Saudi-led, US-backed coalition started launching airstrikes against Shiite Houthi rebels in March 2015, at least 4,125 civilians have been killed and over 7,200 wounded in Yemen, Zeid's office said in a statement, including 369 civilian casualties this month alone.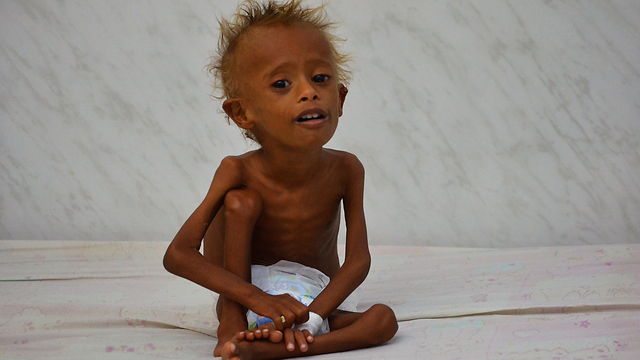 The Saudi-led coalition backs the internationally recognized government of President Abed Rabbo Mansour Hadi. The coalition is fighting Shiite Houthi rebels and supporters of former President Ali Abdullah Saleh.
Zeid expressed concerns that an escalation of hostilities could follow Saturday's attack, saying "the international community has a legal and moral duty to react robustly to the increasingly horrific levels of civilian casualties in Yemen, just as it has in many other situations."
Ban urged a cessation of hostilities "as the only way to protect civilians, and the resumption of political talks as the only way to end the conflict."
Germany also expressed concern over the airstrikes, with Foreign Minister Frank-Walter Steinmeier saying "those responsible for this cruel act must be found," and that such attacks must not be repeated. He did not say who was responsible, but the Saudi-led coalition has the only warplanes known to be operating in Yemen.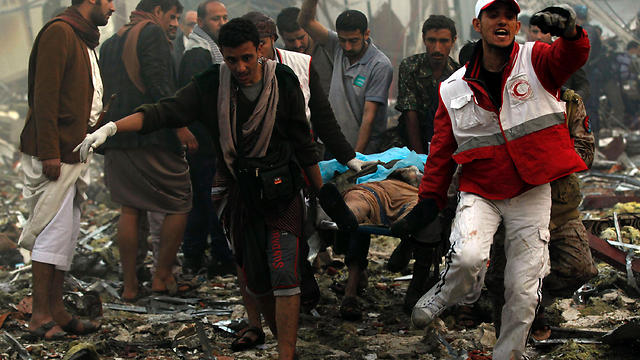 "The many dead at the funeral should be a warning to all in Yemen and in the region who have political responsibility to seek possibilities now to resume the UN-mediated talks on a cease-fire and a political solution for Yemen," Steinmeier said.
On Sunday, Iranian Foreign Minister Mohammad Javad Zarif asked Ban to use his "good offices" as secretary-general to arrange for an Iranian aircraft to bring humanitarian supplies to victims of the deadly attack on the funeral hall in Yemen's capital and evacuate the wounded. Iran is supporting the Houthi rebels in the civil war that broke out in 2014.
Zarif expressed shock at the "tragic and horrific airstrikes" by the coalition, and called for Saudi Arabia and the coalition's backers to be held accountable "for the war crimes perpetrated in Yemen over the past year and a half."
In Beirut, nearly 200 supporters of the Iranian-backed Lebanese Hezbollah group protested outside the offices of the United Nations, holding banners showing Yemeni casualties, including children. In reference to the Saudi monarchy, protesters raised placards that read: "Yemeni children are dearer than your thrones."
Hezbollah, which maintains a dominant militia force in Lebanon, has also aligned itself with the Houthi rebels in Yemen's civil war.
As reported by Ynetnews