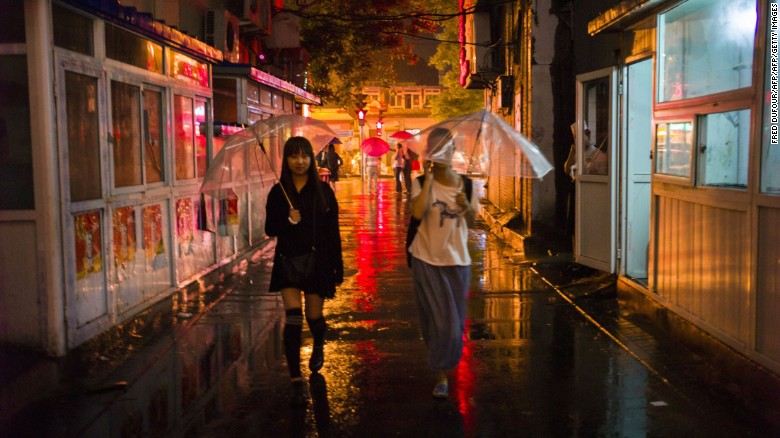 With evocative names such as "Skewed Tobacco Pouch Street" and "East River Rice Lane," the charming, ancient Hutongs of Beijing are always popular with visitors to the sprawling capital city.
Narrow alleyways run alongside walled courtyards, transporting those who wander down them back to the Yuan Dynasty of the 13th century, when many were created, and conjuring up images of a communal lifestyle in stark contrast to the frenetic pace of the modern Chinese megapolis.
But time has not been kind to these old neighborhoods.
In the middle of the 20th century, over 3,000 Hutongs could be found in Beijing. But thanks to a program of rapid modernization, the vast majority of these have been torn down.
Today, according to same estimates, just 500 remain.
Modern upgrades
Although the government has taken steps to protect the surviving Hutongs, they are threatened by degradation.
Many of the homes in these areas have fallen into disrepair, with poor insulation and sewage facilities.
But Beijing architecture firm the People's Architecture Office (PAO) has devised a solution for delivering upgrades while retaining the traditional character of the Hutong homes.
The PAO is installing prefabricated modules in and around the houses, composed of panels made of steel and glass. The modules include insulation, wiring, doors, windows, and sparkling finishes, and the panels fit together to create accordion-style units that can be adjusted into numerous configurations to maximize space, including a fold-out shower.
The plug-in modules cost $500 per square meter — one-tenth of the Beijing average of $5,000 per square meter — and can be installed in a day.
James Shen, cofounder of PAO, says the units offer convenience, and can be installed without damaging the ancient architecture.
"They are small," he says. "It means that we are able to bring them piece by piece into these very narrow alleys and into these courtyard houses. It also means that we can renovate without tearing any of the old structures down."
Expansion plans
The modules were initially tested in a government-sponsored trial on a dozen homes, which earned the PAO several awards, including one at the 2015 World Architecture Festival.
The group recently performed its first installation commissioned by a resident, in the Guangcai Hutong, close to the famed Imperial Palace in Beijing's "Forbidden City."
Resident Fan Ke tells CNN the module has been transformative, particularly for the additional light it provides.
"When I lived here a child, it was always dark," says Ke. "Now after the renovation, I'm bathed in sunlight throughout the day. I no longer feel caged in."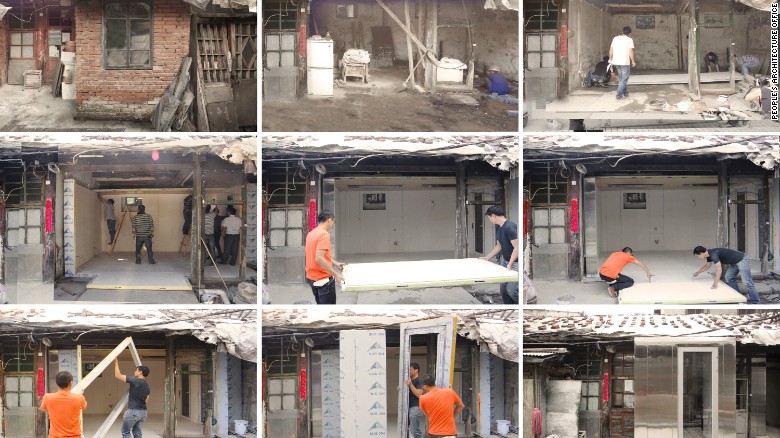 Shen hopes the first private commission will be followed by thousands more.
The architect says such a program would breathe new life into the hutongs, which are already seeing increased demand in central areas. One couple recently spent over $800,000 on an 11 square meter home in Wenchang Hutong.
"This kind of solution can help rejuvenate a lot of these older areas," says Shen. "It can show younger people that you don't have to move to a brand new modern apartment complex."
Power to the people
Some analysts believe, however, that the prefab units do not go far enough to address the decline of hutong houses.
Michael Meyer, author of "The Last Days of Old Beijing: Life in the Vanishing Backstreets of a City Transformed", says the residents should be given more power.
"Most courtyard homes have already rotted to a state of disrepair due to state ownership and neglect for the past half-century," says Mayer. "What traditional hutong neighborhoods need to survive is not another eyepatch or plaster, even one as shiny and well-intentioned as modular plugins.
"These communities — which are living cultural heritage — will best be protected by the state restoring, granting, or selling homes' ownership rights to their tenants, who can then decide what improvements need to be made, and how."
As reported by CNN