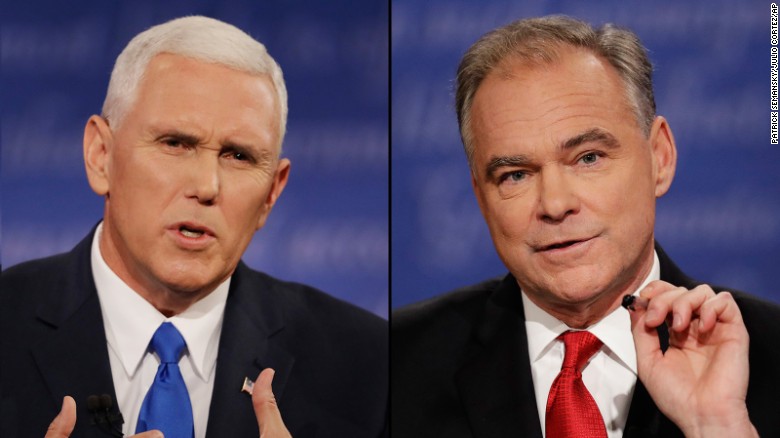 Tim Kaine and Mike Pence were on the debate stage Tuesday but their clash really centered on two other people: Hillary Clinton and Donald Trump.
Kaine, Clinton's running mate, said that for him and his wife, who have a son deployed overseas as a Marine, "the thought of Donald Trump as commander in chief scares us to death."
He hammered Trump over his temperament, accused him of pursuing an "outrageous lie" over claims President Barack Obama was not born in the United States and condemned him for calling Mexicans criminals and rapists in his announcement speech last year.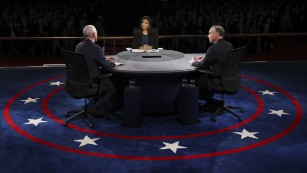 Pence didn't hesitate to defend the controversial candidate at the top of the GOP ticket. He defended Trump by trying to turn the focus back on Clinton, accusing her family's foundation of accepting donations from foreign governments while she was secretary of state and slamming her over the private email server she used while in office. Pence argued that Kaine was a fitting running mate for Clinton because he had tried, but failed, to raise taxes while serving as Virginia Governor.
"Hillary Clinton and Tim Kaine want to build on Obamacare," Pence said. "For all the world, Hillary Clinton just thinks Obamacare is a good start."
The rival running mates repeatedly interrupted each other — and debate moderator Elaine Quijano of CBS — during the debate. Kaine challenged Pence during his answers, and rejected the notion that he was eating into Pence's time by responding and rebutting each charge he made as he made it.
The tactic displayed Kaine's energy and skill with talking points but risked coming across as overbearing and irritating to some viewers at home. At one point, Quijano warned them that viewers at home would not hear anything if they continued to talk over each other. Pence, for his part, projected an air of calm but was on the defensive much of the night and dodged multiple questions.
A CNN snap poll conducted after the event showed that 48% of viewers who watched the debate believed that Pence won and 42% thought Kaine was victorious.
The poll, however, does not represent the views of all Americans and samples only those who watched the debate. Its sample of debate-watchers broke down as 41% Democratic and 30% Republican, reflecting the make-up of the television audience.
The clash at Longwood University in Farmville, Virginia, allowed both campaigns to road test fresh attacks that Clinton and Trump can use during the second presidential debate on Sunday, which will be moderated by CNN's Anderson Cooper. The vice presidential showdown comes at the end of a turbulent week in which Trump veered off message and took a beating in the polls.
Much of the attention in recent days has focused on a New York Times report from the weekend that revealed Trump declared a $916 million loss in 1995 and may therefore have been able to avoid paying income tax for 18 years. Pence defended Trump in the tax controversy, saying that the GOP, unlike Clinton and Kaine, was not a career politician.
"He actually built a business. Those tax returns showed he faced some pretty tough times 20 years ago," Pence said, adding that the tax code was designed to allow businessmen like Trump to comeback after taking risks.
'Insult-driven campaign'
The debate cooled down briefly when the rivals discussed the idea of gun control and criminal justice. But Kaine again turned the focus back on Trump, saying it would be impossible to have a society where people and laws were respected with a president like Trump, who had called women "pigs and slobs" and who had said African-Americans "were living in hell."
"I cannot believe that Gov. Pence will defend the insult-driven campaign that Donald Trump is running," Kaine said.
Pence argued that if anyone was running an insult driven campaign, it was Clinton. He said Trump's comments were "small potatoes compared to Hillary Clinton calling half of Donald Trump's supporters a basket full of deplorables."
Pence went into the debate facing a daunting assignment of stopping the bleeding in Trump's campaign after the GOP nominee has repeatedly failed to do himself over the past week. For Kaine, the showdown offered a precious prime-time chance to skewer Trump over a string of controversies unleashed by the GOP nominee's poor debate showing last week.
Both men, vying to be a heartbeat away from the presidency, sought to introduce themselves to viewers mostly unaware of their own successful, yet under-the-radar political careers.
Pence made an effective assault on the Obama administration's foreign policy, which he said had been orchestrated by Clinton, reflecting the underlying theme of the campaign — a contrast between continuity and change. He said after Clinton traveled the world as secretary of state, America was less safe than when Obama took office in 2009.
"It's absolutely inarguable," Pence said. "Mostly, it's been a lack of leadership."
But Kaine framed national security questions as a test of Trump's character, which he said would be lacking as commander-in-chief.
"He trash talks the military," Kaine said. "He wants to tear up alliances. …He loves dictators. Last and most dangerously, Donald Trump believes that the world will be safer if more nations have nuclear weapons."
Pence mocked Kaine for what he said was a pre-cooked line.
"Did you work on that one a long time, because that had a lot of really creative lines in it?" Pence said.
In an apparent departure from Trump's so far elucidated policy on Syria, Pence said the US should be open to military action against Syrian targets of the regime of President Bashar al-Assad if what he called Russian provocations — namely attacks on civilians in besieged rebel-held areas of the city of Aleppo — continue.
"I just have to tell you that the provocations by Russia need to be met with American strength, and if Russia chooses to be involved and continue, I should say to be involved in this barbaric attack on civilians in Aleppo, the United States of America should be prepared to use military force to strike military targets of the Assad regime to prevent them from this humanitarian crisis that is taking place in Aleppo," Pence said.
He also called for the setting up of safe zones for civilians in Syria — an idea has been considered by the US government — and also backed by Clinton, But it has been judged impractical given the military complications it could entail — including direct confrontations between US and Russian military aircraft over Syria.
Allaying concerns
A strong performance by Pence could allay concerns that the Clinton campaign has been playing up about whether Trump has the temperament and knowledge to serve as commander-in-chief.
Both Pence and Kaine carefully prepared for the debate.
The Virginia senator, performing on home turf, huddled with top members of the campaign team who prepared Clinton for her debate with Trump last week, including Democratic debate gurus Ron Klain and Karen Dunn. Kaine consumed background material and gamed out approaches to lay out the stark difference between the two tickets, a campaign adviser said.
Unlike Trump, who disappointed aides with his debate prep, Pence prepared for the debate ever since he was picked for the Republican ticket in July. He's been helped by Wisconsin Gov. Scott Walker and an aide said he was "more than ready" to answer attacks on the GOP nominee over his taxes.
Bill Clinton calls Obamacare 'the craziest thing in the world,' later tries to walk it back
Pence, a well regarded figure among the Republican Party's most conservative constituencies, could help Trump by reassuring traditional GOP voters that they will have an ally and an advocate in the White House. The Republicans would rather the debate turn on a contrast between Pence and Kaine rather than Clinton and Trump.
Kaine, meanwhile, could help bolster Clinton's lead in his own state of Virginia and appeal to African-American and Hispanic communities that could be crucial in some battleground states. Both he and Pence, a former congressman, are well-versed in foreign policy, should the debate turn that way.
In terms of style, Kaine and Pence both provide sharp contrasts with their superiors on the ticket, both of whom are controversial, outspoken and polarizing figures who have lived in fame's glaring spotlight for decades.
Civil, courteous candidates
Both are known as civil, courteous men despite their strong political beliefs. They are also devoutly religious. Kaine is a practicing Roman Catholic and Pence a Catholic who is now an evangelical Christian. Pence used to say in his days as a conservative talk radio host in courtly Indiana that he was like a decaf version of Rush Limbaugh.
Typically, vice presidential debates lack the huge stakes, massive television audiences and capacity to shape races seen in debates between the two party nominees.
But they are sometimes significant. In 2012, for example Biden steadied a nervous Obama re-election campaign with a strong performance in the vice presidential debate that set the tone for the President's own comeback following a poor first debate showdown against Mitt Romney.
And in 2008, Republican vice presidential nominee Sarah Palin staved off a widely predicted disaster and did just enough to remain a credible vice presidential pick — though the campaign was later overtaken by the financial crisis.
A new CNN/ORC poll Tuesday showed that Pence and Kaine are equally matched.
A equal block of 38% of voters expect each man to do the best job. Both candidates have positive net favorability ratings but almost 3 in 10 of voters have no opinion of either man.
As reported by CNN