Tulsa, Oklahoma, police officer Betty Shelby has been charged with felony manslaughter in the first degree, Tulsa County District Attorney Steve Kunzweiler told reporters Thursday.
Shelby fatally shot 40-year-old Terence Crutcher after his SUV stopped in a roadway last week.
"We reviewed the facts of the allegations. It is our responsibility to determine if the filing of a criminal charge is justified under the law," Kurnzweiler said.
An arrest warrant was issued for Shelby and arrangements have been made for her surrender, he said. It was not clear when she would turn herself in.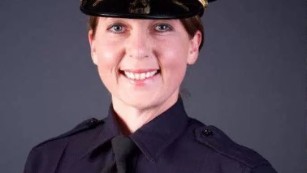 The criminal complaint against Shelby said her "fear resulted in her unreasonable actions which led her to shooting" Crutcher. She is accused of "unlawfully and unnecessarily" shooting Crutcher after he did not comply with her "lawful orders."
Attorneys for Crutcher's family said they were "happy charges have been brought" against the officer and they will be seeking a "vigorous prosecution" of this case that results in a conviction.
The attorneys also expressed gratitude to the Tulsa Police Department.
"Today, we are thankful to TPD, we are thankful to (police) Chief (Chuck) Jordan for providing information to the District Attorney's office, and we are happy that charges were brought," attorney Damario Solomon-Simmons said during a news conference.
"This is a small victory," Crutcher's twin sister Tiffany told reporters.
"The chain breaks here. We're going to break the chains of police brutality," she added. "We know the history."
The possible penalty for conviction on first-degree manslaughter in Oklahoma is four years to life, according to Susan Witt, the public information officer for the district attorney's office.
Gov. Mary Fallin issued a statement, saying she prays that the decision to charge Shelby brings "some peace to the Crutcher family and the people of Tulsa."
She urged people to remain patient as the case goes forward. "And we must remember that in our justice system, officer Shelby is innocent until proven guilty," Fallin said.
CNN reached out to Scott Wood, the attorney for Shelby, but has not received a response.
Earlier this week, Wood said his client thought Crutcher was behaving strangely and ignored her commands, and that she was afraid that he might be reaching for a weapon.
Multiple police cameras, including ones mounted in squad cars and in a helicopter, captured the Crutcher shooting on tape. In the video, Crutcher can be seen with his hands raised above his head prior to his death. He walks away from Shelby towards his car.
None of the videos showed whether the vehicle window was open or closed.
There was no weapon found in the car.
Affidavit says vehicle was cleared
It all started after a 911 call last Friday from a woman who said an abandoned car was blocking the street and a man was running away. The man warned that it was going to blow up, the caller said.
Shelby was the first officer to arrive on the scene, though she was not responding to the 911 call. She was on her way to a domestic violence call when she saw Crutcher standing in the street, according to investigators.
She stopped behind his car, which was a block away.
The chief investigator said in an affidavit that Shelby then approached the car, "cleared the driver's side front and then proceeded towards the passenger side of the vehicle." Then she saw Crutcher and talked to him.
"He was mumbling to himself and would not answer any of officer Shelby's questions," according to the affidavit.
Crutcher family attorney Melvin Hall said the affidavit shows that Shelby had cleared the car of any threats before she tried to talk to Crutcher.
"Why when he approached the vehicle later would she have any concern," he said.
Protests are peaceful
A small group of protesters gathered Thursday evening in Tulsa.
"There is currently no credible information that any of the gatherings, protests, or rallies will be anything other than peaceful," the Tusla Police Department posted on its Facebook page.
As reported by CNN