The former president was taken to hospital Tuesday evening after informing his doctor that he was feeling weak; he is said to be in serious condition and has been sedated and attached to a respirator; Peres, 93, received a pacemaker just one week ago.
Former president Shimon Peres suffered a stroke on Tuesday evening and is said to be in serious condition. Peres was rushed to the Sheba Medical Center earlier in the day after consulting with his doctor and informing him that he was feeling weak.
An initial CT scan showed a brain hemorrhage, and the doctors decided to sedate the former president and put him on a respirator as he undergoes medical treatment in the ICU. A second CT scan to further assess his condition showed no improvement.
Doctors continued to work into the night and after conducting a series of tests, they detected bleeding of the brain. By the late evening, they were deciding on whether it was necessary to perform surgery or not.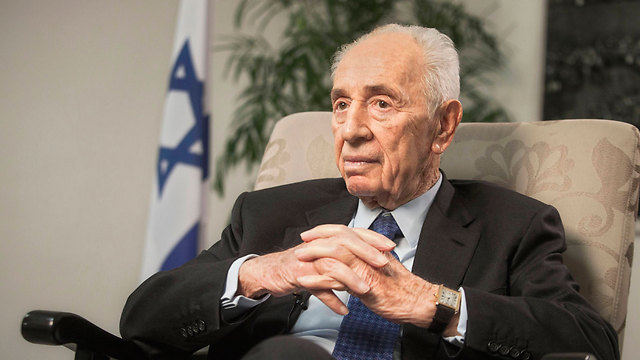 Peres was accompanied by Dr. Ayelet Frisch as his personal physician and son-in-law Prof. Rafi Walden is out of the country.
Prime Minister Benjamin Netanyahu has spoken to the head of the Sheba Medical Center and received an update on Peres's situation.
"I wish former president Shimon Peres speedy recovery. Shimon, we love you, and the entire nation prays for your recovery," Netanyahu wrote on social media.
Interior Minister Aryeh Deri added prayers of his own, writing on Twitter, "I pray for the recovery of Shimon, son of Sarah, the former president and prime minister of Israel."
Defense Minister Avigdor Lieberman wrote on his Facebook page, "We are all praying for the wellbeing of former president Shimon Peres and hope that he will, once again, prove that he knows how to come back from difficult situations."
Meanwhile, Opposition chairman Isaac Herzog, who lead the Labor party in which Peres spent most of his political career, arrived at the hospital to visit the former president.
Israel's Ashkenazi Chief Rabbi David Lau called on the public to pray for Peres, saying "Mr. Peres has earned many credits in his many years of service to the people of Israel (in working to) strengthen the security of the State of Israel from its day of formation, and it is appropriate for everyone to join the prayer for his recovery at this time."
The Sephardic Chief Rabbi, Yitzhak Yosef, also called to pray for Peres, saying "to his credit is the saving of the world of Torah by establishing the exemption (from IDF service) to yeshiva students and his great appreciation to the Torah."
His son Hami said, "These are not easy hours for me or my family. My father has suffered, as you know, complications and I want to thank, first of all, the medical team at Tel Hashomer which is checking him and advising us. It seems that we will soon be required to make decisions but not at the moment. Everything depends, of course, on how things develop and we can't say any more than this."
"We are receiving many messages both from Israel and outside Israel, from all of our friends and from the people who love and know about this man and they are many," he continued. "My father is a special person and I remain optimistic. I believe and hope for the good."
Amid fears of the worst, doctors gave a press conference about Peres's medical state and reiterated that he was sedated and on respirator. However, while they also said that he was in stable condition, his children commented said, "we will need to make decisions."
Peres, 93, was hospitalized at the Sheba Medical Center for two days about six months ago with slight heart arrhythmia. Two weeks later, he was hospitalized with a very minor heart attack. He went through a successful catheterization procedure, and returned home after five days.
In an interview two months ago with Yedioth Ahronoth, Ynet's sister publication, Peres described the day when he suffered a heart attack. "I usually wake up early at 4:30-5am," he said. "That morning I woke up at the same time, but I felt an unusual pressure in my chest that was increasing, and then I felt severe pain in my chest."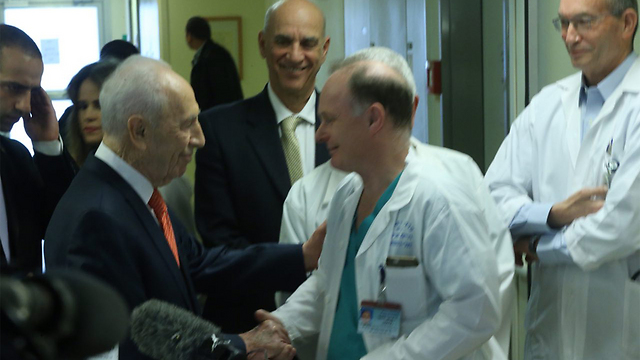 "I called the paramedics and then Prof. Rafi Walden (his personal physician) and he said that no chances should be taken and that I need to go to the hospital. In these kinds of cases, I am a disciplined soldier and I arrived at the hospital within fifteen minutes. In hindsight, I was extremely lucky."
Peres said that he was not shocked by what had befallen him in January. "Since the evacuation to the hospital and the cardiac catheterization all happened in a matter of minutes, I didn't have time to think about death or to prepare for it. Very quickly I realized that my life was saved, all the more so since I was fully conscious all the way. So instead of thinking about death I joked with the medic."
As reported by Ynetnews