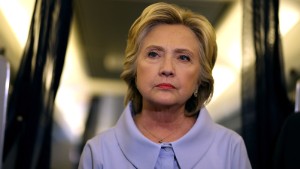 Hillary Clinton said Monday night she's "met a high standard of transparency" about her health and didn't think the pneumonia was "going to be that big a deal."
Clinton said she felt dizzy and lost her balance Sunday, but did not lose consciousness, and is now "feeling so much better."
"I was supposed to rest five days — that's what they told me on Friday — and I didn't follow that very wise advice," Clinton told CNN's Anderson Cooper in a phone interview.
"So I just want to get this over and done with and get back on the trail as soon as possible," she said.
Clinton appeared wobbly and stumbled Sunday as she left a 9/11 commemoration ceremony in New York. Her campaign later revealed she'd been diagnosed Friday with pneumonia — a disclosure that fueled arguments that the Democratic nominee isn't sufficiently forthcoming about important details. But during her interview Monday, Clinton sought to turn criticism of her secrecy over her illness into an attack on Republican rival Donald Trump.
"Compare everything you know about me with my opponent. I think it's time he met the same level of disclosure that I have for years," Clinton told Cooper.
"It's really past time for him to be held to the same standards, not just as me, but as anybody else who has sought this job," she said.
Clinton had a cough last week, and chalked it up to allergies — joking at an event that she was allergic to Trump.
She said Monday night she'd thought at the time it was allergies, because she experienced a similar cough in the spring and fall due to seasonal allergies.
"What happened this time, though, was it didn't dissipate, and that's why when I got off the road on Friday, I did go to see my doctor, and that's when I was diagnosed with pneumonia," Clinton said.
She said her campaign didn't publicly reveal her diagnosis because "I just didn't think it was going to be that big of deal."
"Obviously I should have gotten some rest sooner — I probably would have been better off if I just pulled down my schedule on Friday, but like a lot of people, I thought that I could just keep going forward and power through it. And obviously that didn't work out so well," she said.
Cooper asked about Bill Clinton's remark in an interview with Charlie Rose that she has occasionally become dehydrated and gone through episodes like Sunday's, and how many times that has happened before.
"I think really only twice that I can recall," Clinton said.
"You know, it is something that has occurred a few times over the course of my life, and I'm aware of it, and usually can avoid it," she said. "What happened yesterday was that I just was incredibly committed to being at the memorial — as a senator on 9/11, this is incredibly personal to me."
"I could feel how hot and humid it was. I felt overheated. I decided that I did need to leave. And as soon as I got into the air-conditioned van, I cooled off, I got some water, and very quickly, I felt better," she said.
"I felt fine, but I'm now taking my doctor's advice — which was given to me on Friday, that I ignored — to just take some time to get over pneumonia completely."
As reported by CNN