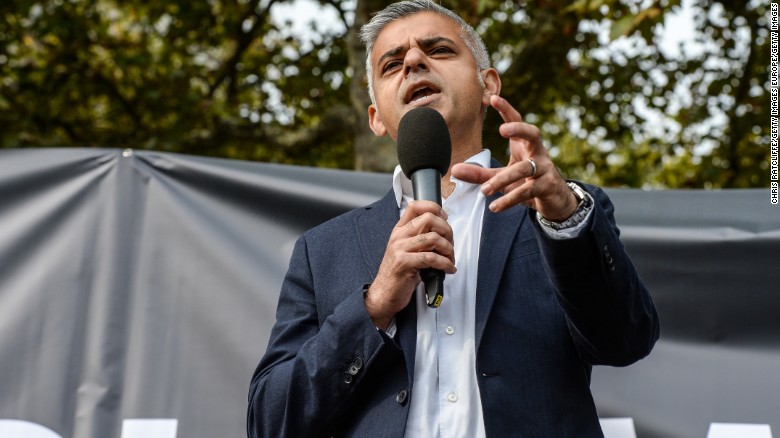 London's Sadiq Khan made history in May when he became the first Muslim mayor of a major Western capital.
Now he's embarking on a visit to North America and making it clear he doesn't care for Donald Trump's talk of a ban on those who share his faith, even though the GOP nominee has softened his stance on the issue, limiting it to Muslims coming from countries with heavy terrorist activity.
"I'm a firm believer in building bridges rather than walls," Khan said in an interview with CNN's Fareed Zakaria that aired Sunday.
"I'm a firm believer, actually, that it's possible to be a Western liberal and also be somebody who practices the faith of Islam."
Khan alluded to the discrimination he faced during his race for mayor. "My election in London was one where my opponents tried to divide our city," he said.
"London chose me as their mayor, not just an ethnic minority, not just a religious minority, but a Londoner of Islamic faith."
Khan said he hopes his story can "show the world that here in the West, here in London and other parts of the world, we're not simply tolerated, but we're respected and embraced as well."
The United States should look at its history of inclusion when searching for answers to fears over integration, immigration and radicalization, Khan said.
"The great thing about America is your history tells the rest of the world that actually it's possible for people who are, you know, originally from Italy or from Ireland or from Pakistan or from Syria or from Mexico, to not simply get on with each other, but to fall in love with each other, to work for each other and to work for the common good," he said.
America, Khan insisted, "is a great, great country."
"I'm looking forward in November to the best candidate winning, and I hope she does," he added with a smile.
As reported by CNN