Air travelers are being warned not to use their Samsung Galaxy Note 7 smartphones on planes after the company recalled the devices over complaints the batteries can catch fire.
"In light of recent incidents and concerns raised by Samsung about its Galaxy Note 7 devices, the Federal Aviation Administration strongly advises passengers not to turn on or charge these devices on board aircraft and not to stow them in any checked baggage," the FAA said late Wednesday.
The unusual warning adds to the headache for Samsung (SSNLF), the world's biggest smartphone marker, as it scrambles to replace millions of Note 7 phones around the world.
Some international airlines have already taken steps to stop people from using the devices on their aircraft. Qantas (QABSY) and Virgin Australia have both said they are telling passengers not to turn on Note 7s or charge them on flights.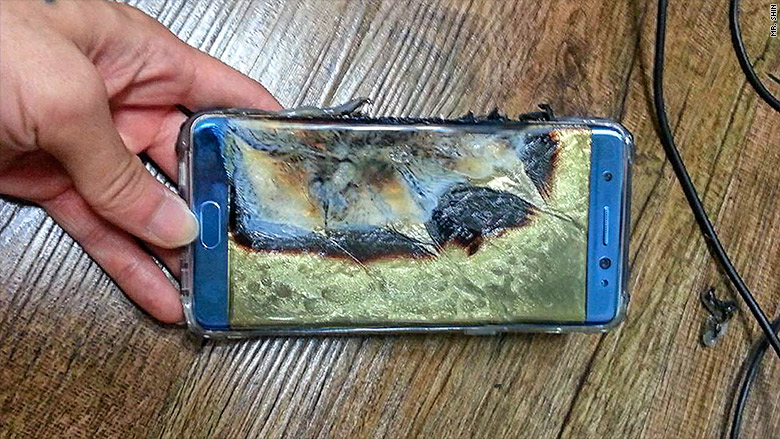 "On board announcements are being made prior to departure to inform all guests," Virgin Australia said in a statement.
It wasn't immediately clear how major U.S. airlines would respond to the FAA announcement.
Earlier Wednesday, Delta (DAL), JetBlue (JBLU), Spirit (SAVE), United (UAL) and Virgin America(VA) didn't respond to requests for comment on the Galaxy Note 7. American (AAL) andSouthwest (LUV) both referred questions on the phone to the FAA. American said it hadn't changed its policies.
Korean Air, the flag carrier in Samsung's home market of South Korea, said it doesn't so far have any plans to restrict use of the Note 7 on its planes. It said South Korean transportation ministry officials had met Wednesday with Samsung representatives and didn't issue any guidance regarding the phone afterward.
The transportation ministry didn't respond to a request for comment on the matter.
Samsung said a week ago that it was halting sales of the Note 7 and would recall 2.5 million devices in 10 countries, including South Korea and the U.S. The company will replace them with new Note 7 phones.
Related: Everything you need to know about the Samsung Galaxy Note 7 recall
Samsung was responding to dozens of complaints from customers that their phones had caught fire while charging. It said it had investigated the issue and found a problem with the batteries in a small number of Note 7 devices.
The embarrassing announcement came just two weeks after the flagship phone's release and days ahead of the unveiling of rival Apple (AAPL, Tech30)'s iPhone 7.
Samsung didn't immediately respond to a request for comment on the use of the Note 7 on airplanes.
As reported by CNN