Publications have appeared on a myriad of Arab sports and social media sites extolling Italy's national soccer goalkeeper, Gianluigi Buffon for apparently shouting 'Free Palestine' during Monday's soccer match with Israel.
Hamas has 'recruited' Gianluigi Buffon—the Italian national soccer team's goalkeeper—for its propaganda purposes as publications about his alleged public exclamations supporting Palestinians during his team's recent encounter with Israel have littered Arab social media sites.
Over the past few days, publications, albeit of questionable credibility, have appeared on Arab social media and sports sites claiming that the Italian keeper shouted "Free Palestine" after one of the goals scored by one of the Italian players during Monday's 2018 FIFA World Cup Qualifier match in Haifa with Israel which ended in a 3:1 victory to Italy.
According to the publications, Buffon's alleged calls sparked outrage and apparently even led to attempted attacks being committed against him. The publications also reminded readers that in 2014 during Operation Protective Edge, Buffon expressed solidarity with the Palestinians.
Amin Judah, a sports presenter in Qatar, wrote on his Twitter account that Buffon "shouted after every goal scored by Italy into the Zionist entity's net, 'Free Palestine.'"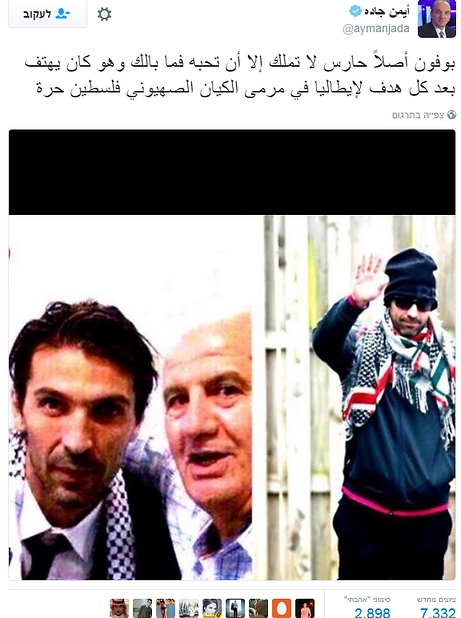 A member of the Hamas political bureau, Izzet al-Rishq, who is based in Qatar, also wrote on his Twitter account Thursday morning praising Buffon.
"All blessings to the Italian goalkeeper, Buffon, who shouted out for Palestine before an audience from the Zionist entity, 'Free Palestine.' Thank you Buffon from the Palestinian nation," al-Rishq wrote.
Al-Rishq's comments were shared by dozens and received numerous likes as residents of the Gaza Strip apparently welcomed Buffon's public gesture with enthusiasm. Despite Buffon's previous expressions of support for Palestinians, the authenticity of the report remains unconfirmed.
During the match, several members of the audience, seated in an area of the stadium designated for fans of the Italian team, were recorded making anti-Semitic and anti-Israel gestures, including booing during the Israeli national anthem and performing the Nazi salute.
As reported by Ynetnews