According to a poll conducted by Channel 2 News, Yesh Atid's Yair Lapid has received a huge boost in popularity that would suffice to dethrone Netanyahu; Bayit Yehudi and Yisrael Beytenu would both clinch more mandates unlike the Zionist Union and Kulanu.
Yesh Atid party led by Yair Lapid would emerge with the highest number of mandates if elections were to be held today, according to a poll published Tuesday evening by Channel 2 News.
According to the survey, Lapid would take 24 mandates (during the last election he received just 11) while Prime Minister Benjamin Netanyahu would trail with just 22 mandates. During the last election, Likud received 30 mandates.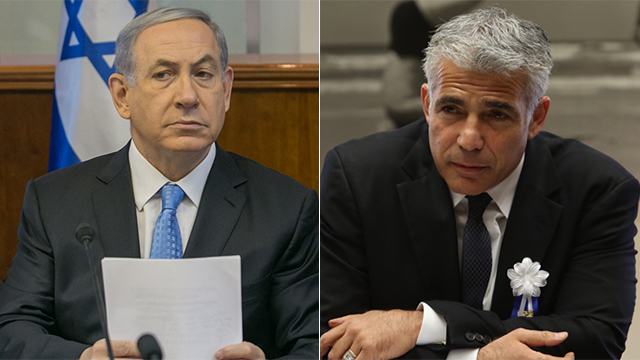 This is the first time that Lapid appears to have overtaken Netanyahu in the polls.
The survey also reveals that the Bayit Yehudi party, led by Education Minister Naftali Bennett, would strengthen its grip in the government with an estimated 14 mandates as opposed to the 8 it currently holds.
The poll indicates that support for the Zionist Union seems to have dropped significantly from the 24 mandates its received during the last elections to just 13.
The Joint List remains the same, according to the poll, clinching 13 mandates while Yisrael Beytenu, led by Defense Minister Avigdor Lieberman, would increase its mandate from its current 6 to 10.
By contrast, Finance Minister Moshe Kahlon's Kulanu party appears to have declined in popularity from 10 mandates to 6, the poll indicates.
As reported by Ynetnews