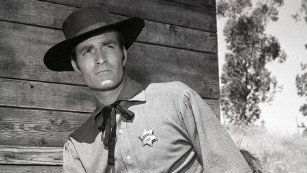 Actor Hugh O'Brian, best known for his portrayal of the title role in the 1950's TV Western "The Life and Legend of Wyatt Earp," has died. He was 91.
Javi LaFianza, President and CEO the Hugh O'Brian Youth Leadership (HOBY), confirmed his death.
"It's impossible to put a number on the amount of lives Hugh has touched — but we can certainly say anyone who participated in HOBY, including all 470,000 of our alumni, tens of thousands of volunteers, and many staff are better people because of him," a statement from the group reads.
O'Brian remained active in the foundation until as recently as July, when he urged participants in a HOBY World Leadership Congress to cherish the event. He credited Nobel Prize winner Albert Schweitzer as instilling in him a belief in young people and in 1958 formed the foundation.
"I believe every person is created as the steward of his or her own destiny with great power for a specific purpose: to share with others, through service, a reverence for life in a spirit of love," the statement quotes him as saying.
Long career
Born Hugh Charles Krampe on April 19, 1925, in Rochester, New York, he enlisted in the Marines during the Second World War.
Two years after the war ended he began his acting career after a chance encounter led to him replacing an ill lead actor while attending a performance of Somerset Maugham's play "Home and Beauty."
His turn as Earp transformed the Western genre, which had previously catered to children. He reprised the role of the famous marshal at least three times in various productions. He also starred in Westerns such as "Ten Little Indians" and "The Shootist."
O'Brian appeared in "Fantasy Island" in the 1970s and 80s as well as in the Arnold Schwarzenegger vehicle "Twins" and "The Love Boat."
He continued to act throughout a 69-year career, and will appear posthumously in "Old Soldiers" as Dick Bartholomew, one of three elderly veterans who take a road trip visit the National World War II Memorial in Washington, DC.
The actor died peacefully in his Beverly Hills home on Monday, according to the statement from his foundation.
He is survived by his wife, Virginia O'Brian. "I said goodbye early this morning to my favorite cowboy. My 28 years with Hugh has been an amazing, beautiful adventure. I miss my special man who told me every day I was beautiful and that he loved me, I feel very fortunate that Hugh came into my life. I was one lucky cowgirl," she told CNN.
As reported by CNN