Meir Pavlovsky, who was stabbed repeatedly in the back by a Palestinian terrorist when he was walking to synagogue, returned to the place of his attack two weeks later to propose; now, he is married: 'a small revenge on terrorism.'
In the heart of Jerusalem on Wednesday night, against the walls of the Old City, Meir Pavlovsky, who was seriously wounded in a terrorist attack in Kiryat Arba ten months ago, wed Katia.
Pavlovsky, who had to undergo extensive and intensive rehabilitation in the hospital due to his injuries, didn't waste much time after the terrorist attack. A fortnight afterwards, he returned to the place where he was stabbed and proposed marriage there to his now-wife.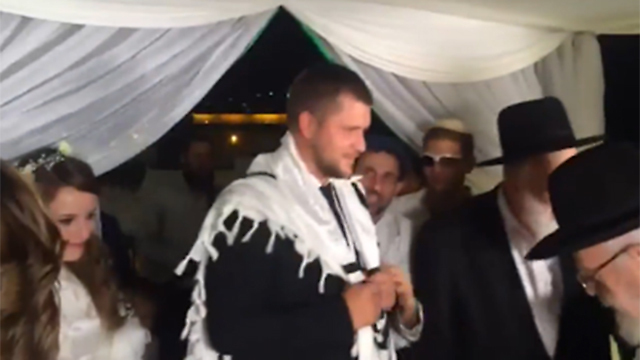 At the beginning of October, a Palestinian terrorist stabbed the 31 year old in his back a number of times while he was en route to a synagogue in Hebron. Pavlovsky received first aid in the field, and he was later transferred to the trauma center at Jerusalem's Shaare Zedek Medical Center.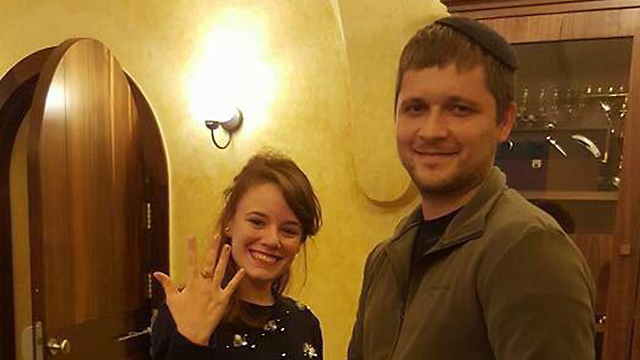 Since the couple announced their engagement, dozens of their friends helped them on the way to the wedding. On Tuesday, there was a slight amount of tension when Pavlovsky's adoptive father, the ultra-Orthodox media personality Aharon Granot, announced that they had no photographer for the event. However, one was found in time for the ceremony.
Following the ceremony, the new husband said, "We're very happy that we got to build another family and another unit in Israel. This is a small revenge, in quotes, against the terrorism that we've been through. And with God's help, we'll go on and be strengthened.
As reported by Ynetnews