During second tour of the Israel's northern region, defense minister met with top military brass, Golan Heights community leaders; 'We are strengthening our deterrence and readiness for emergencies.'
Four months after becoming Israel's defense minister, Avigdor Lieberman paid another visit to the Northern Command Tuesday.
The Yisrael Beytenu leader was accompanied by IDF Chief of Staff Gadi Eisenkot, Northern Command Commander Gen. Aviv Kohavi and the Northern Corps Commander Gen. Mamir Hyman.
During the visit Lieberman received a comprehensive review of the challenges and developments in the northern region and was appraised of intelligence updates regarding Syria and Hezbollah.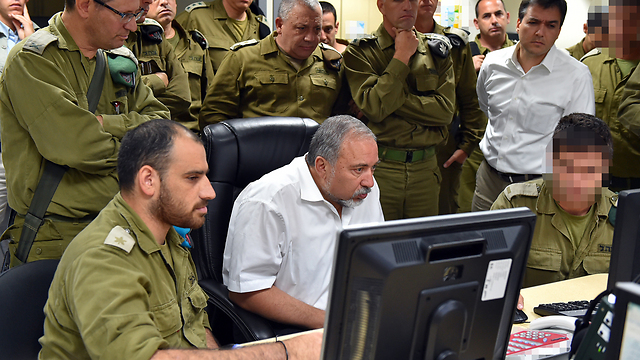 Lieberman's first visit to the northern border took place shortly after he was inaugurated as defense minister. During that visit he warned, "I don't recommend that anybody try to test us. We don't have other plans beyond maintaining the calm situation."
A few weeks later the minister said during a meeting of the Knesset Foreign Affairs and Defense Committee that the "next conflict needs to be the last one with the Hamas government in Gaza," and expressed his opposition to being drawn into more rounds of war against Hezbollah or Hamas.
During the hours of Lieberman's tour of the area, he came under attack by his predecessor Moshe Ya'alon who expressed his disapproval over the decision to forbid the chief of staff to pay visits to soldiers engaged in voluntary activities for foreign children."I would have expected that the defense minister deals with other matters and I would not have expected to see headlines on leadership exercises for the chief of staff in the media," said Ya'alon.
Lieberman met with the main authorities from the northern border, along with leaders of communities in the Golan Heights. "The IDF and the security apparatus are operating to strengthen the deterrence capacity and its readiness for emergencies," he said.
As reported by Ynetnews