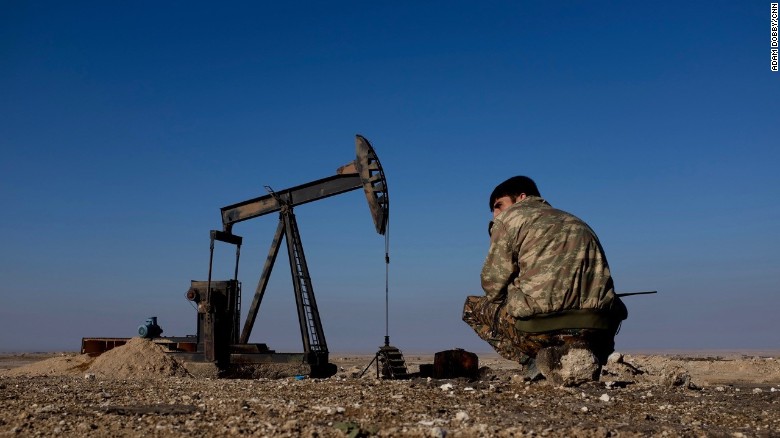 Coalition forces, including American military operatives, killed a senior ISIS leader when conducting an operation on the Iraqi-Syrian border Wednesday, officials said.
Killed was Sami Jassim Mohammed Al-Jabouri, known by the nom de guerre Haji Hamad, said the Kurdistan Region Security Council. His reported death is the latest victory in the coalition's ongoing fight against the terrorist organization's financial staying power.
Jabouri was responsible for ISIS operations regarding natural resources in Iraq and Syria. He and an aide were killed in the operation. The United States has not verified Jabouri was the man killed in the mission but verified he was a key figure in ISIS oil operations.
All coalition forces returned safely, the Kurdish statement said.
A US defense official confirmed to CNN an operation against an ISIS target and said it was coordinated with the Iraq government and the Kurdistan Regional Government forces.
The Pentagon's secret expeditionary targeting force conducted a mission Thursday to capture an ISIS operative, according to the defense official. It appears the man the team went after may have killed himself rather than be captured, but that has not been verified, the official said.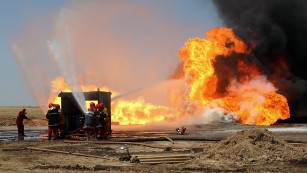 ETF operations are conducted by US special operations forces and rarely acknowledged openly. But this time officials acknowledged the operation took place after the Kurds disclosed it. Jabouri was a key figure in ISIS oil operations. But the official said the mission was to capture an individual for intelligence reasons.
"We are assessing the results of the operation and will provide additional information as and when appropriate," the US official said.
The mission took place near Qaim near the Iraqi-Syrian border, where there is an ISIS presence, the official said.
The Kurds have been battling with ISIS over control of oil fields. Less than two weeks ago, Kurdish forces repelled an ISIS hostage taking at an oil field near the northern Iraqi city of Kirkuk.
Kurds killed the attackers and freed the hostages, according to witnesses.
The Khabbaz oil field produces around 20,000 barrels of oil per day and is situated between areas disputed by opposing fighters from the Iraqi Kurdish Peshmerga forces and ISIS.
The standoff was the second armed attack on an energy facility in the Kirkuk region Sunday, after an earlier deadly attack on a nearby gas compression facility owned by the same company.
Four staff members were killed and another was injured during that attack on the gas facility, known as AB, in the Bajwan area in northwestern Kirkuk, police Gen. Sarhad Qader said.
Meanwhile, US forces have been striking ISIS targets in Libya to further erode its territorial potential natural resources gains in north Africa.
U.S. Special Forces and surveillance flights are operating on the ground and over Libya as the West moves to boost security operations in the country to bolster Libya's increasingly desperate fight against ISIS.
It has been getting hard for ISIS to finance its war machine due to its shrinking territory and crippled oil business.
By April of this year, ISIS' monthly revenue had fallen by 30% — down from an estimated $80 million a month in mid-2015.
ISIS has ceded more than 22% of its territory to Kurdish, Syrian and Iraqi forces over the past 19 months, according to IHS. During that time, the population living under ISIS rule has fallen from 9 million to 6 million.
To offset those losses ISIS has halved its fighters' salaries, increased taxes and fees for people remaining under its control and resorted more to such tactics as kidnapping for ransoms and smuggling stolen archeological artifacts.
ISIS is so strapped for cash it has also started giving people accused of violating Sharia law the option of paying a cash fine instead of suffering severe physical punishments, reports IHS, which monitors the conflict.
As reported by CNN