The Old City of Jerusalem is full of security cameras which have helped in the capture of terrorists who carried out terror attacks; following the success of these cameras in the Old City, the Jerusalem Police are planning on putting them up in different flash points throughout the capital.
Following the success of the Mabet 2000 security camera system in the Old City of Jerusalem – which takes live feeds from cameras all over the Old City and feeds them into a central video bank – the Jerusalem Police have decided to widen the scope of the program over the rest of the city of Jerusalem.
The Jerusalem Police will be able to continuously watch over the entire city, and quickly dispatch police forces to any area in the event of a disturbance. Eventually, street light cameras and cameras on the Jerusalem Light Rail will be incorporated into the central situation room.
The system of cameras in the old city has helped security forces during security breaches, investigations, and in the search for terrorists. They have also helped in solving criminal cases.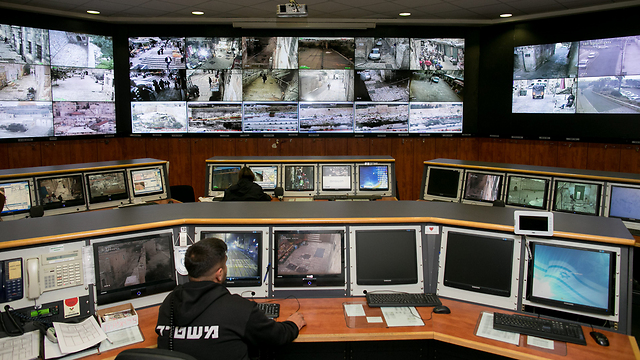 Over 400 cameras are operating at all times in the old city, helping to find terrorists who carried out stabbing attacks during the recent wave of terror. The cameras have been able to follow terrorists as they flee deep into the old city, helping direct security forces to where the terrorist was hiding.
The police commander in charge of the Old City, Commander Doron Turgeman, said that "we are approaching 95% coverage – there's nothing like it anywhere else. It's something every police commander dreams of."
The situation room is full of dozens of screens with live feeds from the cameras, showing everything that happens in the Old City in real time. "All of our forces are in the field, and all of them receive the same situation reports in real time. We know how to stop an attack before it happens," the Turgeman said.
An additional 193 cameras will be positioned around the city, and will record 24/7. The live feeds will be sent to a central operations room at the Jerusalem Police Department Headquarters, and the people monitoring the feeds will be able to get a general picture of what's happening in their areas of responsibility. There will also be several cameras which will be able to read license plate numbers by the end of the year.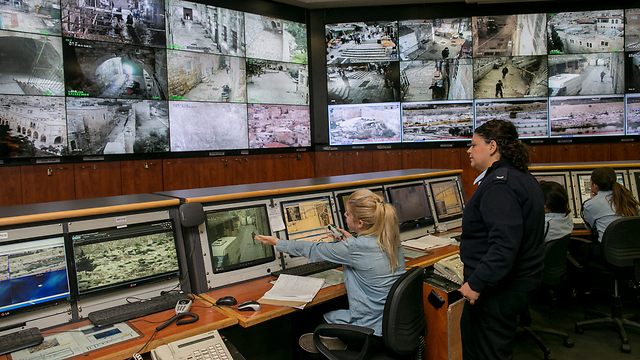 The additional cameras being set up will include cameras on the Jerusalem Light Rail, and the flashpoint neighborhoods of Silwan, Wadi Joz, Isawiya, as well as throughout west Jerusalem.
Interior Security Minister Gilad Erdan talked about the initiative during the launch of a pilot project to equip Israeli Police Forces with body cameras. He said that all of the cameras – both in Jerusalem and on the bodies of police officers – is part of an overarching technological vision for the police.
As reported by Ynetnews