Op-ed: The debate over the new public broadcasting corporation is merely a distraction: While his ministers flock around and peck at the media trying to impress him, PM Netanyahu—who also serves as minister of communications—is trying to actively damage the free press of Israel.
The conversation around the new Israeli public broadcasting corporation in the government, in the Likud party, and in the media, has been fascinating. It has been so breathtaking because it exposes a culture—not politics—and can be seen as a lens through which one can view democracy.
Suddenly we could all see a civilization that we thought went extinct five or six decades ago. Culture Minister Miri Regev was, of course, most prominent in the discussions, Jerusalem Affairs Minister Zeev Elkin displayed his cleverness, but the one who caught my eye was MK David Bitan.
Bitan, chairman of the coalition, is a former municipal dealmaker with a foggy background and has shined as bright as a meteor in the Knesset sky since he arrived. They tell me he's a good guy.
Even though he is known to the police and has been suspected of criminal acts, he's said to be a modest man who owns just one modest apartment and has no other major assets. He did get into trouble with people in the "grey market" and his case was closed due to lack of evidence—not due to the police determining he was innocent—but his defenders say it's all because of his loyalty to his beloved Rishon Lezion soccer team and to its employees and players.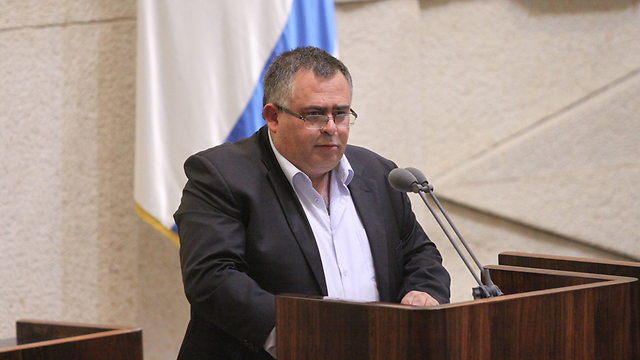 While his past may perhaps be forgiven, it would be much harder to forgive his present. During one year in the Knesset, he has stated that the press in Israel is too free; determined that the heads of the Shin Bet and the Mossad were turned into leftists during their service; spread around a petition for the pardon of Hebron soldier Elor Azaria, since that's how the defendants in the Bus 300 affair were treated (when two Shin Bet members executed two Palestinian hijackers after having captured them —ed.); proposed a bill that would encourage people inside the State Comptroller's Office to expose corruption inside it; and made his attempts to kill the new broadcasting corporation and resuscitate the dying Israel Broadcasting Authority.
I asked MK BItan's sympathetic spokesman how he would explain this nonsensical string of actions. The spokesman said he sees these as an expression of honesty and directness, as MK Bitan is someone who speaks from the gut. I suggested to him that these actions may be an expression of some other substance that's in the MK's gut.
Regev, Elkin, Bitan, and their ilk operate according to the example set by the communications minister, or at least they're attempting to fall into his good graces. After all, that minister also holds the coveted role of prime minister.
PM Netanyahu is a media freak. He's the number one media personality in Israel, perhaps in its entire history. Someone once wrote that he's not a prime minister, but rather the nation's editor-in-chief. He beat Hamas, Iran, and US President Barack Obama in the media, but was defeated—meaning we all were—in real life.
Netanyahu is particularly interested in television. Even as a young diplomat, he learned to put on make up and play to the cameras. He'd stand at home and rehearse interviews with his second wife, Fleur. He'd practice rhetorical moves. He took lessons with the best instructors in America.
Napoleon taught us that a single hostile newspaper is more dangerous than a thousand guns. But in his time television TV did not exist, and with all due respect to the emperor—he couldn't even come close to the Israeli PM when it comes to media skills.
Don't be fooled by the debates over the new broadcasting corporation. It's a false debate. A distraction. A smoke screen projected onto your television screen. Netanyahu doesn't care about the new corporation—he knows it won't bring about any special good or ill.
Netanyahu sees Channel 2 News as the most significant, with Channel 10 News in second place. He wants to destroy Channel 2 News and weaken Channel 10 News. Communications Ministry Director General Shlomo Filber has prepared a report whose purpose is to blow apart the existing news channels and create new ones. Then, the PM seems to believe, tycoons from the telephone, cellular communications, and maybe the casino and hospitality industries would join in on Netanyahu's celebration.
The American founding fathers gave us the idea that a free press without a government was preferable to a government without a free press. If Netanyahu's plan to smash the country's news channels into bits is ever successful, we'll be left with neither.
As reported by Ynetnews