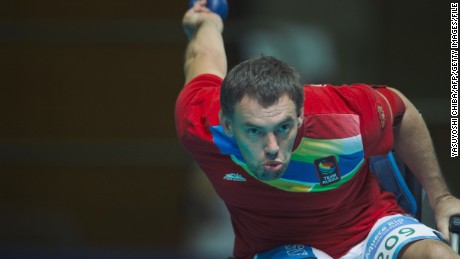 The International Paralympic Committee on Sunday banned Russia from participating in the upcoming 2016 Paralympic Games for allegedly violating international doping rules.
During his announcement in Rio de Janeiro, International Paralympic Committee President Philip Craven put the blame squarely on Russia's government.
Russia has "catastrophically failed its para athletes," Craven said. "Their medals-over-morals mentality disgusts me."
Russian Sports Minister Vitaly Mutko told Russia's news agency Tass he will appeal the decision and submit a claim to the Court of Arbitration for Sports in Lausanne, Switzerland.
"We will fight for our Paralympians," he told Tass.
Joining Craven at the news conference was Todd Nicholson, the IPC athletes council chairperson, who said he could "only imagine the disappointment Russian athletes must feel at this decision."
But Nicholson assured athletes that the decision was made in their best interest "to ensure a fair and level playing field for all athletes."
The Paralympic Games start September 7 in Rio.
The committee had asked for more information from Richard McLaren, who triggered the controversy in July by issuing a report for the World Anti-Doping Agency (WADA) alleging a wide-scale pattern of doping by Russian athletes, which had been covered up for years by the country's security services.
On Sunday, WADA came out in support of the IPC's decision, saying it's "in the interest of clean athletes and the clean sport movement."
The international committee said it will begin working with the international sporting federations to figure out how the 267 slots that had been allotted to Russian Paralympic athletes across 18 sports will be redistributed to other nations.
Banning Russia's Olympic athletes
As far as the Olympic Games in Rio, 118 competitors of the 389-strong Russian team have been banned, due to the doping scandal.
Critics had called for Russia's entire Olympics team to be banned, to send a message that systematic cheating is unacceptable. But International Olympic Committee President Thomas Bach said doing so would be wrong. "This is about doing justice to clean athletes all over the world. In this way we protect these clean athletes," Bach said.
As reported by CNN