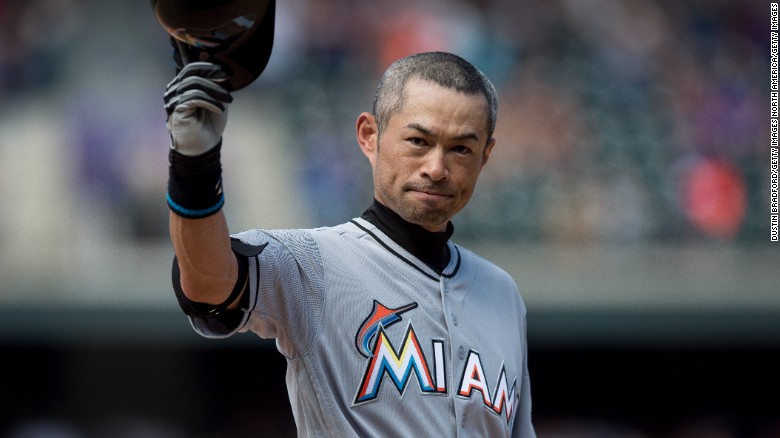 The elastic zip might be gone, but the stance remains unmistakably Ichiro. Taut, alert, right arm extended and bat held ramrod straight up as he lightly tugs his shirt sleeve. And then, the hit. On Sunday, the Miami Marlins' Ichiro Suzuki scored his 3,000th career hit, a triple off Chris Rusin of the Rockies, catapulting him into an exclusive group of players: the 3,000 club.
It's the culmination of a glittering career that has taken him from the western Japanese city of Kobe and the then-Orix BlueWave to Seattle, where he held court for a glittering 11½ seasons before a short spell with the Yankees and, when free agency came around, the Miami Marlins.
After bagging hit 2,998 at home in Miami, the 42-year-old endured a frustrating series against the Cubs, starting on the bench for each of the three games. But the inevitable could only be delayed, and he duly hit number 2,999 Saturday night and then, finally, 3,000 at Coors Field in Denver.
Ichirio is the first Japanese player to achieve the feat in Major League Baseball and the 30th to achieve the feat of the 18,506 players who have suited up in the Majors since 1876, according to Baseball Reference.
Alex Rodriguez, one of baseball's biggest stars, is the only other active player on the 3,000 hit list. Rodriguez announced he will retire on Friday.
A-Rod, 41, debuted in the Majors at age 18. Ichiro, 42, made his debut as a 27-year-old, after playing nine seasons in Japan.
Three decades of baseball
Ichiro had 1,278 hits for the Orix BlueWave in Japan's Nippon Pro Baseball, where he began his career before moving to Seattle.
If you count his hits in Japan, Ichiro is the all-time hits leader in professional baseball — though some, including current MLB hits leader Pete Rose, say only hits in the Majors should count.
"His career will be counted as one of the best of this or any other generation," one-time teammate Derek Jeter wrote in a tribute to the Japanese all-star.
When he moved to Seattle in 2001 — his best season runs-total, bar one season — he was lauded as one of the first, and certainly the most anticipated, position players from Japan.
With 242 hits and 127 runs that season, he opened his MLB account — at age 27 — and set about building a legacy in a hugely successful career in the Majors.
He's still loved in Seattle, but the Ichiro love-in doesn't end at the Pacific Coast. He's seen as somewhat of an ambassador of Japanese baseball in his home country, where he helped his Nippon Pro Baseball team to its only Japan Series pennant in 1996.
As reported by CNN