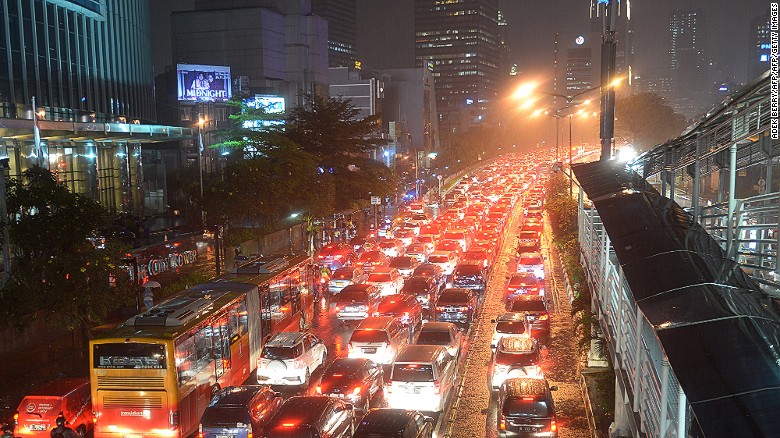 Jakarta is often derided as the most congested city in the world, with an estimated 5.5 million vehicles on the roads — just 2% of which is public transport.
Short-distance trips can take hours, while the sound of honking horns doubles as the city's soundtrack.
When others saw the Indonesian capital's traffic as a barrier to business, Nadiem Makarim, now 32, sensed an opportunity.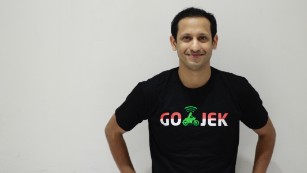 "Every good innovation comes (from) a really, really big, complicated problem," says the Indonesian entrepreneur.
Makarim's solution? Go-Jek: a ride-hailing app used to book Indonesia's two-wheeled "ojek" motorbikes.
One of Asia's fastest growing start-ups, Go-Jek has amassed a following since launching. The app quickly evolved from its original taxi-hailing mission into a one-stop shop for on-demand services, such as ordering take-away meals, couriers and even masseuses.
Only one way to go
Two-wheeled taxis expertly zip in and out of Jakarta's notorious traffic jams, but they were difficult to hail before Go-Jek came along.
Harvard Business School graduate Makarim realized that ojeks could have huge potential, if only they were coordinated by technology.
"(In Jakarta), there's only one real way of getting from A to B in the fastest way, and that's by two wheelers," he tells Talk Asia. "The problem was that this market of two wheelers was extremely inefficient."
Go-Jek, much like other car-hailing apps, harnesses GPS technology to connect users with available drivers nearby.
The power of mobile
Go-Jek launched as a website in 2011, but didn't see serious momentum until 2015 when the company unleashed its app.
In Indonesia where 70% of web traffic comes from mobile, this proved to be Go-Jek's best move yet.
"Indonesia is leading the packing in the mobile revolution," says Makarim. "I believe in five to seven years time almost everybody will have a smartphone."
To date, the app has been downloaded 25 million times, and there are more than 240,000 Go-Jek drivers across Indonesia.
That's not to say there haven't been setbacks. Earlier this year, the Indonesian government threatened to prohibit app-based transport after violent protests by traditional taxi drivers. And, of course, rivals Uber and Grab Taxi pose fierce competition.
An app for everything
"Our toughest decision now is what not to do," laughs Makarim.
But he's not joking.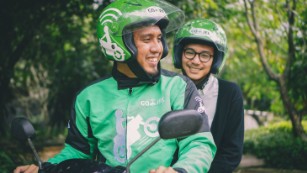 The brand has quickly diversified its services: Go-Busway lets users track Jakarta's buses, Go-Pay offers a mobile payments system, and Go-Massage provides on-demand beauty services.
In the future, Makarim says the company will focus on turning the "Go" brand into a one-stop shop for local services, rather than expanding internationally.
"We firmly believe in the hyper-expansion of services within one geography," he says. "We have no incentive to go abroad yet."
With a population of 250 million, there's plenty of untapped potential at home in Indonesia.
More than that, Makarim says staying successful locally is a point of patriotism.
"There's a lot of national pride riding on Go-Jek," he says. "People are really proud that global innovation is created in Indonesia, and I think that goes a long way for the founders."
As reported by CNN