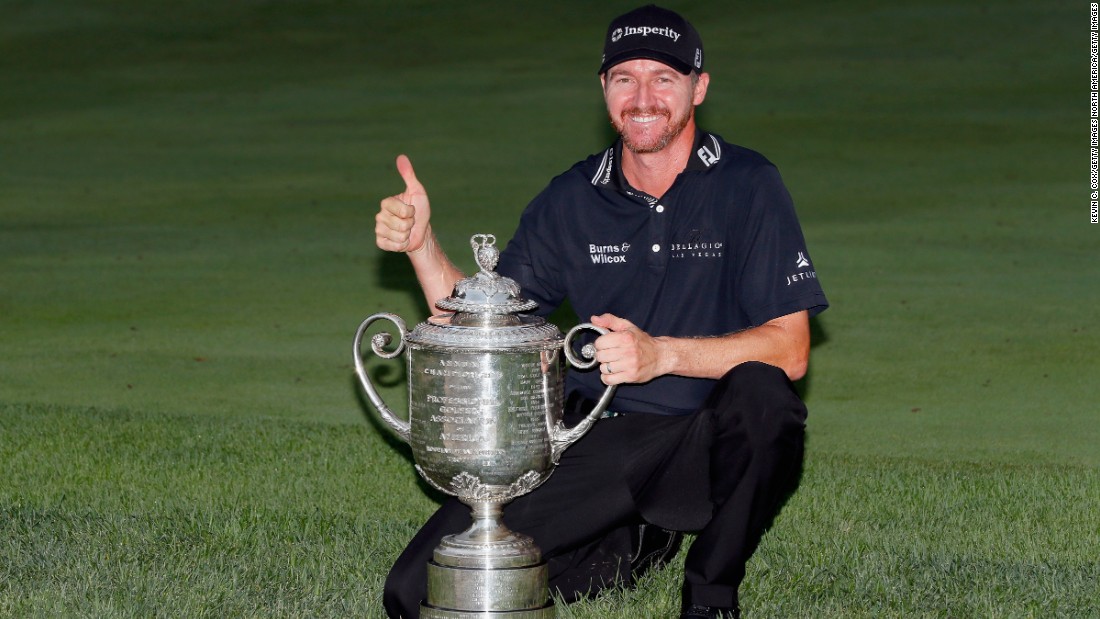 Jimmy Walker won his first major title with victory at the PGA Championship in Baltusrol, beating reigning champion Jason Day by one shot.
In a dramatic finish, Day gave himself a great chance of retaining his title with an eagle at the last hole but Walker held his nerve to two-putt for par and the title.
"Sometimes things don't come easy and golf isn't an easy game," Walker said following his win. "Day is a great champion and I wouldn't expect anything else — eagle at the last.
"I had to make par, pars are hard but I made it."
Despite appearing calm and collected throughout a nerve-shredding back nine, Walker admitted he felt the tension out on the course.
"There's a lot of emotion going on out there, I'm not gonna lie. It's tough, it's amazing."
On the penultimate hole, Day missed a good chance for birdie to close the gap on Walker to one shot, something he would go onto rue.
The world No. 1 then opted for an iron off the 18th tee and followed it up with an exquisite approach shot that gave him the chance to finish his round with an eagle.
On his walk to the final green, Day threw his club in frustration as he heard the roar from behind him, signaling another Walker birdie at the 17th.
Walker's birdie putt looked to be missing right, but the stars aligned for the astrophotographer and the hole gathered the ball in.
It appeared as though the 37-year-old slightly over hit his first putt on the 18th green, leaving himself with a tough three footer to secure the title.
But in truth, the par was never in doubt as Walker completed a bogey-free final round of 67.
"It feels sweet, it's amazing," Walker told Sky Sports after his triumph. "I felt like something clicked last week and I brought it in this week."
For the first time in five years, all four of the year's majors have been won by first-time winners.
Walker didn't hit a golf ball Saturday after bad weather forced play to be abandoned, instead returning Sunday morning to shoot 68 and take a one-shot lead over Day into the final round.
"It's surreal, it really is," Walker said of his maiden major win. "I'm having a hard time putting words to it now."
As reported by CNN