Netanyahu personally holds four ministries in addition to leading the government; asked by a Knesset committee if running the foreign affairs was distracting from his other responsibilities, he stated that he will be releasing some portfolios; PM criticized state comptroller in committee.
Prime Minister Benjamin Netanyahu—who also serves as the minister of foreign affairs, the minister of communications, minister of regional cooperation, and minister of the economy—said on Monday, "Soon, I will unburden myself of a few portfolios, so that will facilitate further concentration on tasks that I consider important."
The prime minister was speaking at a debate in the Knesset's State Control Committee on the report on the Ministry of Foreign Affairs' (MFA) public-relations network. He was answering a question posed to him by the committee's chairperson, MK Karin Elharrar (Yesh Atid), who wondered if Netanyahu's holding the MFA portfolio was at the cost of something else.
During the debate, the prime minister repeatedly attacked State Comptroller Avichai Mandelblit, stating that he did not accept Mandelblit's findings as released in his report. He drew parallels between the report on the Carmel fires and the report being debated in the committee.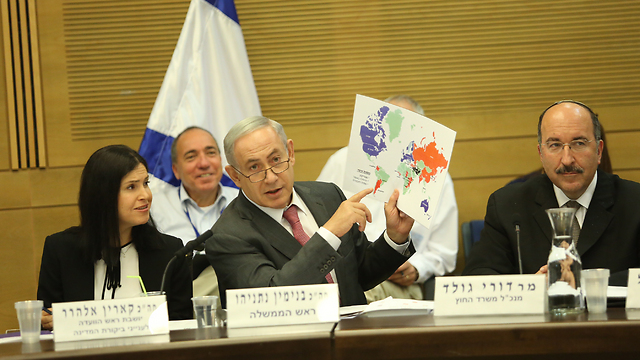 "I read the state comptroller's report on the fire in the Carmel, and it was lacking two words: firefighting planes. Since then, there have been more than 500 fires. All of them were put out," said Netanyahu, who later added, "Certain things were concluded in the Carmel report that I do not accept… I'm allowed to disagree with the state comptroller."
Regarding the state's public relations, Netanyahu said that the IDF Spokesperson Unit, the MFA, and the National Information Directorate (within the Prime Minister's Office) are an "iron triangle," but Elharrar didn't let up and presented to the prime minister an allegation from the state comptroller's report that there is no coordination between those agencies.
"I don't accept that," responded Netanyahu. "I personally saw the coordination during (Operation) Protective Edge… To the contrary. The public relations system worked wonderfully. It worked exceptionally, coordinated to the hour."
The prime minister was asked to what extent he coordinated with Minister of Public Security Gilad Erdan (Likud), Minister of Education Naftali Bennett (Bayit Yehudi), and Minister of Justice Ayelet Shaked (Bayit Yehudi) on Israeli public relations in the world. Netanyahu replied that cabinet meetings were dedicated to the topic: "There have been meetings with Minister Erdan and with additional ministers, and there was a meeting that touched on the entirety of the program that we're running, and the subject also comes up regularly in cabinet meetings. Not a cabinet meeting goes by that we don't talk about this."
As reported by Ynetnews