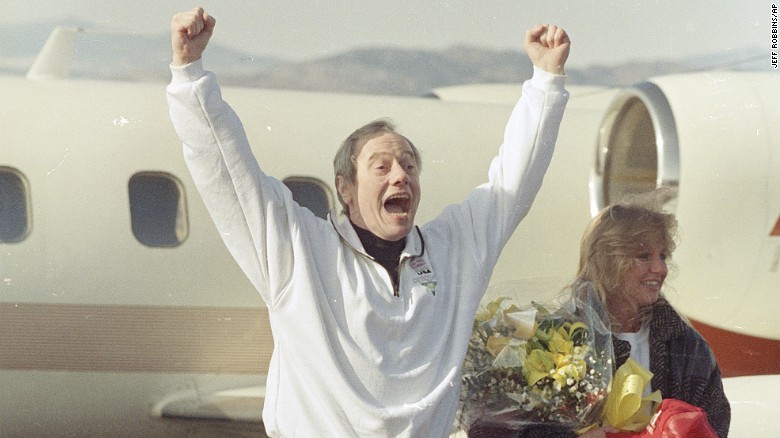 Thomas Sutherland, who was held hostage in Lebanon for more than six years, died Saturday in Fort Collins, Colorado, according to Colorado State University, where he'd been a professor. He was 85.
Sutherland was dean of agriculture at the American University of Beirut when eight gunmen abducted him on June 9, 1985.
He was released on November 18, 1991, having spent 2,353 days in captivity — the longest of all the hostages taken by Hezbollah during that period, except for Terry Anderson.
Sutherland was "physically abused by his captors, who on one occasion subjected him to a most severe beating with a rubber truncheon, first on the soles of his feet and thereafter over his entire body until he was black and blue everywhere," according to a lawsuit he and other hostages filed against Iran for its role in supporting Hezbollah, the Islamic group that carried out the abductions.
The suit goes on to say "Sutherland's captors repeatedly subjected him to mental torture by threatening him with death and by, among other things, falsely indicating to him that he was about to be released."
After his release, the Scottish-born Sutherland returned with his wife to Fort Collins, where the community had tied yellow ribbons to trees throughout town.
"One of the greatest moments in the history of Colorado State University was the afternoon in 1991 when we welcomed our friend and colleague Tom Sutherland home from his long captivity in Beirut," Colorado State University President Tony Frank said in a statement. "His spirit and optimism inspired the world, and the deep devotion of his family during the bleak years he was a hostage taught us a profound lesson of courage, faith, and hope."
Life as an actor/h3>
In June 2001, the Sutherland family won a verdict against the frozen assets of the government of Iran, said a news release from the Denver Center for the Performing Arts Center. Sutherland and his family received $35 million from frozen Iranian assets.
He donated to many causes, including a food bank and community radio.
He underwrote the initial $1.1 million purchase of a historic building in Fort Collins that became home for Bas Bleu Theatre Company, the performing arts center said. Sutherland pledged $500,000 of that himself.
Sutherland took up acting in 2003 in Athol Fugard's play "A Lesson From Aloes" at the Bas Bleu Theatre. The play explores the effects of apartheid on black and white friends in South Africa.
He said performing in the play was a way of repaying poets like Robert Burns, whose words helped him survive the ordeal in Lebanon, the performing arts center said.
"The entire Colorado State University community joins once again in honoring a true hero — who believed that an understanding of agricultural science could bring relief to people and communities in hunger — and that education could be a force for good and light in our world that would transcend borders and differences among nations," Frank said.
Sutherland and his wife, Jean, wrote a book about his captivity, "At Your Own Risk: An American Chronicle of Crisis and Captivity in the Middle East."
As reported by CNN