Addressing questions during Knesset session about ongoing police checks into former PMO chief of staff, Netanyahu pours cold water on any notion of wrongdoing: 'They have been checking this for years. There never was anything,' replied PM.
Prime Minister Benjamin Netanyahu on Monday denied any wrongdoing amid the ongoing police questioning of his former chief of staff Ari Harow.
Responding to a question asked by MK Yael Cohen Paran (Zionist Union) during a question and answer session at the Knesset, the prime minister said, "There is a flood of nonsense, inventions, lies. This has been checked for many years and nothing has been found for a simple reason: There is nothing. There never was anything. In this instance too, there is no fire, no smoke – just hot air. A lot of hot air."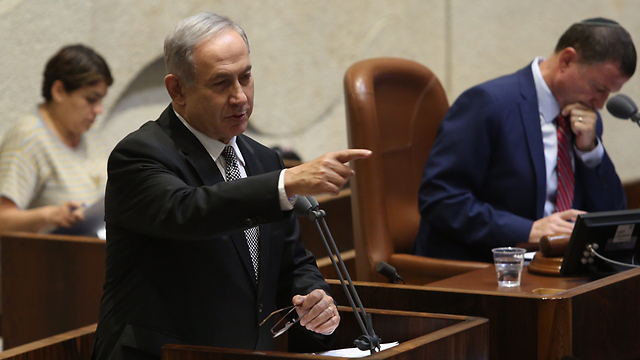 Before taking questions on other matters, the prime minister added emphatically, "I want to give you a spoiler. So anybody who doesn't want to hear should block their ears or leave the hall: In this case nothing will come (of it) because there is nothing. There is nothing."
Harow was questioned under caution by the police's National Fraud Investigations Unit on Monday morning for the second time and is to remain under house arrest until Friday. After landing in Israel last Thursday, Harow was questioned for 15 hours before being confined to house arrest. The questioning came as part of an examination of a matter pertaining to the prime minister.
A week ago, Attorney General Avichai Mendelblit confirmed that checks relating to Netanyahu were being conducted. With details of the case previously being placed under a gag order, information published by various news outlets was not confirmed and received no official responses.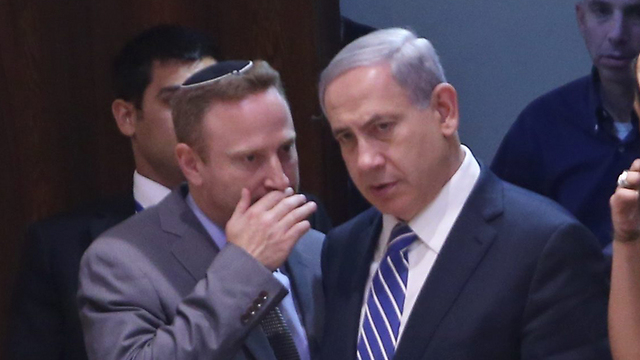 Last December Harow was questioned under caution for several hours and was also subject to a five-day house arrest. He was reportedly suspected of, among other things, acting in a manner that raises a conflict of interests with regard to a company he owned.
At that time, Harow was suspected of breach of trust and fraudulently obtaining benefits. Police suspected his unlawful conduct continued for a long period of time, and that this was not an isolated incident.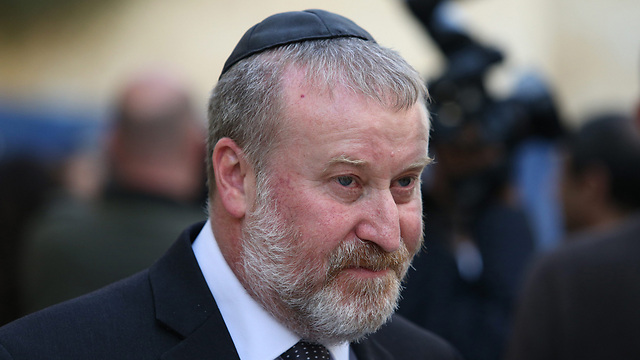 Attorney General Mendelblit stepped in on Monday morning to clarify matters. "There is a lot of confusion among the general public between an examination of information and an official investigation," he said. "When there is a reasonable suspicion of a criminal act and there is intelligence information about which I am made aware, usually obtained from the police, I am obligated to treat it as an investigation, no matter who the suspect in question is," he stated during a review conducted before the Knesset's Constitution, Law and Justice Committee.
"Nevertheless," he continued, "if the information does not arouse reasonable suspicion, more information needs to be gathered. Sometimes, I don't see a reasonable suspicion but I can't simply ignore it. There is a lot of material that needs to be examined as part of a check. There is no other choice. Only then does it become apparent whether there is reasonable cause for suspicion and an investigation will either be opened or rejected."
Mendelblit referred to the significance of the identity of the individual under scrutiny: "When suspicions arise regarding a senior officials, the next stage is complicated given the importance attached to the person in question. It works both ways. Sometimes with an ordinary citizen it would not reach an investigation. However, it can't be ignored when someone occupies an important position. On the other hand, we need to be extremely cautious since there are serious consequences when it comes to ministers or the prime minister."
As reported by Ynetnews