They could have received an exemption from military service, each for her own reason, but instead decided to fight for their right to serve their country. And they all had the same ultimate goal: A combat role. This is the amazing story of three female fighters who give new meaning to the word 'motivation.'
Cpl. Inbar Shimshon still remembers that day in February 2016. It was her third shift as a checkpoint soldier in the Erez Battalion at one of the most dangerous checkpoints in Israel: Shuafat Checkpoint, next to Jerusalem.
"Suddenly, a girl came in," Inbar remembered, "She looked about 20. She put her things into the X-ray machine, and we saw that she had left one bag outside. I asked her to put that in the machine, too, and then we identified a sharp object inside a gallon of yogurt. Contrary to what people think, it's pretty hard to locate something like that, because the yogurt is thick.
"We stopped the check and asked her to put her things through again so that we would carry out a manual examination. When we looked, we didn't see anything, and then I saw that she had hidden that bag with the gallon of yogurt. I asked the guard to bring me the bag, and when I poured the container out in the sink, we found the knife. We arrested her, and she was taken for investigation."
Contrary to what some may think, the immediate feeling that struck Inbar was not pride, but rather "anger, almost insult. Because I asked her a few times, 'Do you have something in the bags?' and she answered no. I always knew that there were terrorists, but I had never seen it before with my own eyes, and suddenly you catch somebody your own age that's coming to murder and kill people. It's painful to comprehend that they don't have a problem killing."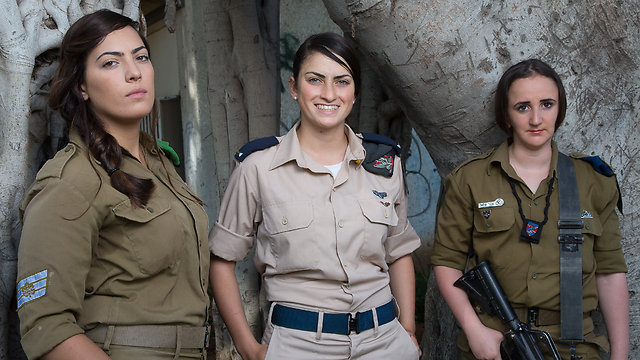 After the incident, many came to Inbar and complimented her. Few knew that she had been through a hard struggle with the army to enlist in general and to become a combat soldier in particular, as she had suffered from cancer in her childhood. "It really moved me," she said, "that I can save lives in return like my own life was saved. People could have been hurt, and I prevented it."
Inbar is 20 years old and from Bat Yam. At the age of six, she began experiencing strong oral pain. The doctors thought that it was from tooth growth or a gum infection. But the diagnosis that came in a few months later was devastating: cancer in her jaw that had spread in the interim to her head and brain. She was hospitalized for four years at the Schneider Children's Medical Center in Petah Tikva with very low chances of survival.
But Inbar did indeed get better, and when her draft date approached, she decided that she wanted to be a combat soldier. "I wanted to show everyone that this poor, inferior person could grow into a person who is useful to society. I wanted to be the best and prove that I wasn't different from others."
However, the military establishment had other plans in mind for her. "At my first call-up, I got an exemption," she remembered. "As soon as I got to the induction center, a commander came to me and took me straight to her office. She said that because of my medical history, I couldn't enlist. And I had been about to say that I wanted to be a combat soldier in the Caracal (Battalion). It was a shock. I'm healthy, I work out, I run—for what?"
At that moment, Inbar decided to set out on a new war: the war for her right to enlist and be a combat soldier. "I went to the doctors at Schneider, professors that sent me to tons of tests that would prove that I was fit to serve."
She remembered from those long months the negative, discouraging replies. "The hardest was hearing the 'no' every time anew," she said. In the end, Inbar managed to raise her medical profile from 24, which is beneath the permissible threshold for enlistment, to 64, which would permit her to enlist, though not to a combat position.
"They told me it was either the Kirya or Tel Hashomer," she said, referring to two bases in the Tel Aviv metropolitan area with non-combat positions. "But I was focused on my goal. I sent tons of faxes—to the border police, to Caracal, to the Artillery Corps. I wrote that I had gone through a pre-army training program run by Aharai!, that I was in shape, and that my medical profile didn't describe who I was. Nobody said yes to me."
And that's how she reached her draft date: August 2016. "Friends told me, 'Don't give up. Even refuse (to be assigned a non-combat role).' In the induction center, I reached the (assignment) officer, and I explained to her how important it was for me to enlist in a combat unit. After an hour and a half of discussion, when I was already a soldier, and she could have sent me anywhere that she wanted to, she said to me, 'There's a position called a checkpoint soldier. It's in the Military Police.' I hadn't sent any faxes to them, because I didn't know that they had such a thing."
Beyond the message of stick–to–itiveness that Inbar wanted to spread to other female soldiers, she has an additional message: "To the commanders, I say: Look beyond the fax. Don't reject somebody outright. Make a connection, see who's standing in front of you, and give them a chance."
The commanders wouldn't give up
Alongside Inbar were two other girls, 2nd Lt. Eve Cohen and Staff Sgt. Sahar Shmueli. Both of them, like Inbar, could have chosen not to enlist in the IDF and chose instead to fight, enlist, and serve in a meaningful position.
Eve, 21, from moshav Nitzanei Oz in the Sharon plains enlisted in August 2015, and was only promoted to second lieutenant three weeks ago. She invited her father and three sisters to her graduation ceremony at the Officers' Training School. Her older sister, Or, is the first woman in the Israeli Navy to command a Dvora-class fast patrol boat. Only one woman was missing: Eve's mother, Etti, who unexpectedly succumbed to cancer several weeks before the ceremony.
Talking about her mother pained the young woman, and her green eyes filled with tears that she was trying to hide.
"When the doctors found Mom's tumor," she recounted, "I was after four months of basic training and in the middle of commanders' course. The first thing I thought about was to drop out, because the doctors had only given her a few months to live, but I decided she would live for at least six more months. My dream was that she would stand on the parade ground."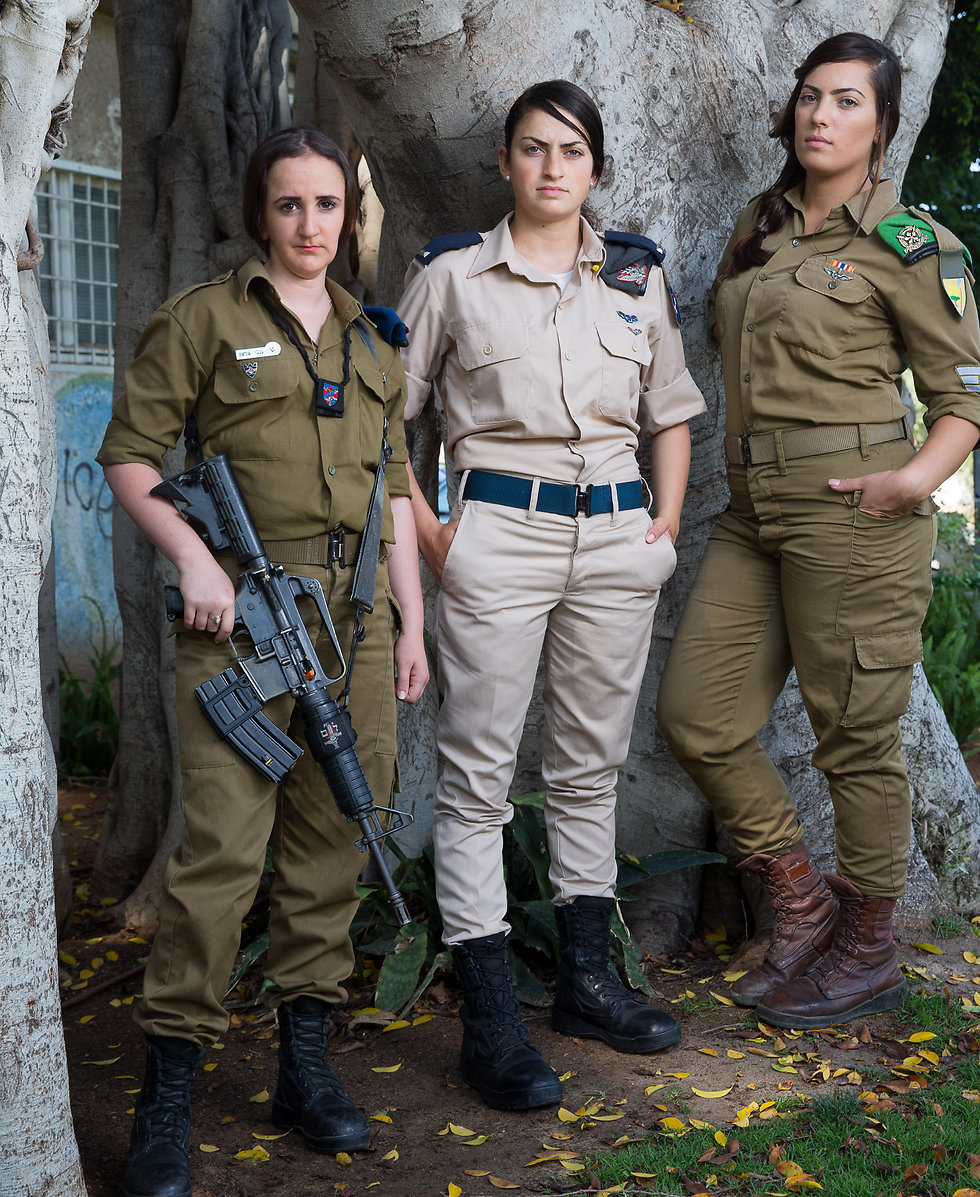 But, unfortunately, her mother did not make it that long. "I finished the commanders' course and moved to the Officers' Training School. Three weeks after arriving there, my mom's situation deteriorated. Mom told me to keep going. 'Don't worry, it'll pass,' she said. But when we realized the chemotherapy was not working, and Mom only had a few weeks to live, I dropped out to be by her side. I've never been more sure of a decision in my life. I only had a week with her at the hospital before she passed away."
Throughout this difficult time in her life, her commanders at the school stood by her and didn't give up on her.
"All of the commanders were always very understanding if I needed to leave the base. It was a very supportive and loving environment, like a family."
She was still surprised, however, when she received a phone call at the end of the week-long mourning period from her commanders who asked her to come back and complete the officers' course.
"I was already assigned to a commanding position at an artillery battery," she said. "And that phone call was a surprise. Something like this never happens. No one gets brought back to the Officers' Training School. This was a sign from my Mom that I needed to keep going. I spoke to my dad, and we decided together that staying at home wouldn't do anyone any good. I do have younger sisters, aged 10 and 16, but Dad could manage on his own, even if I only got to come home once every two weeks."
From her graduation ceremony she mostly remembers longing and a lot of sadness mixed with pride. "I was standing on the parade grounds without Mom. It sucked, and it was sad. She was my source of strength during the entire course."
When she finished her officers' training, Eve was assigned to an Iron Dome battery. "I wanted to do something meaningful," she said. "Completely equal to men, this is something that characterizes me. What attracted me to this position was the fact I could defend my country, especially with Iron Dome. People think it's hard, but I see it as just challenging. Everything is possible, and if I made it with everything that happened to me, everyone can," she added with a smile.
'My family was worried I wouldn't find a shidduch'
These days, Staff Sgt.Sahar Shmueli is on the furlough that Israeli soldiers normally receive before discharge. Unlike the others, she can already relax and look back at the satisfying journey she had taken from the moment she decided to enlist until now. She is 22 years old and wasraised in an ultra-Orthodox neighborhood in Migdal HaEmek, the third of five children.
"No one ever told me, 'Enlist in the army,'" she said. "None of the girls from my neighborhood enlisted. I have a male cousin who is an officer in the IDF, and he was the closest person to me. I think he was the one who inspired me (to enlist)."
Making her first foray into the IDF was not simple. She remembers receiving her first call-up notice, like all of her friends, and not being able to decide what to do about it.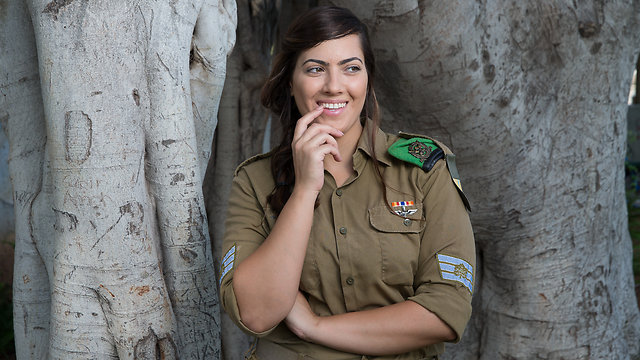 "Usually, the girls from my neighborhood go to the court and declare (that they're religious, to get an exemption). I told myself I would go with everyone, and then rescind it later. In reality," she said smiling, "it turns out it is very hard to cancel an exemption. You have to send faxes, go to the induction center, and explain why you wanted to rescind."
As soon as Sahar decided to cancel her exemption, she realized what would be the consequences for her family and asked to be recognized as a lone soldier.
"I was at peace with it," she explained. "Because I knew that if I didn't serve in the army, I'd regret it a lot more. Everything was done quietly, and even when my parents heard about it a week before my draft day, no one really discussed it. There was talk about how I was damaging the family name—what would people say, and how would my siblings and I find a shidduch (arranged Jewish marriage). In our society, it's even worse when a woman enlists in the army than a man."
After drafting in August 2013, Sahar was assigned to a secretarial position in the Kirya army headquarters in Tel Aviv. After putting in a transfer request, she was assigned to the Caracal Battalion, a mixed gender combat battaion, where she did a commanders' course and went on to command a squad on the Egyptian border.
"I was part of a lot of operations to foil smuggling," she said smiling, "and there was an incident in which we came under fire by Egyptian police."
One day, less than a year ago, she received a surprising phone call. "I was offered to move to the Bardelas Battalion, which is a mixed-gender battalion like Caracal and the Lions of Jordan. It was a new battalion that was being formed to defend the Arabah area. My new position was to command both boys and girls."
What would you tell a girl like you, who lives in an ultra-Orthodox society and wants to enlist?
"She should be self-centered and only think about self-fulfillment. You don't live for society, you live for yourself."
As reported by Ynetnews