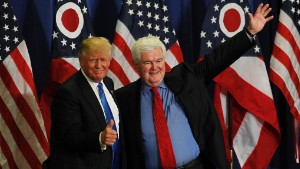 Indianapolis – As anticipation builds for Donald Trump to name his vice presidential pick, two hopefuls — Indiana Gov. Mike Pence and former House Speaker Newt Gingrich — appear to be the front-runners, according to a person familiar with the deliberations.
Also still in the mix: New Jersey Gov. Chris Christie. Trump will likely make the announcement on Friday, the source said.
Pence introduced Trump at a rally Tuesday in Indiana that served as an audition of sorts as the presumptive Republican nominee closes in on a decision. The Indiana governor happily played the role of attack dog by slamming Hillary Clinton and saying she "must never become president of the United States."
Pence and Trump had a private, one-on-one conversation at the fundraiser, according to a source who was there.
"You're gonna call him … and you're gonna say governor — or vice president — we're winning too much!" Trump said of Pence at the rally.
In a change in plans, Trump later decided to spend the night in Indianapolis "because it was logistically easier" to go straight from there to California, a campaign aide confirmed to CNN.
Earlier in the day, Pence lavished praise on the presumptive GOP nominee, comparing Trump to Ronald Reagan and using the phrase "make America great again" Tuesday afternoon when he spoke with reporters after an event in Indianapolis.
"I think he is someone who has connected with everyday Americans like no one since Ronald Reagan," Pence said. "I think he has spoken into the frustration and the longings of the American people as no one since the 40th president, and I think you're going to continue to see him do that."
The Indiana governor and former congressman has already passed one important hurdle, the source said: "(The) Pence vet was completely clean and that mattered. No one needs an extra hassle."
Pence and his wife Karen met with Donald and Melania Trump at Trump's golf course in New Jersey early this month — a meeting Pence brought up Tuesday.
"I will tell you that we've been honored to spend some time with Mr. and Mrs. Trump," he said. "We were very moved by how gracious and kind they were to our family. And I think he is going to be a great president."
But Pence isn't the only VP prospect making headlines: Fox News said Tuesday it is suspending Gingrich's contract since the former speaker is also on Trump's vice presidential short list. Some of Gingrich's allies have been "heavily lobbying" the campaign, one of the source's told CNN.
"Clearly Gov. Pence is deeply in the running, (New Jersey Gov. Chris Christie) is. I've been part of the process. We'll see what happens over the next two to three days. It's a little like 'Apprentice' — you see in a few days who the last one standing is," Gingrich said.
Some donors are pressuring Trump to pick Gingrich. A source close to Sheldon Adelson tells CNN that the casino magnate spoke to Trump and mentioned that "he liked Newt."
"Favoring is a more appropriate term," the source said of Adelson's conversation with Trump.
Former rival turned supporter Ben Carson told CNN's Erin Burnett Trump won't be making a rash decision — but it also could bring the unexpected.
"Well, I think that one of the things that you've seen throughout this whole process is that Donald Trump is unpredictable. He's going to be careful, he's going to be very, very deliberate," he said on Tuesday night.
As reported by CNN