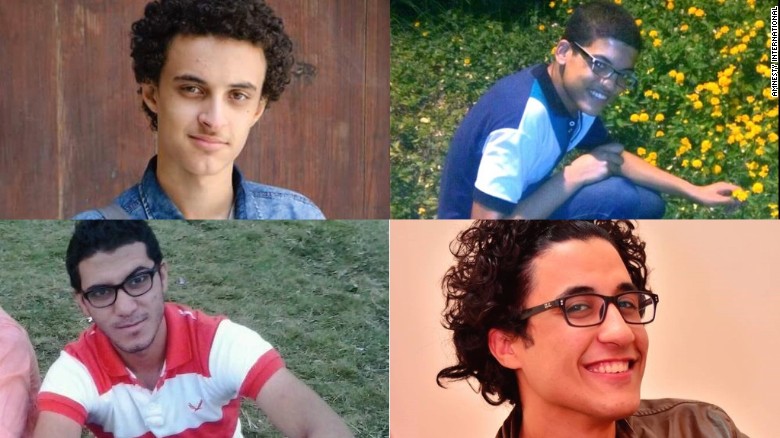 "Officially, you do not exist." That's the alarming title of a new report published by Amnesty International alleging human rights violations occurring in Egypt.
Activists say people are being detained without access to family or a lawyer, and held incommunicado without formal charges or a trial. They call it "enforced disappearances," and in the first five months of 2016 alone, a suspected 630 of these have already been documented, Amnesty says.
That amounts to an average of four or five people each day since 2015, according to the group. Half of these may never resurface.
The 71-page report describes harrowing accounts of torture carried out by state agents. Some victims have say they have been subjected to electrocution, blindfolding, beating, suspension by their arms and legs, and sexual abuse including rape. Some of those taken are children as young as 14-years old, the report alleges.
'Electric shock wounds on lips, head'
The treaty that covers crimes of this nature, the International Convention for the Protection of All Persons from Enforced Disappearances, defines a victim of this conduct as someone who is deprived of their liberty, either through arrest or abduction, by authorized agents of the state. The disappearance may be concealed, and the government may refuse to acknowledge a victim's whereabouts, placing the victim outside of the protection of the law.
Among those suspected to have disappeared this way have been children under the age of 18.
CNN interviewed the sister of 14-year-old Aser Mohamed, who was subjected to enforced disappearance. She alleged that Aser, who was arrested without a warrant, had experienced irreversible physical and mental suffering.
"He had severe electric shock wounds on his lips, head, arms and chest," his sister said. "They showed no mercy for the fact that he was only 14 years of age and even hung him by the wrists for a whole day till his arms gave in and dislocated."
Aser was originally taken away by officers who said they would question him for only a couple hours. His family told Amnesty they had no contact with him or news of his whereabouts for the next 34 days — a period during which he "missed" his first scheduled appearance before a judge. Today Aser is still locked up, awaiting a postponed day in court.
'All cases are prosecuted'
Enforced disappearances are illegal in Egypt, and the Egyptian government says all cases are prosecuted. Authorities are required to refer arrested persons to the Public Prosecution within 24 hours of detention.
"Enforced disappearances are not a new phenomenon to Egypt, but it has increased dramatically" in the past couple of years, says Mohamed Lotfy, Executive Director of the Egyptian Commission for Rights and Freedom.
"We believe the Egyptian government commits the crimes of enforced disappearances for two reasons. The first is to be able to extract a confession under torture from those persons who are detained in secret, and the second is to use the disappearances as a tool to spread fear among society."
Most of those forcibly disappeared re-emerge on charges related to terrorism. The defendants and families we spoke to deny these allegations.
'Inhumane, animal-like violence'
Egyptian citizens are not the only ones activists believe have been victim to Egypt's extralegal disappearances. Earlier this year, Italian doctoral student Giulio Regeni's body was found on the western outskirts of the capital, his corpse bearing signs of "inhumane, animal-like violence," according to the Italian interior minister.
Although the abduction and cause of death remain inconclusive, the nature of this case bears all the hallmarks of the methods used by the Egyptian security forces, rights groups say. But Egyptian officials have strongly denied that security forces were involved, instead blaming a group of "evil" criminals.
Unlike Regeni, the hundreds of disappeared Egyptians don't have an embassy to take up their case. Many friends and relatives are left to search the police stations and prisons themselves, and hire lawyers to help.
The message from the Egyptian government is clear: "if you are not with us, you are a terrorist," says Mohamed Lotfy. He has witnessed the disappearance of a colleague, as well as the shutting down of other human rights organizations such as The Nadeem Center, which helped rehabilitate victims of torture. The center was forced to close its doors earlier this year for what the government says are illegal and unregistered practices.
Egyptian Foreign Ministry spokesman Ahmed Abu Zeid told CNN torture is illegal in Egypt and all suspected cases of torture are prosecuted.
He also said a committee was formed to investigate the allegations of enforced disappearances adding, "the Public Prosecution investigates all such allegations, and takes the appropriate legal procedures in every case to ensure that the law is enforced, and that those guilty of violations are held accountable."
Rights groups say they have seen no evidence to support this claim. The court hearings of hundreds like Aser Mohamed remain postponed; while other families are enforced to wait for word of their loved ones.
As reported by CNN