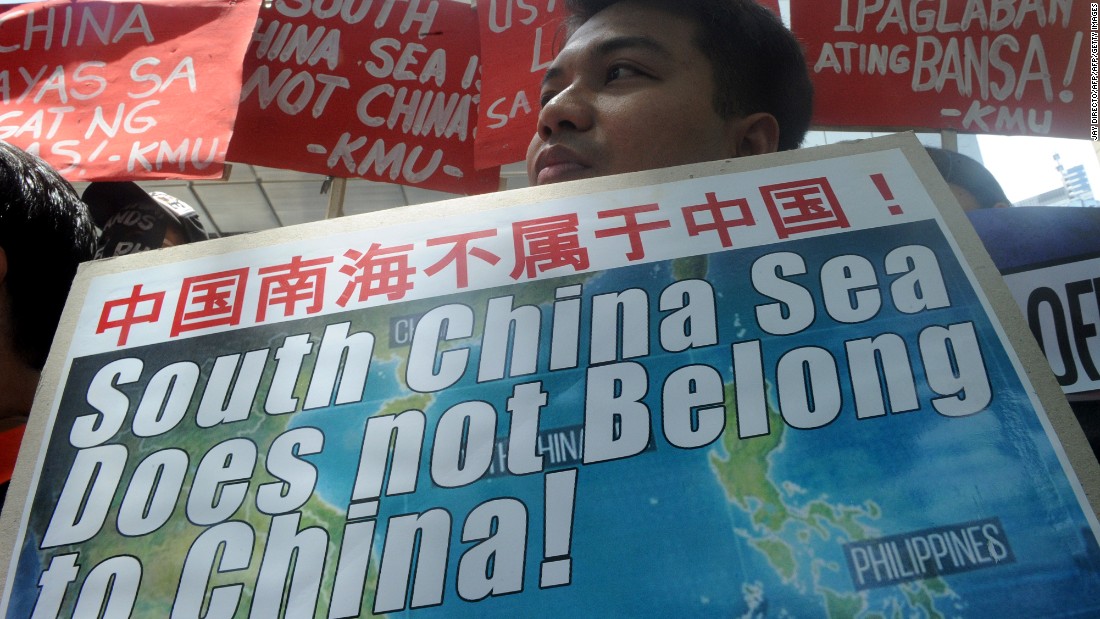 Hong Kong – An international tribunal will hand down a landmark ruling Tuesday in a case that will have major implications for one the world's biggest geopolitical flashpoints — the South China Sea.
With the Philippines and China at loggerheads over Beijing's claims of sovereignty over large swathes of the South China Sea, Manila took its fight to the Hague-based Permanent Court of Arbitration in 2013.
China has refused to participate in the case, which marks the first time an international court has ruled on the sea's mess of overlapping claims, and analysts expect the ruling to largely go against Beijing.
"Security has real consequences and, given that the South China Sea sees about half of the world's trade flow and is one of its busiest trade routes, the ruling will impact trade and businesses worldwide," said Eric Shimp, a trade policy advisor at law firm Alston & Bird.
"Pieces are already moving in Asia as the parties and other interested countries anticipate a ruling that favors the Philippines, but which China ignores."
Messy territorial dispute
Brunei, Malaysia, the Philippines, Taiwan and Vietnam all dispute sovereignty of several island chains and nearby waters in the South China Sea — with rival claims to the Chinese interpretation.
China claims the waters within its "nine-dash line" — that extends hundreds of miles to the south and east of its island province of Hainan.
Tensions have ratcheted up as China has reclaimed land in massive dredging operations, turning sandbars into islands equipped with airfields, ports and lighthouses.
Beijing has also repeatedly warned U.S. warships and military aircraft to stay away from these islands.
In advance of the ruling, China has embarked on a propaganda push, with state media publishing daily articles outlining its historical claims to the South China Sea.
Analysts say the verdict will be a gauge of China's willingness to abide by existing global rules as it emerges as a superpower, as well as a test for international law in the South China Sea.
"Beijing doesn't want to be framed as an international rule breaker, which is why it has tried to build a coalition of nations that support its view," said Ashley Townshend, a research fellow at the University of Sydney and a visiting fellow at Fudan University in Shanghai.
"Beijing will respond with vitriolic language to any criticism by the court and might step up its military footprint on the artificial islands it controls as an act of defiance. But it is unlikely to lash out in militarily dangerous ways," he added.
What's at stake
The Philippines asked the court to decide what rights it has to the disputed waters under the United Nations Convention on Law of the Sea (UNCLOS).
It wants the court to rule whether certain features in the sea are islands, rocks, low-tide elevations or banks — each deliver different rights over the surrounding waters.
For example, an island grants an Exclusive Economic Zone of 200 nautical miles and gives the responsible country complete control over all enclosed resources, including fish, oil and gas.
However, man-made islands, like those China has been building, aren't counted under UNCLOS.
While the ruling is regarded as legally binding, there is no mechanism to enforce it — United Nations troops won't be forcing China off the land it controls.
Heightened tensions
However, analysts say the ruling could heighten strains in a region already bristling with tension, especially if it provokes a defiant reaction from China.
Townshend said that China could begin construction work on Scarborough Shoal — an outcrop it currently controls 100 miles from the Philippines and 500 miles from China — or set up an air defense zone over the South China Sea.
Such moves could trigger more U.S. "freedom of navigation" patrols — flying warplanes or sailing warships close to the islands and reefs China controls.
The U.S. takes no position on the territorial disputes in the South China Sea, but has called for an immediate end to land reclamation.
President Obama has called for a peaceful resolution to the dispute and while visiting Vietnam in May, said that big nations shouldn't bully small ones.
China's military has been conducting live-fire drills in the disputed waters in the run-up to the verdict and has said the ruling will "undermine peace."
"An increased military presence and activity by multiple countries means an uptick in the risk of potential conflicts in the region," said Shrimp.
Japan, a key U.S. ally, said Tuesday it would keep a "close eye" on the situation after the verdict is released, with Defense Minister Gen Nataktani urging all parties look for a "peaceful solution based on the principle of the rule of law.
As reported by CNN