In an exclusive interview with Yedioth Ahronoth, the former president talks about his recent heart attack, his house carer and how he felt when he and his wife separated.
When Shimon Peres awoke one morning in January, the day began as usual. "I usually wake up early at 04:30 or 05:00," says the former president and prime minister. "That morning I woke up at the same time, but I felt unusual pressure in my chest that was increasing and then I felt severe pain in my chest."
"I called paramedics and then Prof. Rafi Walden (his personal physician) and he said that no chances should be taken and that I need to go to the hospital. In these kinds of cases I am a disciplined soldier and I arrived at the hospital within fifteen minutes. In hindsight, I was extremely lucky," Peres told Yedioth Ahronoth.
Were you shocked? Did you think this could be the end?
"I wasn't shocked by anything, and since the evacuation to the hospital and the cardiac catheterization all happened in a matter of minutes, I didn't have time to think about death or to prepare for it. Very quickly I realized that my life was saved, all the more so since I was fully conscious all the way. So instead of thinking about death I exchanged jokes with the medic."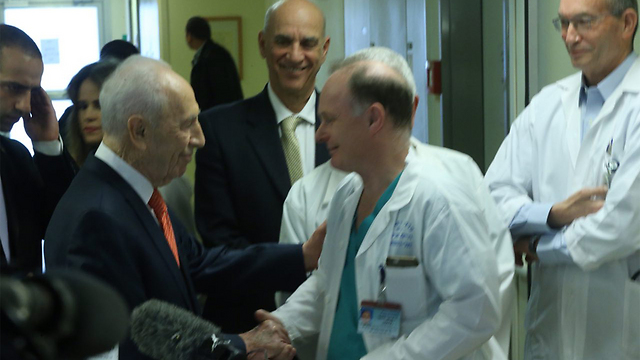 Looking at Peres from day to day, it is difficult to believe that this is a man who recently suffered a heart attack. "I have totally forgotten that," he declared. "I do my best not to get involved with medical issues and very quickly I returned to regular activity. I feel best when my day is busy and full of meetings, visits and tours. I haven't changed a thing in my daily schedule. Now that my heart is better, I can work even harder."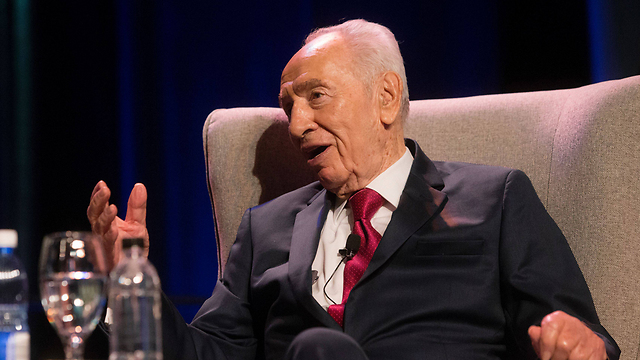 And despite this, you have a carer in your home.
"Yes, after much convincing I gave in to my family and brought Freddy into my home who helps me with house work and prepares meals for me. Freddy is Filipino and barely speaks Hebrew and even English is difficult for him. But he is a wonderful person and somehow we manage to communicate," he continued.
"He cooks brilliantly. He makes beautiful coconut soup. He also cooks for guests when they come but he doesn't join me for tours outside of the home. I admit that at the beginning I was strongly opposed to the idea. I am not used to receiving help and even today I am totally independent. I like my privacy but I understand that at age 93 these things happen."
You said that you have cried twice in your life: When you mother dies and when Yoni Netanyahu died . The day Sonya announced the decision to leave did you not cry?
The two unofficially separated after Mr. Peres insisted on running for the presidency in 2007.
"It was difficult and it was very sad. But there were no tears and no slamming of doors. When she stood by her decision, I said 'you have the right just as I have a right to stand by my opinion. You have your way, I also have my way.' Look, I loved Sonia without any doubt. There were different situations but it never changed our relationship with one another. In the meantime, we had children and grandchildren and to me they all look like Sonia. They are with me and they are staying with me. This is how I am still with Sonia."
As reported by Ynetnews