Abu Dhabi – In a family home set in Saudi Arabia 100 years from now, a father resplendent in his futuristic silver robe tells his daughter that he's got some good news for her.
She jumps out of her seat excitedly and asks: "Can women drive now?"
"No, no," he says dismissively. "But there are new cars that drive themselves."
This scene played out on the first episode of a popular Saudi television show called "Selfie." It takes a jab at a particularly contentious issue in the Kingdom today: Women being prevented from driving.
Saudi women drivers defy authorities
Despite progress in giving more rights to Saudi women in recent years, it appears the matter is closed when it comes to getting behind the wheel. In April, Deputy Crown Prince Mohammed bin Salman claimed the Saudi community "is not convinced about women driving."
The provocative show airs daily during the holy month of Ramadan across the Arabic-speaking world. It broadcasts on MBC, a satellite channel owned by Waleed Al-Ibrahim — a relative of the Saudi Royal family — reaching an estimated 120 million viewers.
Captures problems and flaws
"Selfie is a picture of our society. It's holding a mirror up to our problems, events and domestic issues," says Aws Al Sharqi, the show's director. "It captures the history, the present, our sad and happy moments. It also captures our problems and our flaws. That's why it's called Selfie."
It's currently MBC's most popular show in Saudi Arabia, a hugely conservative society. Each of the 30 episodes brings a different issue into the open like never before, tackling subjects that include the refugee crisis, Islamic extremism, gender inequality and sectarianism.
"Some find it difficult to comprehend Saudi Arabia's internal affairs," says Arab TV critic Jamil Daher. "But the show is resonating across the region, as we all face the same issues and the same crisis in the Arab world."
Religious divide
In a particularly eye-catching episode called "Your Sect," two babies from different Muslim groups were accidentally switched at birth. One grew up in a Shiite Muslim home, while the other was raised in a Sunni Muslim home. More than 20 years later, the hospital calls both families to let them know of the mix-up.
When the two young men return to their biological families, the struggle begins. Both fathers try to "rid" their new sons of the practices they were taught as followers of the contrasting sects.
In one of the scenes, the Shiite father sees his new son praying with his arms crossed in front of his body; he looks dismayed and he slaps his hands down to their "correct" position. While it's customary for most Sunnis to pray with their arms held in front of them, Shiites believe that praying with their arms by their side is the right way.
The episode ends with both sons, by now extremely confused, meeting in a café to question whether they are Sunni or Shiite. They eventually agree that there's more that joins than divides them.
Minutes before the episode aired, the show's lead actor, Nasser Algassabi tweeted: "This one is different, please tighten the belts," highlighting how this show really pushes the envelope.
Different views
Selfie is dividing opinion, with thousands of viewers taking to social media to talk about the show. Issa Alghaith, a judge at the Saudi Majlis Al-Shura, a consultative council that advices the king on important issues, recently took to Twitter to say "Selfie is more beneficial than a thousand articles or speeches."
But not everyone is thrilled. Some of the topics the show has tackled have provoked threats. In the first season of the show last year, an episode mocking ISIS prompted the terror group to issue death threats and call for the beheading of lead actor Algassabi.
But the show's producers remain uncowed.
"We have to say our word, move on, and continue what we started," says Al Sharqi. Threats don't scare us. Especially after we've seen people's reaction, their love, support and encouragement for us."
Another episode took take aim at the heart of the religious establishment in Saudi Arabia, a country where "religious police" often zealously enforce moral standards under the Committee for the promotion of Virtue and Prevention of Vice.
In the show, the organizer of a book fair is harassed by "religious police" over the apparently liberal nature of some of the books on display. They even protest the "sins" taking place in an auditorium during a poetry performance referring to the mixing of sexes, despite the men and the women in the audience being segregated by empty seats. The organizer is then forced to build a physical wall between the men and women — the sound of his hammer drowning out the poetry going on in the background.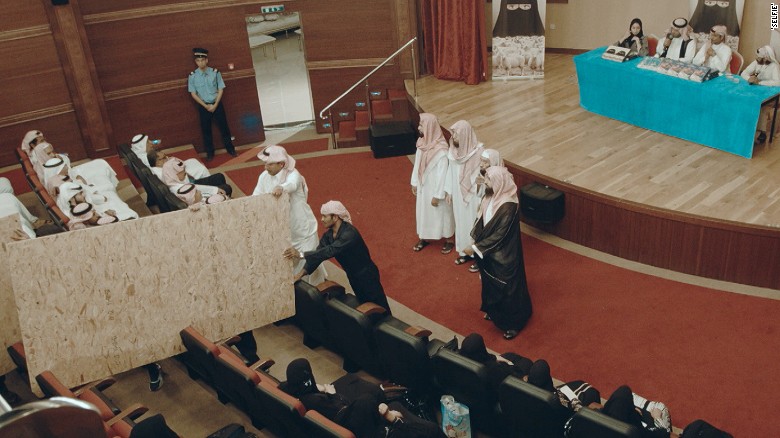 Tolerance and openness
Some in the Kingdom see mockery of religious establishment as a line that shouldn't be crossed. "Nasser Algassabi must be stopped and persecuted for profaning Islam and its followers," one Twitter user posted.
Others see it as a sign of tolerance and openness.
"There has been a shift in the way media operates in the Kingdom. From talking about other people's issues to talking about their own domestic issues," says Jamil Daher. "Just like any other society, there's the good and the bad. This is an important step I think and the actors played a vital role in bringing these issues to the forefront."
The show's director says its enormous success is putting an equal amount of pressure on him.
"When you have a successful season, it can be a bit worrying for the next. How can we produce a season with the same standard or even higher?" says Al Sharqi.
The team is already preparing for the third season, but Al Sharqi wants to think up new and creative material before filming begins. With so much happening in the Middle East, it's hard to think he'll have difficulty finding new stories to tackle.
As reported by CNN