Review: Chef Yuval Ben Neriah's interpretation of the street foods of India, China, Thailand, Vietnam and Cambodia has catapulted Taizu into the elite ranks of Asian restaurants in Israel.
The impressive skyscraper that is the Lewinstein Tower houses more than the standard collection of Tel Aviv offices: just off the rear of the lobby, a door opens into an elegant other world, where gastronomy reigns. And behind the building altogether, an oasis of green has been cordoned off to create a welcoming al fresco seating area.
All the trappings of an upscale restaurant are here: meticulous menus in Hebrew and English, the staff's excellent English, and impeccable service; after every course, our table was quickly cleared and cleaned by the nearest server, and we were proffered wet naps from wrappers that had already been torn open.
Three categories of specialty cocktails are mixed at the well-stocked bar: aromatic, citrus and flavored. From the first category we selected the Ginger Gin: sloe gin, ginger syrup, ginger liqueur, tamarind and lime, served in a martini glass; our choice in the citrus category was the Red Orange Sage: vodka, orange juice, sage, ginger and lime, poured over a tower of crushed ice. Both are refreshing: the former with the pleasant bite of ginger, while the latter represents a nice balance of sweet and tart.
We requested a tasting menu, something the staff takes in stride, simply asking if there are any things we do not eat. A green leaf symbol indicates vegan items on the menu, reflecting consumer demand. Interestingly, there are no symbols for spicy dishes; we are told that in an Asian restaurant, we should assume most dishes will be piquant. In any event, we did not have to worry about choosing from the extremely comprehensive menu; all we had to do was sit back and relax in anticipation.
First up was red tuna sashimi in tuna broth, with lemongrass and caramelized shallots, The freshness of the fish was extraordinary. The "toasted jasmine rice" mentioned in the menu was not noticeable, but a tingling aftertaste of anise was.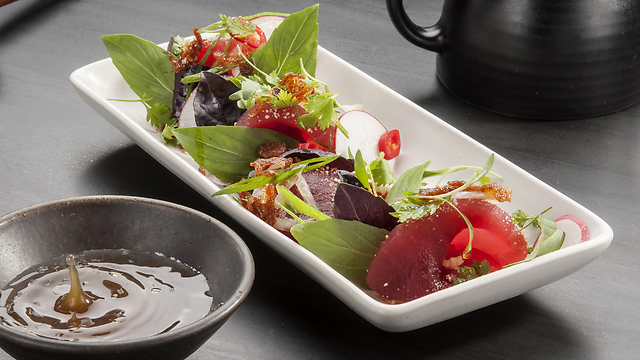 The shrimp salad has a lot going on: pearly white shelled shrimp with lettuce, cucumber, Vietnamese herbs, crispy shallots, and cashews and peanuts for crunch, all in just the right amount of zesty dressing. The salad was served with a medium-boiled egg that had been gently fried and is meant to be eaten on the accompanying large prawn crackers.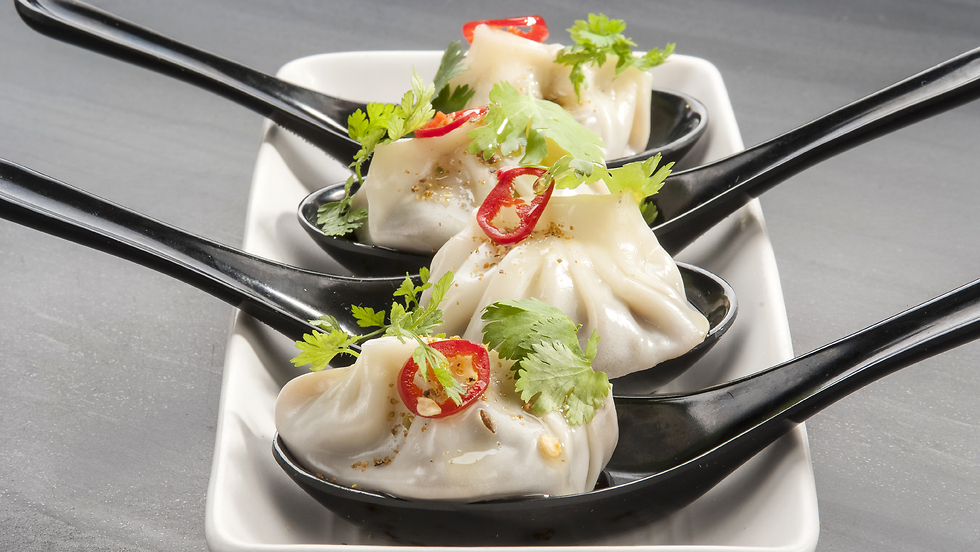 The lobster dumplings are a relatively new dish for Taizu that is bound to become one of their classics. The dumplings — filled with nothing but delicate lobster meat and butter — look like islands in a spicy tomato soup studded with tapioca pearls. The dumplings practically melted in the mouth, while the leftover soup was good enough to drink straight.
The dish with the intriguing name of Nems consists of Vietnamese spring rolls stuffed with chopped chicken, tofu, carrots, sprouts and peanuts before they are fried to crisp perfection. Bite into one and experience the resulting explosion of flavor; then wrap a second one in the prettiest leaf of lettuce you've ever seen, and enjoy the wonderful interplay of flavors of the spring roll in tangy Thai sauce surrounded by green lettuce.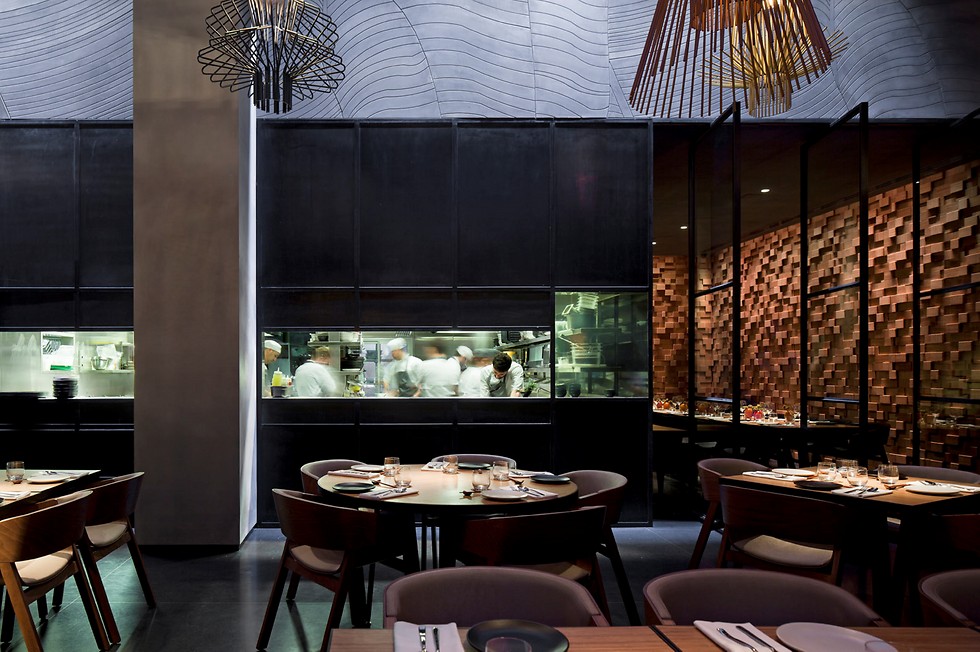 Last but not least was butter chicken, one of the stars of the restaurant's weekly Indian night on Sunday evenings, and the only daily main course here representing the subcontinent. A staple of practically every Indian restaurant in the West, Taizu's mild version surpasses most and rivals any I have had anywhere. The adjective "succulent" applies here equally to the the chunks of juicy chicken breast and the fabulous sauce in which they are marinated.
The ideal beverage to go with the outstanding butter chicken is the Taizu beer, brewed especially for the restaurant by the microbrewery Alexander. This private label lager, fortified with rice, has the bolder taste of a darker beer. Try it also with a squeeze of fresh lime, to turn it into a summer shandy.
Our tasting menu extended to the desserts, also prepared with Asian flair. Tropical fruits take center stage in one: mango mousse, encased in a candy shell atop a sweet potato coulis, alongside jellied passion fruit and disks of saffron and sweet cream. An inspired combination.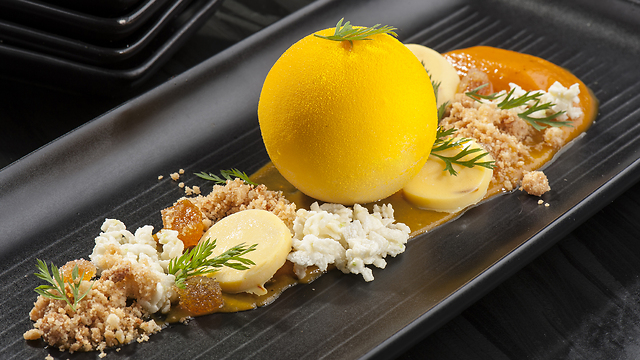 Our second dessert was delicious fun: miniature citrus-glazed doughnuts meant for dredging coconut cream patissière and eating with grilled pineapple, crème brûlée and white chocolate truffles coated with toasted coconut.
The desserts were washed down nicely with the house green tea, a mellow beverage that is slightly spiced.
Taizu is fine dining, with prices to match, so it is not for every day. But it deserves to be on everyone's splurge list.
As reported by Ynetnews