Members of the Shuheibar family from Gaza City are pursuing in justice French company Exxelia Technologies for having allegedly sold a sensor used in a missile that killed three children on their roof.
A Palestinian family filed suit in France on Wednesday against the French company Exxelia Technologies for alleged complicity in war crimes and manslaughter. The plaintiffs, represented by the law firm Ancile-avocats and assisted by the Christian NGO ACAT, are members of the Shuheibar family residing in Gaza City who had three children die in an Israeli strike in 2014.
On July 17, 2014, during Operation Protective Edge, a missile—apparently fired by a drone—struck the roof of the family's house where five children were feeding pigeons. A girl, Afnan, 8, and two boys, Wassim, 9, and Jihad, 10, were killed. Two other boys, Udai, 15, and his cousin Bassil, 9, where seriously wounded.
A French-made component was found amongst the debris of the missile fired at the house. ACAT and its Palestinian partner documented the attack, collected testimonies, and submitted the debris for analysis by international military experts.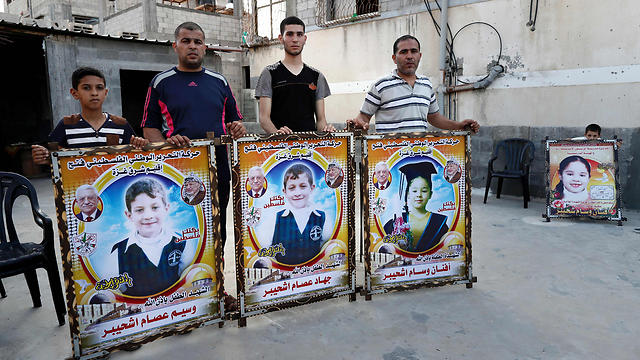 The expert reports established that the French component found was a Hall effect sensor made by the French company Eurofarad, today named Exxelia Technologies after its acquisition by Exxelia Group in 2015. This component is part of a small-grade missile fired by air, apparently by a drone.
The survivors and witnesses claim that no military target was present in the house at the time of the attack or at any other time. If this is the case, the house would be considered a civilian target that could not be attacked under international law, and violation of this would constitute a war crime.
The plaintiffs accuse the French company of being guilty of implication in war crimes, or at least of manslaughter if it is proven that it sold the sensor to an Israeli defense company.
Joseph Breham, an attorney with Ancile-avocats, said, "It's unfortunate that the blatant impunity for war crimes committed in Gaza forces the victims to employ French justice. His colleague, Ingrid Metton, said, "The French arms industy can no longer escape its morale and legal responsibility. Selling materials that are used for war crimes must be severely punished."
Hélène Legeay, head of North African/Middle Eastern programs at ACAT, said "Beyond the Exxelia case, we call on France to show responsibility, (the country that) played a key role in the development and adoption of the Arms Aid Treaty." This treaty forbids states from exporting arms and components that could be used to commit war crimes.
"Instead of congratulating itself for selling arms to countries that commit grave violations of human rights and humanitarian law, France should ensure that in the future, one will not be able to find a single French-made piece at a war-crime site."
As reported by Ynetnews