Hundreds attend funeral of 13-year-old Hallel Yaffa Ariel, who was murdered in a terrorist attack on Thursday morning; MK Yehuda Glick weeps at funeral: 'No one can look at the bedroom of a girl, her mattress soaked with blood, and not have his heart cry out.'
Hundreds attended the funeral of 13-year-old Hallel Ariel at the old Jewish cemetery in Hebron on Thursday afternoon. Ariel was murdered in her bed earlier by a 17-year-old terrorist who climbed Kiryat Araba's security fence and infiltrated her home.
Ministers Naftali Bennett and Uri Ariel (both Bayit Yehudi) and Minister Ze'ev Elkin (Likud) were among those accompanying Ariel on her final journey.
"Thirteen-and-a-half years ago, after a lot of challenges and attempts, I had the privilege of giving birth to you. Since then, there's been light in my life," said Hallel's mother, Rina.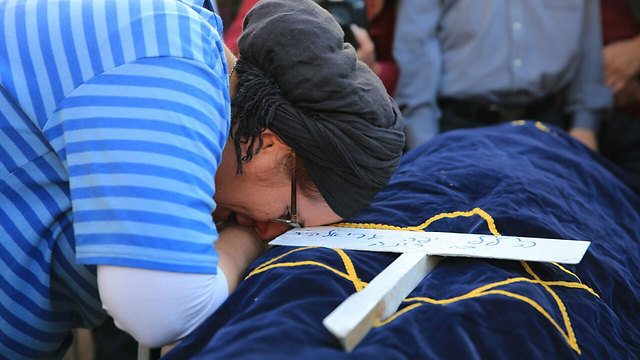 "In my aching heart, I turn to you, the Muslim mother who sent her son to stab. Muslim Arabs, you raised your kids to hate; it's time for introspection," she added.
"Halleli, goodbye, sweetie. Have one last hug from mom."
Agriculture Minister Uri Ariel, a cousin of Hallel's father, also spoke at the funeral. "I stand here and tell you, Hallel, and you, the Ariel family—we vow today to build in the land of Israel even further. We always need to be building in the land of Israel, planting, settling it—and now even more so," he said.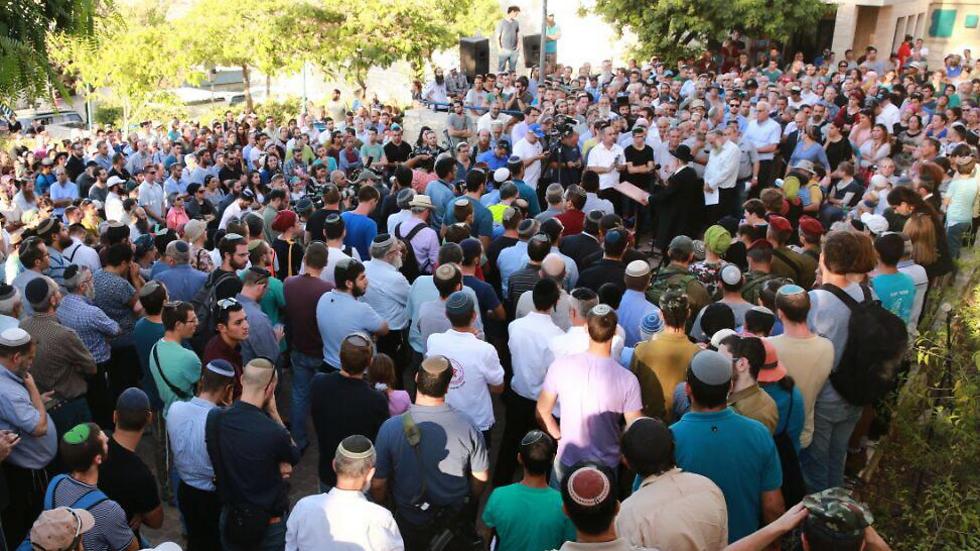 Minister Ariel then called on Prime Minister Benjamin Netanyahu to "apply the sovereignty of the State of Israel in all parts of our land, from the river to the sea."
In his eulogy, Bennett lamented, "Hallel, you shouldn't be here today. You should be with your friends, preparing a dance routine or volunteering, or just having fun in your room… we came to embrace you too late. You were alone, peaceful and safe in your bed, but there are those for whom your peace and beauty bring murderous impulses, which we simply cannot understand. The education we received cannot comprehend such a murder, while the education of our enemies praises it."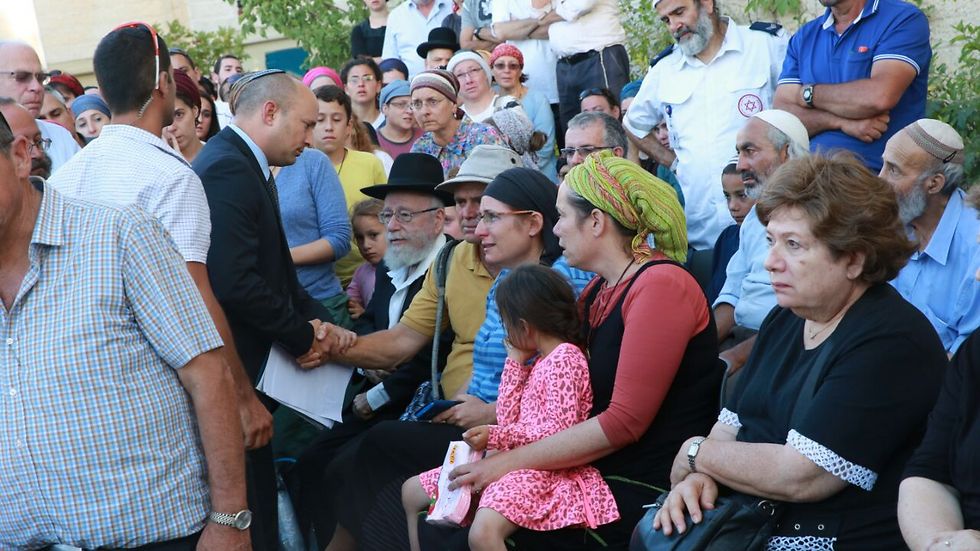 Malachi Levinger, the head of the Kiryat Arba-Hebron Regional Council, vowed to build more homes from the area the terrorist came from. "Ariel family, you will no longer be at the edge, you'll be at the center of the settlement," he said.
MK Yehuda Glick (Likud) was sobbing as he spoke. "Rina and Amichai, there is no one in the world who can look at the bedroom of a girl, her mattress soaked with blood, and not have his heart cry out. Good Lord! Enough with fathers and mothers who have to bury their children, no more husbands who have to bury their wives. What kind of society rears such monsters?"
Netanyahu was at the IAF Pilot Training Course graduation ceremony in Hazerim Air-Force base and could not attend the funeral. "We're in Hazerim, but our hearts at in Kiryat Arba," he told the new Air Force pilots.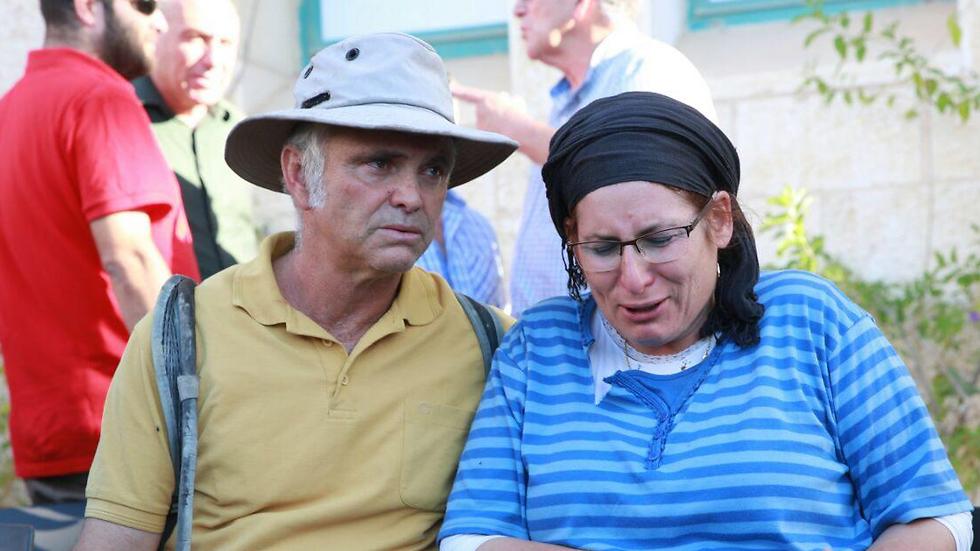 "As we speak, Hallel Yaffa Ariel is being laid to rest in Hebron," the prime minister continued. "A beautiful, innocent girl who was cruelly murdered in her bed by an abominable terrorist, filled with hate and incitement. It's hard to see the photos of her room, covered in blood: the floor, the bed, her clothes. It's a heart-rending sight. I tell everyone both in Israel and abroad—this is your daughter, your granddaughter. This atrocious act once again shows us who and what are we facing."
President Reuven Rivlin also spoke at the graduation ceremony, saying, "An innocent girl murdered in cold blood this morning as she slept in her bed. On behalf of the people of Israel, I send my condolences to the family at this difficult time, and offer strength to all the residents of Kiryat Arba. This terror by teenagers, incited by an education of blood libels given by their leaders must be stopped."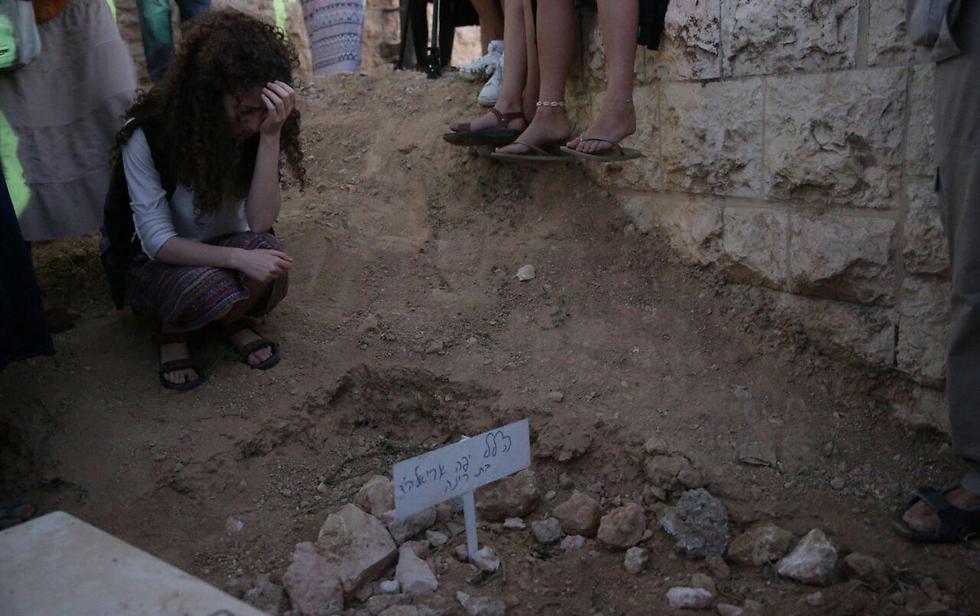 "We will fight it to the bitter end, firmly and without compromise," he added. "We will uproot the terrorists and those who dispatch them. We will insist on continuing to build our lives here, without terror, with the continuing commitment to cement our national home, and strengthen Israel. There is a long and demanding road ahead."
Hallel is survived by two younger sisters—Shira, 10, and Kanna, 4.5. She was in the 8th grade and attended the middle school in Kiryat Arba.
As reported by Ynetnews