Turkish president says he spoke to Palestinian President Abbas and Hamas leader Mashal and both were 'favorable' to Ankara's reconciliation agreement with Jerusalem.
Turkish President Recep Tayyip Erdoğan said Monday evening that Israel has agreed to all of Ankara's conditions as part of reconciliation negotiations.
These conditions includes an apology over the Mavi Marmara raid, which led to the death of 10 Turkish citizens. This condition was met when Prime Minister Benjamin Netanyahu, at the behest of US President Barack Obama, called Erdoğan to apologize in 2013.
Another condition dealt with compensation to the families of the Marmara victims. Under the deal, Israel will pay $20 million in compensation for families of victims of the naval raid. In return, Turkey agreed to halt any legal claims connected to the raid.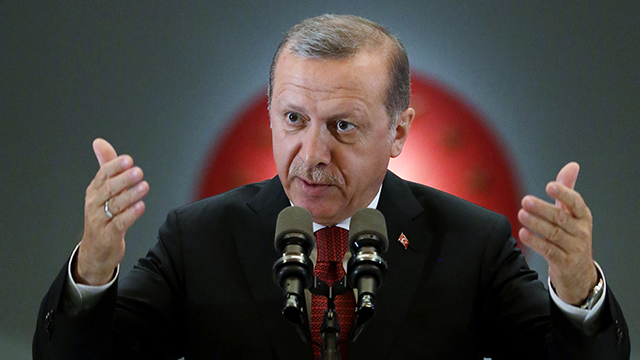 The third condition dealt with the removal of the blockade over the Gaza Strip. Here, while Israel agreed to allow Turkey to deliver aid to Gaza, it will be done through the Israeli port of Ashdod, where everything will undergo security checks before entering the territory.
Erdogan said the first ship, carrying more than 10,000 tons of aid—including food and clothing—will depart for Israel on Friday. He said Turkey would immediately start working on electricity, water and housing projects in Gaza, and complete a 200-bed hospital there.
"Therefore the embargo there is being lifted under Turkey's leadership," he said.
Erdoğan also said Turkey had consulted with the two main Palestinian factions during the negotiations. He spoke to the Western-backed Palestinian President Mahmoud Abbas on Sunday and met with Hamas chief Khaled Mashal on Friday.
"Both were favorable (to the agreement) and so we continued on our way," Erdogan said at dinner at his palace to break the daily Ramadan fast.
Erdogan said despite the agreement, Turkey would continue to address the grievances of the Palestinians and object to "Israel's unlawful practices in Jerusalem and in Al-Aqsa," referring to a contentious holy site revered by Jews and Muslims.
The Turkish leader also thanked US President Barack Obama for his contributions to the reconciliation deal.
The countries are expected to exchange ambassadors within weeks.
Hamas had no immediate reaction to the deal. The Turkish Islamic charity group IHH, which helped organize the 2010 flotilla, criticized it, saying it amounted to acceptance of the Israeli blockade.
Relations between Israel and Turkey began to decline soon after Erdoğan, whose party has Islamist roots, became prime minister in 2003.Since then, Erdoğan, who became president two years ago, has sought closer ties with Muslim nations in the region while trying to distance his country from Israel. Erdoğan's close ties with Hamas, an Islamic Palestinian militant group sworn to Israel's destruction, further strained ties.
Relations took a sharp turn downward during Israel's three-week war against Hamas in Gaza in 2008 and 2009, when Erdoğan criticized Israel over the high Palestinian death toll.
The animosity peaked on May 31, 2010, when Israeli commandos stormed a ship called the Mavi Marmara while stopping the international flotilla.
Nine Turks, including a dual American citizen, were killed and dozens of activists were wounded, one of whom died several years later. On the Israeli side, seven soldiers were wounded by activists who attacked them with clubs, knives and pipes.
Following the incident, Turkey withdrew its ambassador to Israel and scaled back military and economic ties. Relations were never broken completely.
Yaakov Amidror, Prime Minister Benjamin Netanyahu's former national security adviser, said the agreement will have little immediate impact on security ties and that it will likely take time for relations to warm up to anywhere close to what they were in the pre-Erdogan years.
"The potential is huge but we need time to build this trust," he said.
The deal also came under criticism in Israel from the families of servicemen killed fighting Hamas in the 2014 Operation Protective Edge in Gaza. Hamas is believed to be holding the remains of two dead soldiers, and possibly two Israeli civilians who are believed to have slipped into Gaza.
In Jerusalem, families of the soldiers and missing Israelis, joined by about 50 supporters, gathered outside Netanyahu's official residence to protest the deal. The families say Netanyahu promised them that a return of the soldiers' remains would be part of any deal with Turkey.
As reported by Ynetnews