Feasterville, Pennsylvania – Police knocked on the bright blue door of Lee Kaplan's home in Feasterville, Pennsylvania.
When the detective stepped inside, the children scattered. Some hid in a chicken coop at the back of the house.
In total, 11 children and an 18-year-old girl lived inside the Cape Cod-style home.
The detective was familiar with the place, with its overgrown grass and weeds that swallowed the front yard. He was there two years ago to investigate a fire. At the time, Kaplan said the children were staying there while their home was being renovated.
But two years later, they were still there, raising red flags for the detective. So he began asking questions.
Savilla Stoltzfus, a resident of Kaplan's home, said she is the mother of 10 of the children, including the 18-year-old girl. Stoltzfus and her husband Daniel "gifted" their daughter to Kaplan when she was just 14. The couple, who are former members of the Amish community, faced financial difficulties at the time and "researched the legality of (the deal) on the Internet," according to a police affidavit.
Today, Stoltzfus' 18-year-old daughter has two children with 51-year-old Kaplan.
When telling this story to the detective, Stoltzfus and Kaplan appeared to believe nothing was wrong, said Bucks County District Attorney David Heckler.
But their comments were enough for Kaplan, and Daniel and Savilla Stoltzfus to be arrested. Police are now working to piece together what happened inside that home.
Meanwhile, neighbors reveal that they've known something was wrong for years.
Something 'felt wrong'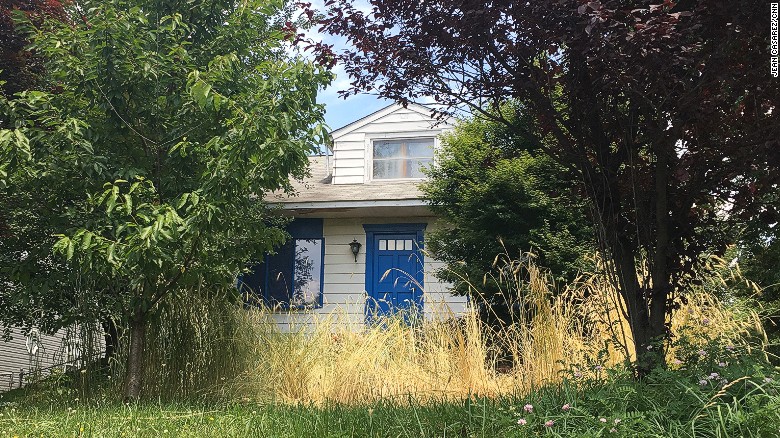 It was neighbor Jen Betz's call to a child helpline that led police to knock on Kaplan's door that day, according to the district attorney.
Betz said things always "seemed a little odd" when she drove by the home.
But it wasn't the disheveled façade that bothered her. She noticed children outside, picking from trees. She saw an older man, but never anyone who appeared to be his wife, or a mother to the children.
So she collected mental notes as strange tidbits started to pile up, such as the blue light shining in the back of the house. Its hue matched that of the front door, the trim around the windows and, eventually, the dresses she saw several of the children wearing.
Betz thought they looked Amish — in their long dresses with their long hair — but that community didn't typically live in this area.
Two years ago on Halloween, she tried to look inside the home herself.
"If I could get him to open the door and I could see for my own eyes…I guess I was thinking that I would call the cops right then and there," Betz said. "I wanted to get close enough so that I had some other type of proof."
Though music was blaring from inside the home, Kaplan never answered the door. The bay windows remained covered with large curtains, the blue light shining through.
"My gut was telling me to confirm what I was thinking," Betz told CNN. "There was no reason why this older — significantly older man, any man, regardless of what they look like — would have this amount of children, all in blue dresses, never outside the house regularly, looking so scared."
So finally, Betz made that call. When officials on the other line asked if police were needed, she said "absolutely."
"Don't let those police leave until they see these children," she told them.
How they lived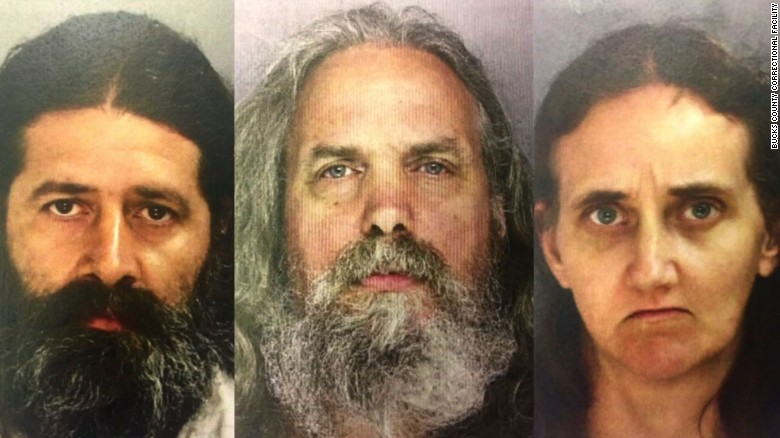 Police would eventually find clues behind that closed door that provide a glimpse into the girls' lives. There were air mattresses, an avocado tree growing under lamps, musical instruments, educational materials and a Hebrew-language book, according to Robert Hoopes, director for public safety for Lower Southampton Township.
Aaron Stoltzfus, a family friend, told CNN that, in 2001, Kaplan lived with Daniel and Savilla Stoltzfus in their home in the Amish community in Lancaster County — "something that is not tolerated" and is very unusual there, he noted.
Stoltzfus, who has not seen the couple for years, said Kaplan kept to himself during that time and "seemed to be isolated from society."
It was rare that Kaplan was seen in town with the girls, residents say. But he sometimes took them to Lenny's Hot Dogs, a restaurant about a mile and a half from the home.
Owner Wayne Knapp said Kaplan was "spiritual" and a "very religious man" who often quoted the bible. Kaplan told him he was homeschooling the girls, saying he wanted to keep them away from the "evils of the world."
Kaplan was "the smartest man I ever met," Knapp told CNN. Though he stressed he doesn't condone Kaplan's alleged actions.
However, locals had suspicions about Kaplan. Though some never said anything, others say their calls of concern weren't taken seriously.
A Dollar Tree employee said Kaplan was always clean and well-dressed when he came into the store, but the girls looked unkempt — their hair unbrushed and shoes worn. They never spoke or made eye-contact and often stuck by Kaplan's side when they were shopping. The employee, who spoke on the condition of anonymity, said she and others who worked there had suspicions, but nothing they could prove.
Neighbor Kevin Rihl said Kaplan was a "nuisance" as a neighbor because he was always burning trash. But he also noticed that the girls never got on a school bus, or reacted strangely when they saw anyone.
"They put their heads down and scurried into the house," Rihl told CNN.
Rihl said he detailed what he had seen and heard when met with two detectives and a superior official last April. When they asked if Rihl knew of abuse, he said he didn't "have concrete evidence (but) their demeanor screams abuse."
According to Rihl, police later followed up with him, saying they spoke to Kaplan and that he would no longer be burning anything. He also said police told him the girls were there for homeschooling and that Kaplan was "some kind of Amish religion."
Today, Rihl said he's angry nobody took his complaints seriously. However township police told CNN that there is no record of any complaint or report made by Rihl.
"We have checked everything," Sgt. Shane Hearn said. He called Rihl's claims "suspect."
What happens next
The girls, who are now in a safe-house under the care of county social services workers, were interviewed earlier this week, according to Hoopes, the public safety director. Though details of those conversations have not been shared, Hoopes said the girls did have one request: They want their musical instruments.
Kaplan has been charged with statutory sexual assault, corruption of minors, aggravated indecent assault, indecent assault and unlawful contact with a minor. Daniel and Savilla Stoltzfus were charged with endangering the welfare of a child. Daniel Stoltzfus also faces charges of criminal conspiracy and statutory sexual assault.
All three are being held on $1 million bail in the Bucks County Correctional Facility.
In a statement provided to CNN, attorneys representing Savilla Stoltzfus said she is "presumed innocent of any wrongdoing at all," adding that all they have is "an unconfirmed allegation."
"Anybody can be arrested — your friends, your neighbors, your family, even you — but it doesn't mean you're guilty," attorneys Cary Hall and Alexander Tuttle said.
"Until all the facts are in, we ask that the court of public opinion hold its judgment of our client as well. Stay tuned."
As reported by CNN