Written off by Cristiano Ronaldo as having a "small mentality," Iceland struck it big at Euro 2016 after beating Austria in dramatic finish to reach the competition's knockout stages.
The smallest ever nation to have qualified for the European Championship flexed its muscles in Paris on Wednesday to secure a historic last-16 tie against England after claiming its maiden victory.
A 2-1 win over Austria, secured courtesy of Arnor Ingvi Traustason's goal in the 94th minute, sparked wild scenes of celebration with an estimated 10,000 Iceland fans packed inside the Stade de France.
The saga of Iceland's path to these finals and how a nation of 330,000 people upset all the odds has been one of the European Championship's most enchanting tales.
Much scorn has been poured upon the decision to increase the competition from 16 to 24 teams, but Iceland's arrival on the world stage has given romantics reason to dream once again.
After qualifying in a group in which it defeated Netherlands twice, few were going to take Iceland lightly but its performances have been hugely impressive for a group of players who have never experienced the pressures tournament football.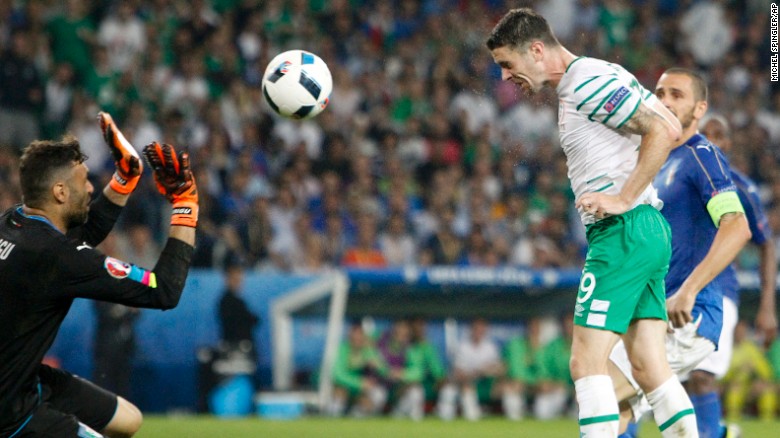 A second place finish in Group F, one place above Ronaldo's Portugal, will delight those who were upset by the Real Madrid player's "small mentality" comments following the two teams' 1-1 draw.
"They celebrated like they had won the Euro cup or something," Ronaldo fumed following the match.
"Iceland only tried to defend … they had two chances and then did not try to score. That's a small mentality. That's why they'll do nothing in this competition."
How wrong can a man be.
Icelandic craziness/h3>
Led by former Sweden coach Lars Lagerback, who was hired in 2011 and joint-manager Heimir Hallgrímsson, who is also a part-time dentist, Iceland has risen from the depths to become one of football's emerging nations.
Several of its players earn a living in Europe's top leagues with Gylfi Sigurdsson, the Swansea City player, one of the more familiar faces to those not up to scratch with their Icelandic football.
But what gives Iceland the edge is it's team spirit — it's a group of players who rarely believed this opportunity would ever present itself — but now it has they don't want to let it go.
"This is what we stand for," captain Aron Gunnarsson told the tournament's official website. "We fight for our country, and this team of ours is just an incredible team. I don't fully understand how we've managed to do this.
"Before the game four or five of us were unsure, but we continued. What's just happened shows the character of Icelanders.
"Our national handball team has done this many times, and in the same way as they've been able to take their drive from the Icelandic craziness, so have we this time. We just looked at the Icelandic craziness and used it today. I'm really moved, what can you say after a game like this?"
Game time
Crazy barely begins to describe what unfolded in the Stade France.
Having drawn both of its previous group games, Iceland arrived knowing a point would be enough to secure a place in the knockout phase and such a result appeared realistic once Jon Dadi Bodvarsson ended his 19-game drought by firing Iceland with just 18 minutes on the clock.
It was no less than Iceland deserved having already struck the crossbar through Johann Berg Gudmundsson.
Austria should have leveled before the interval when Ari Skulason was adjudged to have pulled back David Alaba.
Aleksandar Dragovic, who was sent off in the team's opening game, stood up to take the penalty kick but his effort struck the post and rolled away to safety.
The second half took on a siege-like scenario with Austria throwing everything at a brave and committed Icelandic defense.
And its reward came on the hour mark when substitute Alessandro Schopf weaved his way into the penalty area before firing low into the far corner.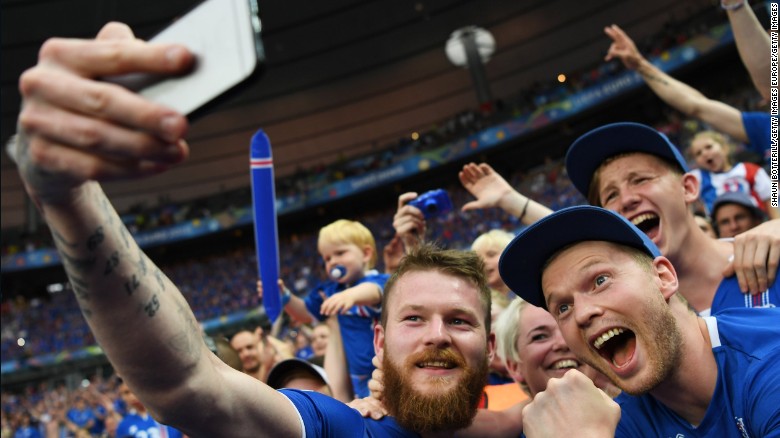 But Iceland would not be deterred and with the game deep in stoppage time, Traustason finished off a rapid counter-attack to send the thousands of Icelandic fans packed inside the Stade de France into frenzied celebrations.
"I can't really describe this, doing this with your best friends is fantastic," defender Karl Arnason told the tournament's official website.
"That's the feeling of all the lads in the group. We're a tight-knit group and what we've done is fantastic. It's extra fun to do this with my best friends.
"Having 10,000 people here from Iceland is unbelievable. It's like having your family at the game. I know probably 50% of the crowd — or at least recognize them! This is extra sweet."
England awaits
While Iceland's fans party hard, England will need to pick itself up before the last-16 clash in Nice.
England's 0-0 draw with Slovakia allowed Wales to win Group B and placed manager Roy Hodgson under increased pressure.
A defeat by Iceland, a team which England defeated 6-1 when the two last met back in 2004, would be catastrophic for Hodgson and his side.
But while England boasts some of the biggest names in world football, Iceland has a team spirit which few can match.
"I've always supported England in the big international tournaments when we haven't been playing," Arnason said. "We're going to go into this with full force and try to get a result. We believe in our ability."
As reported by CNN