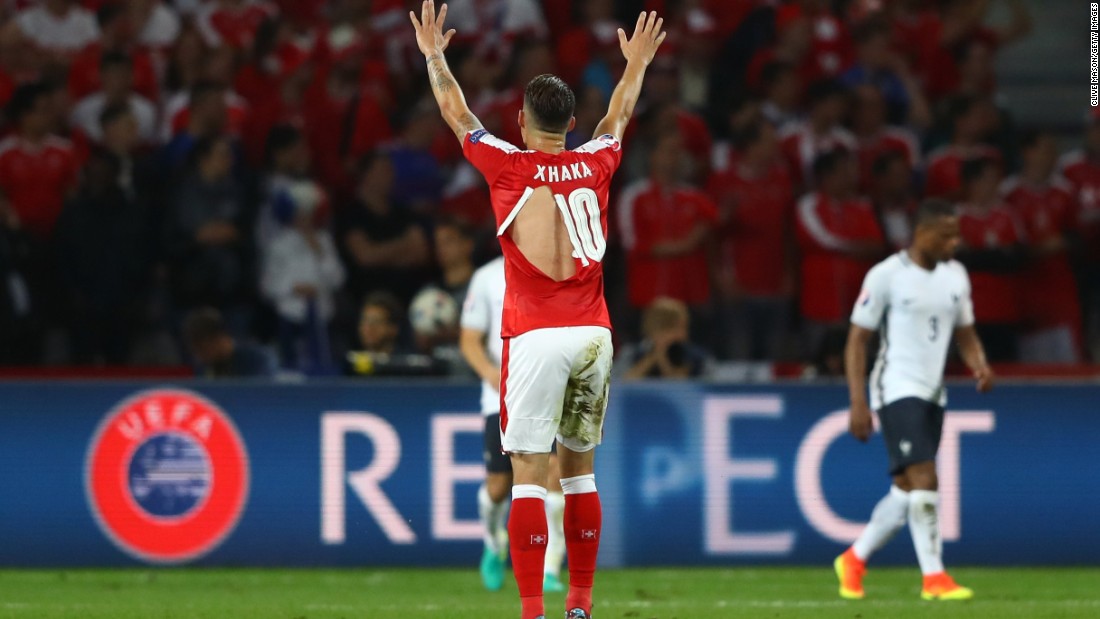 t's a sector worth billions of dollars, but the sport apparel market has been left red-faced during a major soccer match following a number of product malfunctions.
With a distinct lack of goals in the Euro 2016 Group A draw between Switzerland and France, television pundits and social media had a field day discussing a match that delivered four ripped shirts and one burst football in what has been labeled "Shirtgate."
Switzerland's new Arsenal midfielder Granit Zhaka had to change his shirt twice during the match in Lille, while ordinary-looking tussles also left striker Breel Embolo and forward Admir Mehmedi with gaping rips in their PUMA kit.
"I hope PUMA doesn't produce condoms," Switzerland winger Zherdan Shaquiri quipped in an interview with Swiss newspaper Blick.
PUMA, which is the tournament's third biggest kit supplier after Nike and Adidas, said its analysis of the Swiss jersey had discovered that in one batch of material, "yarns had been damaged during the production process, leading to a weakening in the final garment."
"This can happen, if the combination of heat, pressure and time is not properly controlled in the manufacturing process," added the PUMA statement.
"The tight fitting ACTV jerseys are made of an elastane and polyester material mix. The defective material was used in only a limited number of Swiss home jerseys."
PUMA added that it had checked the inventory of all the jerseys of the teams wearing its kit at Euro 2016 and was confident "such an unfortunate incident does not happen again."
'Deflategate'
Adidas didn't emerge unscathed from Sunday's equipment brouhaha — notably when Switzerland's Valon Behrami tackled French forward Antoine Griezmann in the second half, his studs puncturing and immediately deflating the $160 Adidas football that is Euro 2016's official ball.
An Adidas spokesperson told CNN the company is "looking into what happened and how this could have occurred". "It should be pointed out that incidents of this nature are extremely rare."
Kit deals, sponsorships and player endorsements are big business for the leading sports brands.
Adidas has been the Euro's number one kit supplier since 1996, and as the one of the tournament's main sponsors, has the rights to create and market the official match footballs.
Fueled by its Euro 2016 sponsorship and deals at the Copa America, the German sports brand predicts its football apparel sales will reach a record $2.8 billion (2.5 billion Euros) in 2016.
As for top players, Adidas' partnership with France's Paul Pogba has an estimated value of over $4.5m, while Nike's deal with Portugal's three time Ballon d'Or winner Cristiano Ronaldo is worth over $21.5m.
PUMA has historically lagged behind the big two in the battle of the football brands, but in 2014 inked a £160 million five- year kit deal with Arsenal, the largest in football history.
Swiss star Xhaka has recently moved to Arsenal from Borussia Mönchengladbach, but judging by PUMA's statement, by the time the new English Premier League kicks off in August, the manufacturer has already ironed out any snags in the durability of its shirts.
As reported by CNN