A crowdfunding campaign to support the Orlando Pulse shooting victims and their families pulled in more than $1 million in 11 hours on Sunday.
Equality Florida, the largest LGBT rights group in the state, posted the GoFundMe fundraiser shortly after a gunman killed 50 people and injured 53 at a gay club in the deadliest mass shooting in U.S. history Sunday morning.
By about 10 p.m. ET, more than 25,000 people had contributed a total of $1,021,394 to the fund.
Ida Eskamani, one of five Equality Florida staff members based in Orlando, said when world of the tragedy spread, the organization was "overwhelmed" with inquiries from people.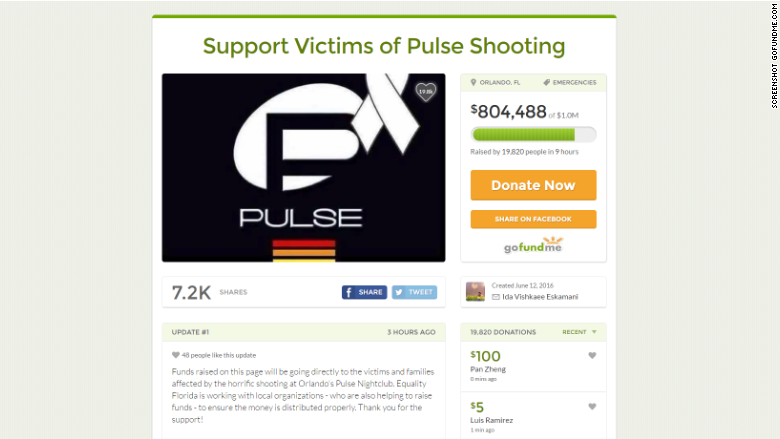 "We're going to make sure every penny raised goes to supporting these victims," Eskamani told CNNMoney.
She added that Equality Florida will work with attorneys who helped distribute the proceeds from similar fundraisers after the mass shootings in Aurora and Chattanooga.
More than 20,000 of the donations made Sunday were for $1,000 or less. Executive Pride, an organization that aims to promote LGBT rights in the business community, appeared to be the campaign's largest donor as of Sunday night, posting a $30,000 contribution. Other sizable donations came from Cricket Wireless, which gave $25,000, and singer-songwriter Jeffree Star, who gave $20,000.
Equality Florida is also working with other local organizations to coordinate vigils, counseling and blood donations. Equality Florida has a landing page with information about those services here.
A different GoFundMe bid launched yesterday to raise $4,000 for the family of singer Christina Grimmie, who was shot and killed in a separate incidence of gun violence in Orlando on Saturday. That campaign had raised more than $88,000 as of Sunday evening.
As reported by CNN