Rabbi of Western Wall calls Lesley Sachs's act a "provocation" and "desecration of God;" Reform movement: Majority of Jews in Israel and Diaspora stand with us.
Women of the Wall (WOW) Director Lesley Sachs was arrested Tuesday after smuggling a Torah scroll into the women's section of the of the Western Wall Plaza so that women could read from it, against legal regulations established for the holy places.
Her arrest took place after Rosh Chodesh (the new Jewish month) prayers at the Western Wall (the Kotel), in which dozens of WOW members participated. WOW members have been participating in rosh chodesh prayers for 27 years. It marked an escalation in the saga between WOW and Kotel authorities. The government recently decided to reopen discussions on the Kotel compromise, following pressure from Haredi parties in the coalition. Sachs was set free hours after her arrest.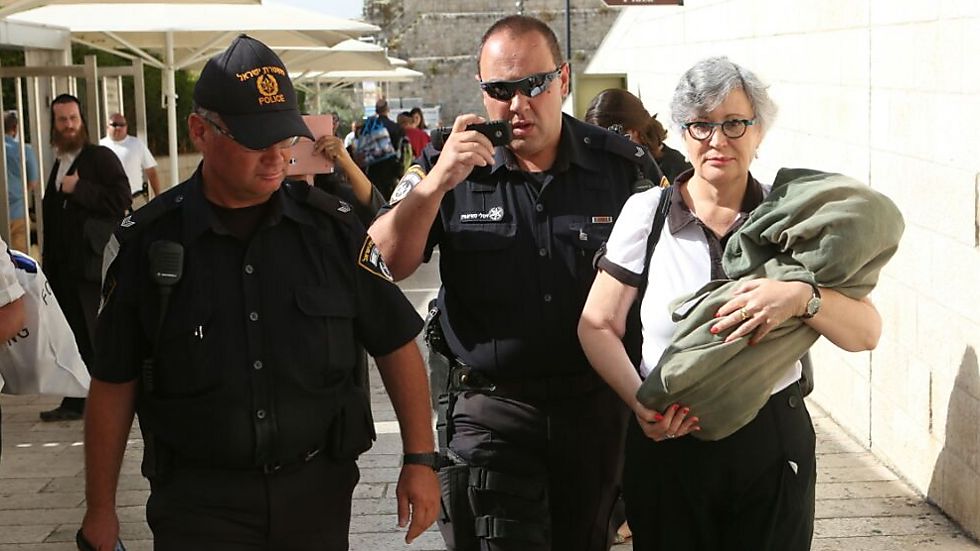 In November, WOW petitioned the High Court to rule on their right to read from a Torah scroll at the Western Wall Plaza and order the abrogration of the rule banning the entry of private torah scrolls to the holy area. They further asked the state for compensation for the discrimination that they alleged to have endured, claiming that the "state sacrificed women's right to read from a Torah scroll at the Kotel."
Since then, women have managed to smuggle Torah scrolls a number of times to the Western Wall plaza. "The Kotel Agreement", approved by the government in January, was supposed to resolve the conflict after a compromise was reached between liberal and ultra-Orthodox movements together. But, just two months after the celebrated decision, Prime Minister Benjamin Netanyahu redetermined his position following pressure from the ultra-Orthodox, who backed away from the terms of the agreement.
David Barhoum, WOWs lawyer, said, "The arrest of Lesley Sachs is no less than scandalous," and called it "a futile arrest which is absolutely illegal."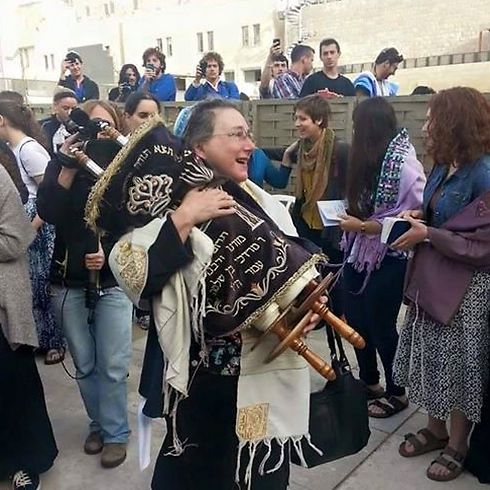 The Rabbi of the Western Wall and Holy Sites, Shmuel Rabinovitch, called WOW's act a "provocation" and a "desecration of God". He was shaken by the smuggling of the Torah scroll by WOW under the clothes of one of their members. He even announced that he would fast due to the humiliation of the scroll.
"Jews throughout the generations gave their lives to preserve the sanctity and dignity of the Torah scroll", he said, "but for the Women of the Wall, individual rights seemingly are holier." He demanded that Religious Affairs Minister David Azoulay set clear rules regarding behavior at the Kotel to stop the site's monthly "humiliation."
The Reform movement was incensed and hinted at causing an uproar near government offices following the arrest. "We will not submit to this reality any longer," they said. "The overwhelming majority of the Jewish public in Israel and the Diaspora stands with us."
Rabbi Gilad Kariv, director of the Israel Movement for Reform and Progressive Judaism, said "The Israeli government needs to decide where it's heading—towards the implementation of the agreements reached or reviving the difficult dispute confronting the Jewish people regarding this issue."
"Women will read the Torah, wear a prayer shawl, and sing aloud (which is not permitted in mixed company by the ultra-Orthodox —ed.), just as they vote for Knesset members and serve as judges and officers in the IDF, and neither the police nor the Kotel rabbi will put a stop to this process, but rather, they will strengthen it."
The Conservative movement said in response, "The Israel Police decided to fulfill the commands of the Kotel's rabbi instead of doing its job and upholding the law. It's not clear how this takes place time after time. In the past, they arrested WOW women due to wearing prayer shawls and tefillin, until the court ruled that the Kotel rabbi overstepped his authority and that the police had erred, and now the same thing will happen regarding the Torah scroll."
As reported by Ynetnews