Many workers employed in food and services industries earn below minimum wage pay, while information and communications staff top list banking a monthly average of NIS 20,960
The average Israeli salary in March 2016 has reached record levels of 10,128 New Israeli Shekels (NIS), according to figures released by the Central Bureau of Statistics Tuesday.
The crossing of the NIS 10,000 threshold has been brought about, in large measure, due to the high distribution of work bonuses.
The average monthly salary rose between January and March this year by 4.7 percent, reflecting a consistent continuation of the 3.9 percent increase preceding it between October and December 2015.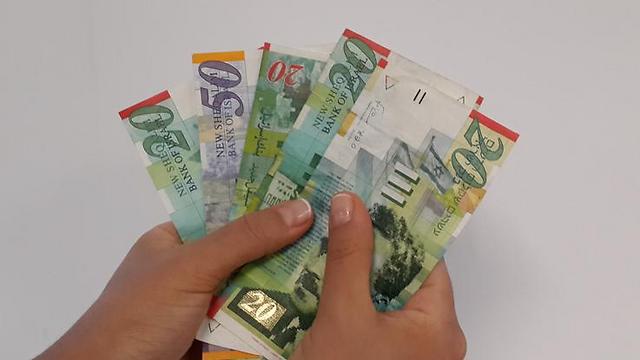 Despite what appears to be healthy economic development however, two thirds of Israel's population employed in the workforce receive below the average national wage.
The figures reveal that leading in the salary rankings were workers employed in information and communication, boasting handsome monthly wages of NIS 20,960. These workers predominantly hailed from professions in wire communications, wireless and satellite industries, maintenance and operating internet sites, programming and servicing computers.
The second highest paid professions were those of the mining industry, quarrying and gas production which pull in an average of NIS 20,493 per month. These professionals were closely followed by banking and insurance employees receiving an average of NIS 20,491. Surprisingly, those employed in electrical companies, who for years occupied first place, have fallen to fourth place, receiving a monthly average of NIS 19,336.
Trailing last place are those employed in food and services industries such as waiters, hotel room attendants and receptionists who receive pay checks averaging a meager NIS 4,607, (below the minimum NIS 4,650), also because many of the workers are employed in part time positions.
Earning narrowly above them are workers employed in delivery services, security guards and cleaners who receive around NIS 5,338. Farmers earn NIS 6,764 while teachers, despite recent reforms, close the month with an average of NIS 7,376.
As reported by Ynetnews