Bayit Yehudi chairman says Netanyahu 'can't support Israel in Hebrew and call for Palestinian state in English'; Lieberman: 'Bennett needs to calm down.'
Education Minister Naftali Bennett issued a backhanded attack against Prime Minister Netanyahu on Sunday during a speech he delivered on Sunday to mark Jerusalem Day at a rally held a the Merkaza Harav Yeshiva.
Without specifically mentioning Netanyahu's name, Bennett told his audience, "You can't be for Israel in Hebrew and for establishing a Palestinian state in English. Only when we are united and determined will the world leave us alone. Until then, we will be (be implored) to divide Jerusalem again,"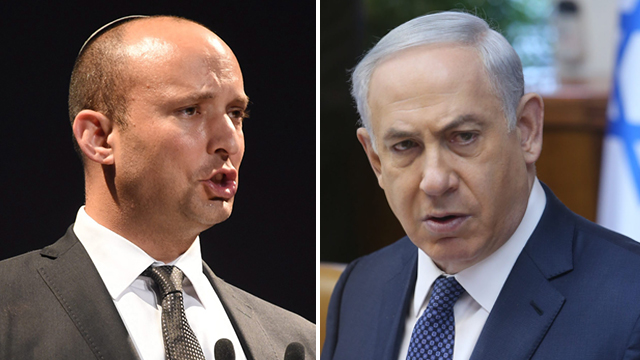 Addressing the an international peace initiaitve which was held in Paris on Friday, Bennett said: "There are those, in Israel and abroad, who attach themselves to different Arab initiatives, according to which we would have to divide the land, divide Jerusalem and return to the 1967 lines. The world pressures and we think there is a need to appease them. On this evening, I say to those people: That will never happen. We all stand as a (bulwark) to ensure that our country is complete. We won't stutter, we won't be confused and we won't zigzag."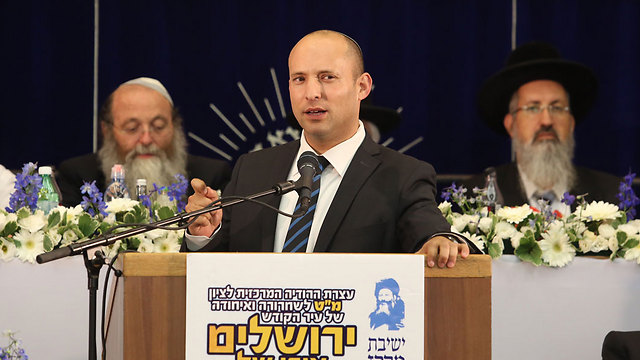 "The time has come to state unequivocally that the land of Israel belongs to the Jewish people: in Hebrew, English, Russian, French, in the summer, in the winter, when there are elections or when there are not elections. Why? Because the world is listening to us, to every word. The world recognizes weakness just as it recognizes strength. The world recognizes and smells when we are unsure of our rights to the land and attacks us with a series of boycotts," he declared.
Following Bennett's attacks against Netanyahu, which have been launched over the past few weeks, new Minister of Defense Avigdor Lieberman sent a message to Bennett, advising him to "relax." Referencing his speech which he delivered upon his entry into the government, Lieberman made a sarcastic jibe, stating: "I recommended that he go to the same doctor for surgery to lengthen (his) short fuse."
Lieberman then said that the new coalition had duty to stabilize it. "I take this opportunity to call upon my friends – first and foremost to my good friend Minister Naftali Bennett – to calm down. We have less need for declarations right now. We need coordinated, combined and quiet efforts."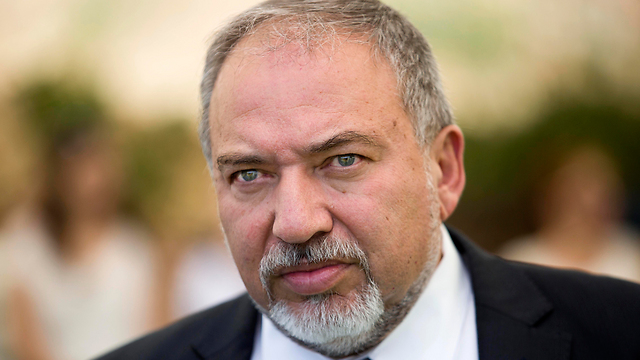 Addressing the possibility that the coalition may not last, despite the entry of his Yisrael Beytenu party, Lieberman said, "There is no intention of advancing the elections, and there's no intention of making any move of shattering the coalition. There's a little overexcitement and overheating now. I hope that, starting this week, we'll calm down and clear our schedules for organized, coordinated, cooperative work."
"I think that, in face of the challenges and events in our region, it's advisable to have as wide a coalition as possible. I don't need to interpret (for) the Prime Minister. He spoke himself. I think that in light of the challenges and events in our region and around us, it's very preferable that there be a coalition that's as wide as possible. This isn't the first time. We remember all of the national unity (coalition) governments, (resulting from) national emergencies since '67, from Begin, through Peres and Yitzhak Shamir and so on, and I think that the circumstances today justify a wall-to-wall wide coalition," said Lieberman.
Bennett's statements were made prior to Netanyahu's arrival at the event, who received a warm reception from the attendants. However, Netanyahu's was publicly, albeit it lightly, reprimanded during a speech by the chief rabbi of the Yeshiva, for proclaiming his support of a two-state solution. Turning to the prime minister, Shapira treated him to a brief Jewish history lesson: "When we say 'Who knows two?," he said in reference to a well-known Passover song, "we mean the two tablets of stone (which Jews received on Mount Sinai), not to two states for two nations. We are all in favor of the land of Israel for the people of Israel. The rest can be divided between other nations."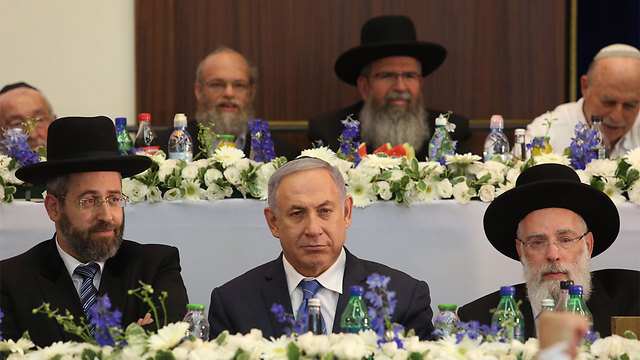 Netanyahu, who recently reiterated his support for a two-state solution, told his audience: "A complete Jerusalem will remain complete. We must protect Jerusalem and we are obliged to protect the Temple Mount. We are searching for peace and we want peace."
Responding to Bennett's attacks on Jerusalem Day, a senior official in the Likud party responded, "It is an absurd situation when the most threatening element to a right-wing government under Likud is the chairman of the Bayit Yehudi party." He went on to criticize what he termed Bennett's "hypocritical campaign which knows no limits."
"If Bennett insists on taking his party out of the government because of personal motives, the responsibility for the consequences will be his entirely. He shouldn't try and sell it to the public that he is doing it out of ideological motives because no one will buy it."
Stating that the party respected the prime minister and his leadership, the Bayit Yehudi party insisted that "we will not allow him to adopt the Arab initiative which includes a return to the 1967 lines, the division of Jerusalem or the absorption of Palestinian refugees."
As reported by Ynetnews