Gun attacks, remotely-detonated bombs, and even drones carrying explosives and chemical weapons: these are just a few of the terrorist threats French authorities are preparing for at the Euro 2016 football championships, which get underway on Friday.
Just days before the championships kick off, Ukraine security services say they have arrested a Frenchman and an accomplice who were planning attacks on French targets before and during the tournament.
Today's arrest of a French citizen in Ukraine highlights the risk from terrorism isn't just from ISIS.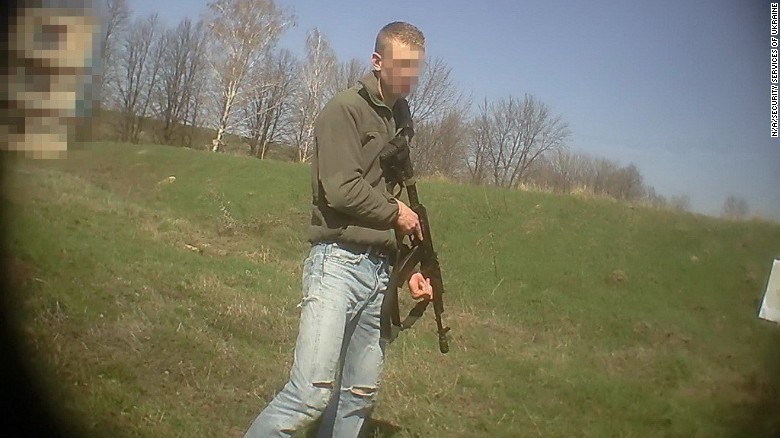 As President Francois Hollande and other French officials have acknowledged, 100% security and zero risk are impossible to guarantee. ISIS has made clear its intent to attack the tournament.
In a radio interview with France Info on Sunday, Hollande said: "We have invested all the means to succeed, and we must not allow ourselves to be pressured by the threat." But he cautioned: "It exists, this threat."
France has extended its state of emergency, introduced after the terror attacks in Paris last November, until the end of July. It gives police greater powers of house arrest and allows for demonstrations and rallies to be banned.
51 games, 10 venues
The task of securing a major sporting event that will attract several million fans from across the continent and feature 51 games at 10 venues is immense.
Nearly 100,000 French security forces will be deployed to safeguard the tournament, at match venues, fan zones and in other areas where fans will congregate.
The bases of the 24 competing countries will be heavily guarded and have been declared no-fly zones, as have the stadia.
Authorities have also introduced technology around venues that's designed to take control of and divert suspect drones rather than destroy them, according to security sources.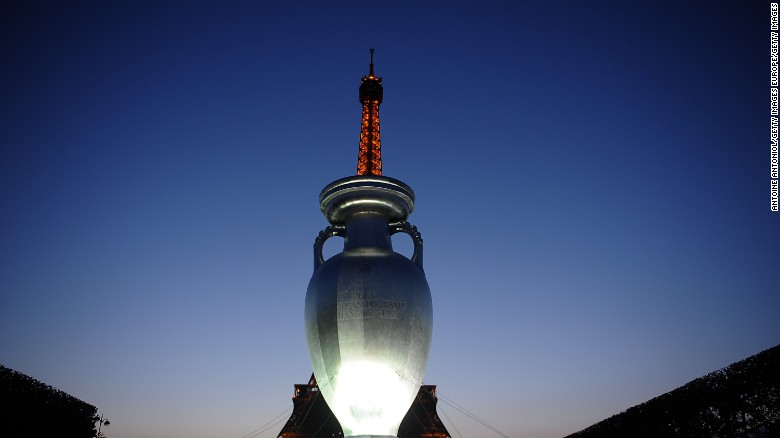 An early test of security measures — at the French Cup Final between Paris St. Germain and Olympique de Marseille last month — was not a great success.
Despite heightened security, some fans were able to smuggle in and let off firecrackers and smoke bombs. Recriminations involving private security firms and the police followed.
Fan zones for Euro 2016, where supporters will be able to watch games on giant outdoor screens, will also need to be secured. The largest, at the foot of the Eiffel Tower, is expected to handle 90,000 fans.
Metal detectors, video surveillance, sniffer dogs and a large police presence are among the security precautions for the zones; fans will not be allowed to bring in large bags.
Terrorist prize
The lure of an event like Euro 2016 for ISIS or al Qaeda is considerable, with billions of people around the globe watching live television coverage of the games and fan zones.
The Stade de France attacks in November also shows the terrorists were keen on targeting sports venues.
ISIS would regard an attack anywhere in France during Euro 2016 or the Tour de France cycling event in July as a success.
In its latest travel warning, the U.S. State Department noted that "Euro Cup Stadiums, fan zones and unaffiliated entertainment venues broadcasting the tournaments in France represent potential targets for terrorists."
Patrick Calvar, head of France's internal security, said: "We risk being confronted by a new form of attack — a terrorist campaign characterized by the placing of explosive devices in places where there are large crowds and repeating this type of action to create a climate of panic."
Intense security measures, including body searches and ID checks, and reducing the number of access points to stadia, may lead to large concentrations of fans trying to get into games — an inviting target for terrorist bombings.
The fact that several of the competing nations at Euro 2016 are part of the anti-ISIS coalition is an added incentive to the group.
In a recent audio message, ISIS spokesman and leading ideologue, Mohammed al Adnani, called on Muslims in Europe to step up attacks.
"The smallest action you carry out in their homelands is better and more favored by us from the biggest of actions in our midst; it is more successful for us and more brutalizing to them," he said.
Adnani added that civilians were a legitimate target. "Know that targeting so-called civilians is more beloved to us…more brutalizing and painful to them," he said.
According to Mohamed Abrini, who was arrested after the Brussels attacks and is also suspected of involvement in last November's Paris attacks, Euro 2016 was the ultimate target of the cell.
Belgian investigators believe that only when key members of the group were arrested, did others change their plans and carry out the March attacks in the Belgian capital.
The great unknown is whether other ISIS members who have returned to Europe have been able to organize and plan further attacks without being tracked.
According to French intelligence officials, more than 2,000 French citizens or residents are known to have links to jihadist networks in Syria and Iraq.
What Paris can learn from London 2012 Olympics
The man tasked with preventing terror attacks at the London Olympics in 2012, Richard Walton, says an aggressive, multi-layered approach is essential.
Walton, then head of the Counter Terrorism Command of the London Metropolitan Police, says every scenario was planned for — including terrorists flying into the Olympic stadium using a microlight, a drone armed with explosives flying into an open venue, and even a speedboat being used to target Olympic sites on the River Thames.
UK police also took an aggressive approach to possible suspects — by arresting them for minor criminal offenses.
Writing in the new edition of the Combating Terrorism Center's monthly publication "Sentinel," Walton says "approximately 40% of the several thousand Islamist extremists across the country were committing low-level criminality with offenses that included benefit fraud, disqualified driving, and even drug crimes."
Venues were also in lockdown weeks before events and after they had been subjected to an inch-by-inch security sweep. Access was then strictly limited through airport-style search regimes.
"Our largely unarmed police presence at the London Olympics created a relaxed atmosphere, and much of our armed policing response capabilities were not visible to those participating or watching the games," says Walton of London's security style.
Severe flooding in northern France and a rash of labor strikes — with the threat of more to come — have not helped preparations for a relaxed Euro 2016. But President Hollande says his government is determined to make Euro 2016 "a European festival, a festival of the people."
As reported by CNN