French diplomat Ladsous: Syria no longer "peacekeeping territory" but UNDOF still needed.
Hezbollah has its hands full fighting on behalf of the Assad regime in Syria and therefore will likely avoid conflict with Israel for the "foreseeable future," the United Nations Under-Secretary-General for Peacekeeping Operations Hervé Ladsous has told The Jerusalem Post.
"What I certainly believe is that Hezbollah for the last three years and for the foreseeable future probably has its hands full in the north helping the Syrian government," Ladsous said recently in an interview with the Post at UN headquarters in New York.
"I believe they're caught up there. Of course it doesn't mean that the risk of incidents involving these people in the southern half of Lebanon is nil, but I would summarize that they're very busy right now and that's their priority," he said.
Speaking ahead of the 10th anniversary of the Second Lebanon War next month, Ladsous said he believed the presence of the United Nations Interim Force in Lebanon and its 10,500 soldiers served as a deterrent for both Israel and Hezbollah when considering the possibility of engaging in a new conflict. Under Security Council Resolution 1701 that ended the 2006 war, UNIFIL was beefed up in numbers and bolstered by contingents from several European countries including Finland, France, Ireland, Italy and Germany.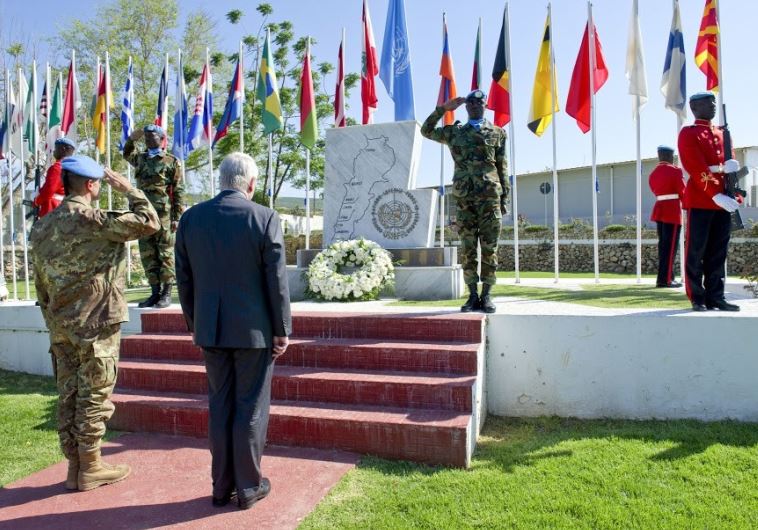 Ladsous, a French diplomat and former ambassador to China, has served as under secretary-general for peacekeeping operations since 2011. In this role, he oversees all of the UN's 16 ongoing operations across the globe, including in Lebanon, Liberia, Darfur, Congo, Syria, India and Pakistan.
Research, Ladsous claimed, showed that countries which experience war have a far greater chance of avoiding additional conflict if they benefit from a UN peacekeeping operation. Applying that thinking to Israel and Lebanon, he said that UNIFIL's impact was felt beyond the deployment of its forces in the field, for example in the monthly tripartite meetings it holds with officers from the IDF and the Lebanese Armed Forces.
"I think it is important as a deterrent, but it's also important as a constructive actor," he said. "Talking with both sides and stepping in at any moment when there is a need for discussion of an incident… that is the confidence-building."
Ladsous deflected criticism often heard in the IDF – that UNIFIL was largely ineffective since its mandate does not allow its troops to independently enter Lebanese villages where Hezbollah is hiding most of its weaponry. Instead, UNIFIL first has to coordinate with the Lebanese Armed Forces and only then can it enter a village. He said that Israel had shown him photographs of alleged Hezbollah activity during some of his recent visits to the region.
"Certainly what UNIFIL does is a lot of patrolling, watching what's happening, overflying the Blue Line – I did it myself – and trying to be as vigilant as possible," he said.
The Blue Line is a border demarcation between Lebanon and Israel published by the UN on June 7, 2000 verifying that Israel had fully withdrawn from Lebanese territory.
Turning to Syria, Ladsous said that Israel's northeastern neighbor was no longer "peacekeeping territory" and that for now, the United Nations Disengagement Observer Force would remain at lower numbers – at 750 soldiers instead of 1,200 – and on the Israeli side of the Golan border. UNDOF has been deployed along the Israeli-Syrian border since May 1974, following the agreed disengagement of the Israeli and Syrian forces in the Golan Heights after the 1973 Yom Kippur War.
Ladsous said that despite the ongoing upheaval in Syria and the continued fighting there, UNDOF's mission was still needed.
"The message we got consistently both from Jerusalem and from the Damascus side was that actually both sides attach value to UNDOF continuing its mission," he said. "In a part of the world which has so many problems, I think nobody would want to even consider the risk that Golan Heights may become again yet another problem in that environment. I think the point is well understood."
As reported by The Jerusalem Post