The leader of the opposition says the fate of government and Israel rests in the hands of Kahlon, urging to seize his 'moment of truth'; Herzog also says Netanyahu made him a historic offer, but got scared at the last minutes; Yesh Atid Chairman Yair Lapid asks 'when will they (the government) work for us?'
"This is the moment that you can achieve great success and prevent the greatest danger which we have never faced before," said Zionist Union Chairman Isaac Herzog to Finance Minister Moshe Kahlon on Monday.
"Therefore, I extend my hand to you, Moshe Kahlon," added Herzog in a statement at a factional meeting in the Knesset. "I know how much you care and how good your intentions were. You are the only person who can make this ethical decision. Do not hesitate. This is your moment of truth."
Herzog further stated, "In this government, there is one person who can determine its fate and our fate. And (There is) one person who was elected for his humility and uprightness. There are moments when a leader needs to place himself above personal considerations and dare to pay the heaviest price for his inner truth."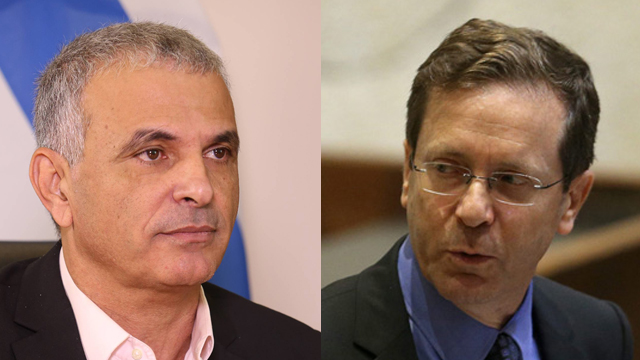 Herzog also issued a scathing critique of the prime minister: "This is a historic day. This is a day in which the elected prime minister is making room for the heads of the most extreme parties who will now be in control of him. Mr. Netanyahu, you are no longer the prime minister, but rather the secretary of the Naftali-Lieberman-Smotrich government. You decide nothing, you determine nothing, and you manage nothing. You are a puppet, a scarecrow, and a captive."
"Two weeks ago, you proposed changing the face of the nation and leading a historic diplomatic process to me. I was prepared to sacrifice my political career to change the reality and spare the pain and tears of hundreds of families who don't know their bitter fate, but at the moment of truth, you got scared. You are strong in terms of slogans and weak in terms of leadership. Some say that you are magical; there is something to that. Everything good that you touch vanishes. Hope has vanished. The vision has vanished. Ya'alon has vanished. Sa'ar has vanished. Gabai has vanished. Now you are fading and the extreme right (is gaining power). This is the first time in history that the magic has made itself vanish," Herzog stated.
Yesh Atid Chairman Yair Lapid also spoke about the recent political developments in a factional meeting: "I have one question for the prime minister and his ministers: When will you deal with the concerns of the state? There are only 24 hours in a day. I look at our politics and it is only busy with itself—with appointments, confidantes, and useless ego wars. Everyone sets ultimatums for each other. (And everyone) is becoming arrogant and nothing happens in the end."
Lapid added, "Look at the last week. The defense minister resigned and the minister for environmental protection resigned. There is more 'spin' that says Labor will enter and then more 'spin' that it won't…Everything is a game entrenched in old and ugly politics. I am asking you, when will they work for us?"
As reported by Ynetnews