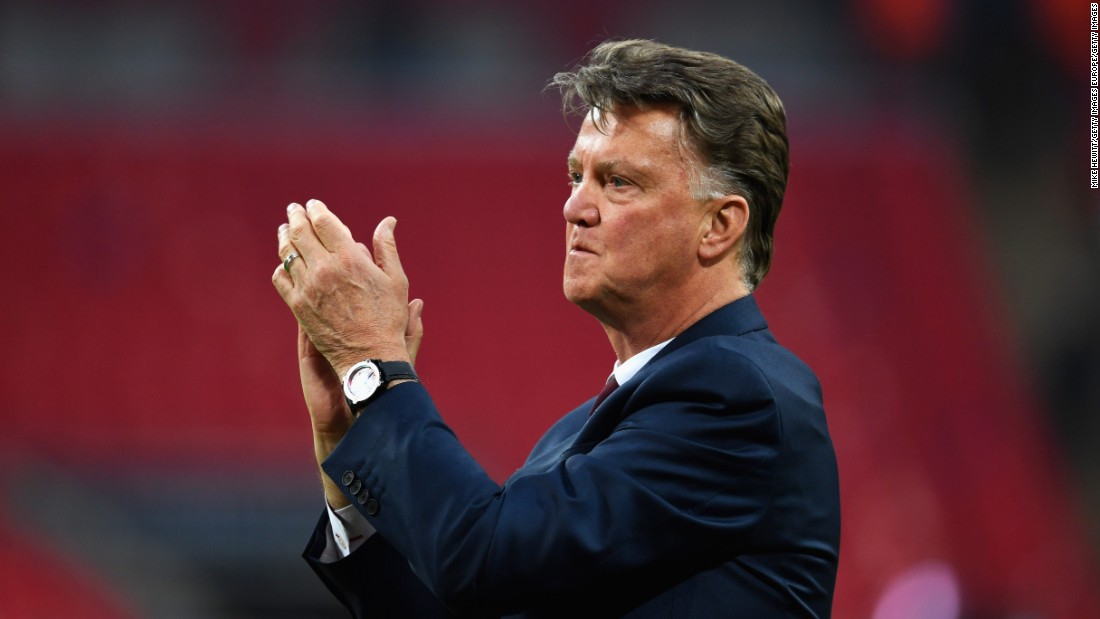 Thanks, but no thanks.
Just two days after Louis van Gaal won Manchester United's first trophy in three years, the English Premier League club — ranked by Forbes as the third most valuable team in the world with a worth of $3.3 billion — has sacked its manager.
The Dutchman led his side to the FA Cup on Saturday, securing an extra time comeback win over Crystal Palace in the Wembley final, but the club's inability to qualify for the Champions League next season — United finished fifth — has in all likelihood cost Van Gaal his job.
He had a year remaining on his contract, but the club announced he would leave "with immediate effect."
"I would like to thank Louis and his staff for their excellent work in the past two years," executive vice-chairman Ed Woodward said in a statement on United's website on Monday.
"He has behaved with great professionalism and dignity throughout his time here. He leaves us with a legacy of having given several young players the confidence to show their ability on the highest stage.
"A decision on a successor as manager will be announced soon."
Questions were raised over the 64-year-old's future almost immediately after the final whistle Saturday, with former Chelsea manager Jose Mourinho reportedly in line to replace the former Netherlands coach.
The Portuguese's management team has yet to respond to CNN's query regarding its client's next job.
Van Gaal took over at United at the start of the 2014-15 season after leading the Netherlands to a third-place finish at the World Cup in Brazil.
He guided the club to fourth and qualification for the Champions League in his first season, following previous manager David Moyes' disastrous 10 months in charge that left United seventh and without top-tier European football for the first time since 1995.
However, results and performances have stagnated this season, with Van Gaal's prosaic style of football coming under increasing scrutiny from supporters, who have booed their manager on several occasions.
"I am very disappointed to be unable to complete our intended three-year plan," he said in a statement on United's website. "I believe that the foundations are firmly in place to enable the club to move forward and achieve even greater success.
"I hope that winning the FA Cup will give the club a platform to build upon next season to restore the success that this passionate set of fans desire."
Van Gaal said he had "fulfilled a long-held ambition" by managing United, describing it as "an honor."
"Having managed in Holland, Spain and Germany, I had always hoped for the opportunity to manage in English football and be part of English culture. Both of these experiences have lived up to expectations and been fantastic," he said.
"It has been particularly rewarding to see so many young players take their chance to break into the first team and excel. I look forward to watching the continued development of these young players next season."
Mourinho was also in London over the weekend attending a boxing match but refused to speak to reporters.
Public falling out
The 53-year-old has been out of work since being sacked by Chelsea in December, following a disastrous opening to its Premier League title defense.
Mourinho's tumultuous start to the season included nine defeats from his opening 16 games and a public falling out with team doctor Eva Carneiro.
He is due to appear at the London South Employment Tribunal on June 6 to defend himself against a constructive dismissal claim from Carneiro.
United will be expecting immediate success with Mourinho at the helm, with the Portuguese having won a major title in his first season as manager at every club.
As reported by CNN